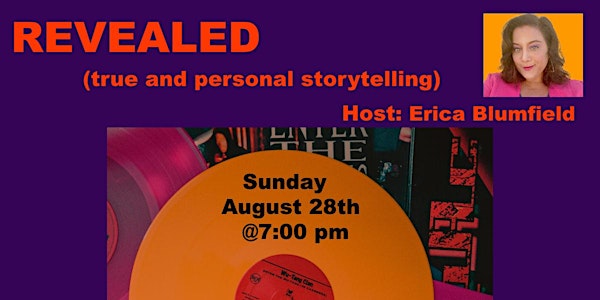 Revealed
Revealed is a true and personal Storytelling show, hosted by Erica Blumfield. Humorous, sincere, eye-opening, moving and entertaining.
When and where
Location
The Glendale Room 127 N. Artsakh Avenue Glendale, CA 91206
About this event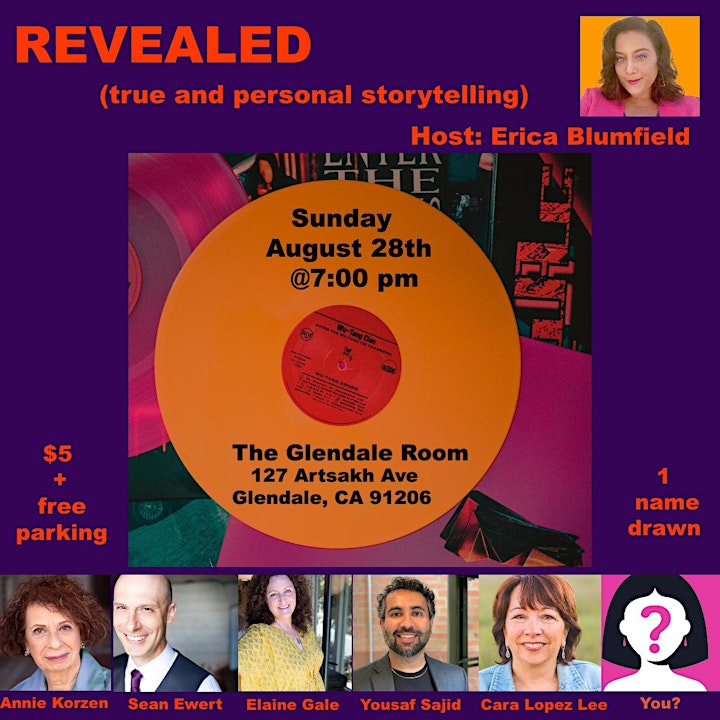 Revealed
Sun, Aug28th, 2022 - Doors at 6:30 PM, Show at 7:00
Storytelling
"Revealed" is a true and personal storytelling show, hosted by Erica Blumfield. It brings together the best storytellers of LA, who share stories that will range from the ridiculous to the profound. A night filled with good vibes this show will entertain and inspire. 6 storytellers, plus one name drawn. Put your name in the hat for the the chance to tell a 5-7 minute story.
***THIS IS A FULLY VACCINATED INDOOR EVENT. PROOF OF VACCINE & IDS WILL BE CHECKED AT THE DOOR***
STORYTELLERS :
Erica Blumfield "The Diner" A proposition is made and Erica Blumfield must choose between love and money.
Erica Blumfield is a LA based writer and storyteller. An NYU graduate, she received her degree in writing and acting. While living in New York City, she wrote and performed solo shows and was the singer and songwriter in an indie rock band. She worked regionally as an actress at The Actors Theater of Louisville and performed in the acclaimed Humana Festival. She moved to Los Angeles and began performing her true and personal stories on shows, including "Storytellers Project'', ``Risk!", and "NAMI Washington's: Brainpower Chronicles". When not telling stories herself, you can find her teaching storytelling to people of all ages.
"THE MIRACLE": Annie dreamed of being a shopper for film wardrobe departments. And her dream came true. Be careful what you wish for!
ANNIE KORZEN, TikTok sensation, was the recurring Doris Klompus on Seinfeld. Recently, she played Paul Rudd's mother on The Shrink Next Door. Annie has written humorous essays for NPR's Morning Edition, The New York Times, LA Times, and many more, and she has performed her solo shows on three continents. She is a Moth Mainstage storyteller, and she teaches storytelling. Annie has been interviewed by Oprah Winfrey, Tavis Smiley, and Dr. Phil. www.AnnieKorzen.com AkorzenTikTok
"The Buick": In the midst of a devastating family financial crisis, 16 year-old Sean asks for money to pursue expensive singing lessons which leads to a much needed self discovery.
Insta @seanewert_storyteller
Sean Ewert tells his stories in Chicago and Los Angeles at such shows as The Moth (storySLAM Winner "Nostalgia" Los Angeles 2021), USA Today Storytellers Project (Western/Sunbelt and National shows), JAM Creative Stories, This Much Is True, Flick Lit, Bike Winter Chicago, Story Club Chicago (winner audience favorite), Story Salon, The ReBoot, The Laugh Factory, Pour One Out and The Antidote. When Sean is not on-stage telling stories, he coaches storytellers and leads personal narrative workshops.
Sean works during the day at the Spondylitis Association of America, helping those living with the disease share their stories about being a pain warrior and elevating public awareness of spondyloarthritis. Sean lives with his partner John and rescue dog, Pilot.
"Old Mr. Ma": Cara inherits family photos that take her on a journey into the past, leading her to a small Chinese village and the chance to heal an old family divide.
Cara Lopez Lee is the author of the memoir They Only Eat Their Husbands. She's a winner of The Moth StorySLAM, and she performs in many storytelling shows, including RISK!, Strong Words, and Storytellers Project. You can find her writing in such publications as The Manifest-Station, Slackjaw, and Writing for Peace. She and her husband live in Ventura, where they enjoy gardening in their Certified Wildlife Habitat full of hummingbirds, butterflies, and bees.
Social:
@CaraLopezLee in the usual places
Link to Website:
"My Big Fat Pakistani Wedding" : Tasked to bridge two cultures together, Yousaf discovers the true meaning of love when he's assigned as the wedding planner for his brother's big day.
Yousaf is a writer-comedian and multiple The Moth StorySLAM winner where his stories examine what it means to be southern, Muslim, and single.
Instagram: @ymscvl
Elaine Gale was a religion reporter for the Los Angeles Times and an advice columnist and pop culture reporter for the Star Tribune in Minneapolis and worked for the Boston Phoenix. Now, she's a Full Professor at California State University and Writing Center Director for the Graduate School of Leadership and Change at Antioch University. She has an MFA in Creative Writing from Antioch University Los Angeles and a PhD in Human Communication from University of Denver. She is a member of the performance troupe called Anima and has performed her solo show, One Good Egg, in the United Solo Theater Festival in New York City. She's published her work in literary magazines, such as Under the Gum Tree and The Manifest-Station and in mainstream magazines including W, Entertainment Weekly, Cosmopolitan, and Good Housekeeping, despite the irony.
@elaine_gale on Instagram, Twitter and TikTok
… And You? Put your name in the hat for a chance to tell a 5-7 minute story.
*lineup subject to change
No Refunds within 48 hours of event.
For Attendees requiring an Assisted Listening Device, you must submit a written request to venue operator 48 hours prior to listed show start.