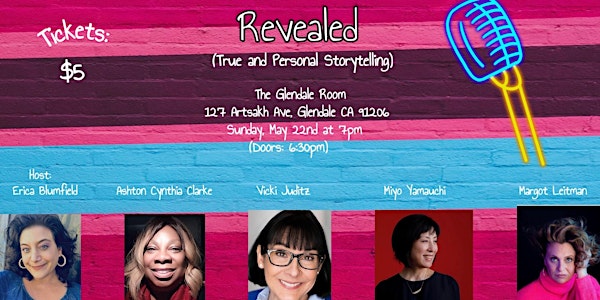 Revealed
Revealed is a true and personal Storytelling show, hosted by Erica Blumfield. Ridiculous, humorous, magical and heartwarming.
When and where
Location
The Glendale Room 127 Artsakh Avenue Glendale, CA 91206
Refund Policy
Contact the organizer to request a refund.
About this event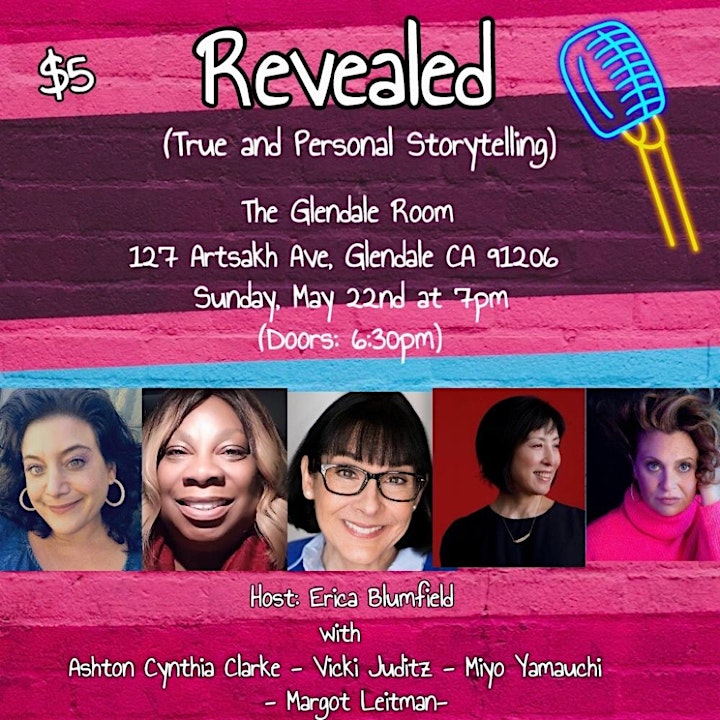 Revealed
Sun, May 22nd, 2022 - Doors at 6:30 PM, Show at 7:00
Storytelling
"Revealed" is a true and personal storytelling show, hosted by Erica Blumfield. It brings together the best storytellers of LA, who share stories that will range from the ridiculous, humorous, magical and heartwarming. A night filled with laughter and tears this show will entertain and inspire.
***THIS IS A FULLY VACCINATED INDOOR EVENT. PROOF OF VACCINE & IDS WILL BE CHECKED AT THE DOOR***
STORYTELLERS :
Erica Blumfield is a LA based writer and storyteller. An NYU graduate, she received her degree in writing and acting. While living in New York City, she wrote and performed solo shows and was the singer and songwriter in an indie rock band. She worked regionally as an actress at The Actors Theater of Louisville and performed in the acclaimed Humana Festival. She moved to Los Angeles and began performing her true and personal stories on shows, including "Storytellers Project'', ``Risk!", and "NAMI Washington's: Brainpower Chronicles". When not telling stories herself, you can find her teaching storytelling to people of all ages.
Story Title/Tagline- The Cafe : While working as a waitress in NYC, Erica Blumfield finds inspiration that encourages her to continue pursuing her dreams of making it to Broadway.
MARGOT LEITMAN is the author of the best-selling book LongStory Short: the Only Storytelling Guide You'll Ever Need, What's Your Story? & Gawky: Tales of an Extra Long Awkward Phase. She has written for DreamWorks TV, the Hallmark Channel, and the Pixl Network and worked for "This American Life" as the West Coast story scout. She is the founder of the storytelling program at the Upright Citizen's Brigade Theatre and is a five-time winner of the Moth Storyslam and a winner of the Moth Grandslam, receiving the first ever score of a perfect 10. She travels all over the world teaching people to tell their stories.
Story title/tag line - Survivor: After a series of calamities, Margot Leitman is first addicted and then healed by reality TV.
Vicki Juditz has performed her original stories at theaters and festivals across the US, including the National Storytelling Festival in Jonesborough,TN, The Sierra Storytelling Festival, Storytelling Arts of Indiana and every backyard, living room and coffee house with a microphone.A frequent teller at The Moth, she was pleased to have her story "Dancing at Joe's" air on The Moth Radio Hour.
Story Title/tagline:- HOUSE SITTING confessions of a helicopter mom of an amazing kid.
Ashton Cynthia Clarke began storytelling in 2019. She has appeared at live venues throughout the Los Angeles area, in New York City, and virtually. Most notably, she has told for Risk! Live in L.A. as well as their podcast; Story Salon, the longest running storytelling venue in Southern California; and Shoot 'Em Up, where her story inspired a short film. Ashton developed an animated short based on her telling of a family member's life in Jamaica: "Titta and the Mango." She also creates videos melding art, deep house music, and Scripture readings. Visit her YouTube channel at Youtube and have a listen!
Story Title/tagline- In her story, The Lady in Red, Ashton Cynthia Clarke finds comfort in the midst of grief through music and memories of cherished times spent with her mother.
Miyo Yamauchi Born and raised in Japan, Miyo brings a unique perspective and sense of humor to storytelling. Her insatiable curiosity about life, people and the world leads her on many adventures and results in stories that delight her audience. She regularly performs at the Fanatic Salon Theater, other spoken word events, and the StoryMasters club. During the day, she works as a computer programmer for UCLA, writing narratives for computers to perform.
Story title/ tagline: Grandmother's Magic : A story rich with humor and detail about her strong and magical grandmother who after surviving the life-or-death tragedy of the Hiroshima bombing, holds and passes on the philosophy that just having today and living life are blessings.
NOTE: This is a **FULLY VAXXED EVENT**. Proof of Vaccination status (plus ID) WILL be checked at the door in accordance with County of Los Angeles requirements for Nightlife Activities. Thank you for doing your part to keep everyone at The Glendale Room safe and healthy. You're doing it right!
*lineup subject to change
No Refunds within 48 hours of event.
No Refunds for failure to provide proper proof of vaccination.
For Attendees requiring an Assisted Listening Device, you must submit a written request to venue operator 48 hours prior to listed show start.