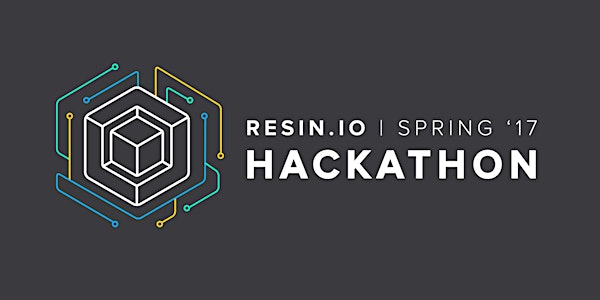 resin.io spring hackathon
When and where
Location
Campus London 4-5 Bonhill Street London EC2A 4BX United Kingdom
Description
*Registration is closed! See you on Saturday!*
Build a multi-device Internet of Things (IoT) project on resin.io!
Resin.io helps you deploy your software on remote hardware devices with a simple "git push," whether it's home automation, robotics, complex applications, or small server nodes. Our team will provide hardware (single board computer, sensors, etc) and all the support you need to get your project up and running. The only constraint is that your project should incorporate at least two devices. Beyond that, get creative!
Space is limited, so we'll be operating a selection process as needed. Once you submit your registration, we'll get back to you ASAP to let you know if you've been accepted to the hackathon.
Hosted by Campus London.
Chat with us about this event or give us some feedback in the resin.io forums!
FAQs
Will there be food provided?
Yes, we will provide a light breakfast, lunch, and plenty of snacks, drinks, and coffee.
Can I bring my own hardware to use at the hackathon?
Definitely! It helps, though, if you check what sort of devices are currently supported on resin.io.
Can we come as a team?
Yes, when you are sigining up, you will be able to enter the list of your team mates, and we'll make sure that you are kept together for the the purpose of the application. At the hackathons you will also be able to form teams freely.
What are example of projects I'll be able to work on?
Anything that uses more than one device and can be managed on resin.io - maybe an environment monitoring station, a plant monitoring and feeding system, window actuators built around a Raspberry Pi Zero, etc.
A resin.io team member will be on hand to join every project team of 3-5 people and can help brainstorm ideas for projects.
What's the schedule for the day?
It'll be flexible, but you can expect something like:
8:30am: doors open
9-10am: registration, welcome, and team formation
10am-1pm: hacking!
1-2pm: lunch served (but keep hacking if you want!)
2-7pm: hacking!
7-8:30pm: project presentations and wrap-up
Code of Conduct
We want to create a friendly and welcoming environment for all hackathon participants. We expect participants to be respectful and thoughtful in their behavior towards one another.
We will not tolerate any harassment based on age, gender, race, ethnicity, nationality, sexual orientation, gender identity, mental or physical disability, appearance, religion, level of knowledge and experience, or any other attribute. We reserve the right to dismiss any attendees who exhibit unwelcome, disruptive, or hostile behavior.