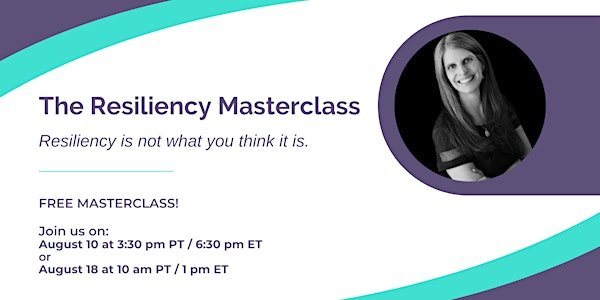 Resilience Masterclass
Resiliency is not what you think it is.
About this event
We are taught to be strong, be resilient and plow through. But plowing through is a trauma response. Being resilient is a soft skill and doesn't have to feel exhausting.
Join us for free and learn simple biological based skills to gain balance back into your mind, body, and spirit through the Community Resiliency Model (CRM®).
Do you struggle with…
Feeling exhausted from having to be resilient and strong.
Being stuck in hyper independence, unable to ask for help.
Feeling like you've lost control of your emotions.
Feeling shame when you have an emotional reaction.
This Resiliency Masterclass is for you if you…
Wish to learn the tools to face life's ups and downs.
Desire to learn self-regulation.
Want to be more adaptable when facing challenges.
Yearn to choose how you feel and be in control of your emotions.
Want to reduce stress, anxiety, and depression.
Join us for either Thursday, August 18 at 10am PT / 1 pm ET for this FREE Resiliency Masterclass.
About the group leader:
Jennifer Gardner is an Empowerment and Resiliency Strategist.
She uses science-based strategies and fine-tuned skills to help clients address and overcome impediments to progress. Painful experiences, whether generational, developmental, cultural, or individual in origin, can have long-term physiological effects. Ultimately, that impact is less about the event and more about how it affected you on the inside as a result of the event. Clients are guided through a deeper process that unlocks ways to stabilize, reset, and self-regulate so that they can manage anxiety, reduce stress, sleep better, think more clearly, and gain trust in themselves.
"I found you caring and the information you shared to be interesting and relevant." -Alissa