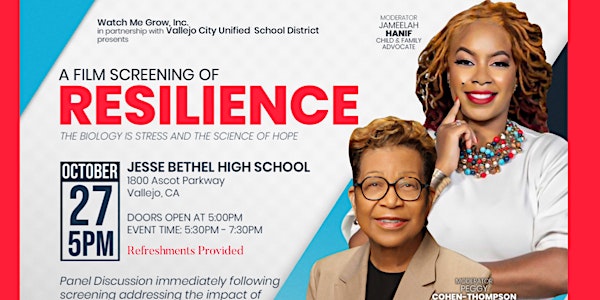 Resilience Documentary Screening & Panel Discussion
This event is to raise awareness about ACEs and the impact of violence on our Youth & Community as a whole.
When and where
Location
Jesse Bethel High School 1800 Ascot Vallejo, CA 94591
About this event
A high percentage of people in the world has experienced at least one ACE (Adverse Childhood Experiences). The more ACEs you've experienced the higher you're at risk for negative health outcomes and engaging in risky behaviors; The more you're always on high alert and feeling as if everything is a threat. You're always in Survival Mode (Fight or Flight). Most of our children here in the City of Vallejo have experienced a pile of ACEs every day. One that tends to be common is violence. It's time to seriously address it! Following the screening is an amazing group of panelists that bring diverse perspectives. Rev. Jethroe Moore (Project H.O.P.E. Program Coordinator), Riley Graden (Impact Vallejo Youth Council), Sonia Valdez (Impact Vallejo Youth Council), Veronica Grace (Youth Coordinator, City of Vallejo), Dr. Shandi Fuller (Deputy Health Officer), Dr. Jeannie Celestial (Licensed Psychologist & Author), William Spalding (VCUSD Superintendent), Tony Gross (VCUSD Board Chair), Vernice Cooper (LMFT & Author), Jerome Villanueva, Barber, IV the People), Brandon Rodegeb (Vallejo Native), and Ernani Santos (Principal).