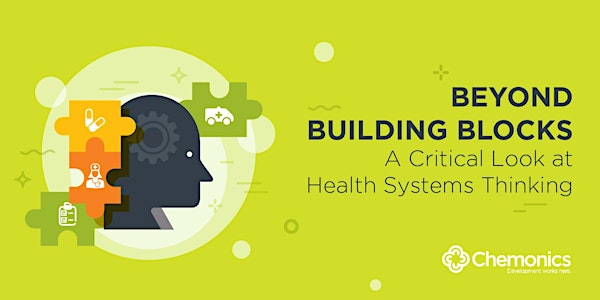 [Rescheduled] BEYOND BUILDING BLOCKS - A Critical Look at Health Systems Th...
Event Information
Location
National Press Club
529 14th Street Northwest
Holeman Lounge
Washington, DC 20045
Description
BEYOND BUILDING BLOCKS
A Critical Look at Health Systems Thinking


We invite you to join us for the first event in a two-part panel series addressing the application of systems thinking in global health.
Part 1: A Critical Look at Health Systems Thinking
March 14th, 2019 from 9:00 to 11 a.m.
National Press Club's Holeman Lounge
This event will be livestreamed via Facebook.
There is a growing call for development programs to design and implement interventions that take a more holistic view of the health system. By applying systems thinking to understand the interactions, behaviors, and impacts within the wider health system, donors and implementing partners can better understand the complex inter-connectivity of health systems interventions. They can use this understanding to work with local stakeholders to identify and design more effective interventions, anticipate and monitor for system-wide impacts, and deliver more equitable health outcomes.
But is the effective application of systems thinking currently happening? And, can we effectively use systems thinking within parameters that only allow for disease-specific programming?
Panelists
Kelly Saldaña
Director, Office of Health Systems
Bureau for Global Health, USAID

Cristian C. Baeza
Chair and Executive Director
Center for Healthy Development
Ligia Paina, PhD
Assistant Professor, Department of International Health
Johns Hopkins University School of Public Health
Wanda Jaskiewicz (Moderator)
Project Director, Human Resources for Health (HRH2030)
Global Health Division, Chemonics International
Opening Remarks
Susanna Mudge
President and CEO,
Chemonics International
Program
9:00-9:30 Light breakfast and registration
9:30-9:35 Opening Remarks
9:35-10:35 Panel Discussion
10:35-11:00 Q&A
Follow #HealthSystems on Twitter to Join the Conversation.
For any questions, please contact acho@chemonics.com.
The National Press Club is an ADA compliant venue, with facilities and equipment to address the varying needs of guests. The building entrance, lobby and meeting/event rooms are fully accessible from both 14th Street and F Street, with dedicated parking and drop-off areas, wheelchair ramps and elevator access. Wheelchair seating is provided in all rooms and staging ramps are provided upon request. Audio headsets and personal video monitors are available upon request (where applicable) for those requiring special assistance. As host of the "Disabilities Ball" for past Presidential Inaugurations, the NPC has unique practical and legal experience and qualifications for hosting ADA-compliant events.
Disability-related accommodations available upon request. Please place your request to healthteam@chemonics.com in advance to allow us time to arrange.
Date and time
Location
National Press Club
529 14th Street Northwest
Holeman Lounge
Washington, DC 20045