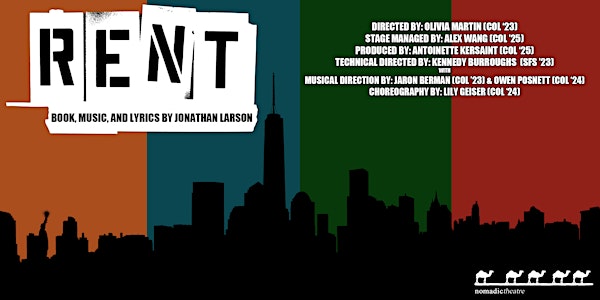 Rent
Georgetown's Nomadic Theatre presents: Rent!
When and where
Location
Village C Theatre 3700 O St NW Washington DC, DC 20057
About this event
"A group of young artists in Manhattan's East Village in the late 1980s/early 1990s navigate love and loss during the HIV/AIDS crisis, over the course of an eventful year 'in the life of friends.' Loosely based on Puccini's 'La Boheme,' Jonathan Larson's book, music, and lyrics take on the backdrop of end-of-millenium New York as an exploration of Bohemian lifestyle.
RENT is, at its core, a story about community and impact, and this production hopes to center individual identity as it pertains to characters' relationships both with each other and with the city they live and create in. Paying special attention to the complex web of histories and relationships between characters, this production imagines the world of Larson's rock opera as one of competing artistic voyeurism and documentary truth, of 'selling out' and genuine interest, and of loneliness and belonging. With a rock score and an ensemble cast, RENT is as much a celebration of life as it is an exploration of political and social reality."
Please Note: There will be walk-up rush ticket opportunities each night available at the door, even if the tickets on this EventBrite are sold out!
Additionally:
Georgetown University is a vaccinated campus. Events scheduled at this time to be held live are subject to change. We encourage, but do not require, the use of masks indoors, in compliance with the University's public health guidelines, which may include additional guest registration protocols in effect at the time of the event. The University may limit capacity in certain indoor venues at any time. Attendees should be fully vaccinated, and anyone with symptoms of COVID-19 needs to stay home.
All faculty and student artists working on DPA performances are taking every precaution to adhere to protocols and the latest public health guidelines, and to prioritize the safety and comfort of audience members and the wider community.
We are committed to the safety of our entire community, and will be monitoring the ongoing pandemic to make adjustments as needed. Thank you for your understanding and we look forward to sharing this vibrant season of events with you!