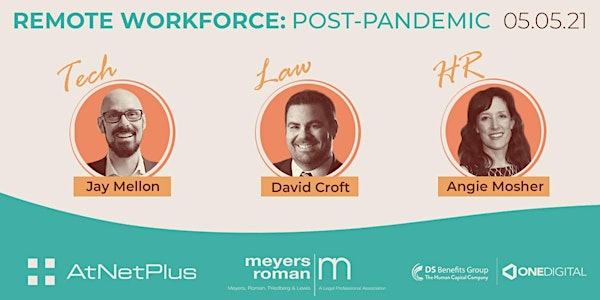 Remote Workforce: Post-Pandemic
Join our experts in a panel/Q&A discussion that covers the future of Remote Working, Productivity, Cybersecurity, and Culture for businesses
About this event
Remote working is here to stay, so we invite you to join our webinar to gain insight into how this new, mobile future will impact your business.
We will be covering all of the bases from the perspective of the 3 key business consultants: Technology, Legal, and Human Resources (HR).
At a high level, we will discuss these topics from all three lenses:
Work from Home (WFH) as a competitive advantage
Cybersecurity with rapidly evolving threats that take advantage of the weak points of remote working
Productivity and the real statistics behind the impact of remote working
Privacy and policies that protect your business
Expenses: Who is responsible for what expenses? How do you control an environment that's not in your office?
Keeping employees engaged and maintaining company culture
The discussion will follow the flow of audience engagement, so we highly encourage asking questions that are specific to your business to ensure this webinar is a valuable spend of your time.
The panel discussion will be recorded, so please register if you'd like to reference the webinar at a later date.
Event Speakers:
Jay Mellon | CEO and Owner of AtNetPlus
David Croft | Partner of Meyers, Roman, Friedberg & Lewis
Angie Mosher | Senior Organizational Development Consultant of DS Benefits Group - OneDigital
Event Moderator:
Matt Baker of DS Benefits Group - OneDigital