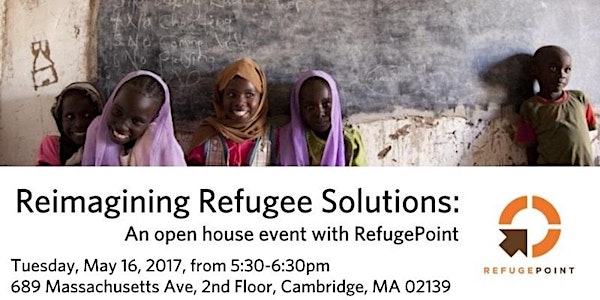 Reimagining Refugee Solutions: An open house event with RefugePoint
When and where
Location
RefugePoint HQ 689 Massachusetts Ave, 2nd Floor Cambridge, MA 02139
Description
Every day in the news, we read in the news troubling stories of refugees and wonder what we can do to help. Even in the midst of refugee bans and dangerous journeys, we can all do something to help refugees resume normal lives.
During this unprecedented global refugee crisis, we know that more than 23 million refugees are living in limbo waiting for a chance to resume normal lives. Most refugees will wait a very long time for this; the average time someone remains a refugee is 17 years. There is a clear need to shift the public perception of refugees and provide better futures for many whose lives are on hold and in danger.
Come visit us at RefugePoint for a casual open house and a short presentation about the emerging needs of refugees. Join us (and invite a friend!) to learn about the refugee crisis and about how we can help refugees improve their own lives. We will discuss new solutions in humanitarian response that help refugees build self-reliance. We will also share stories of refugees who are facing urgent dangers with suspension of refugee resettlement to the US.

About RefugePoint: RefugePoint is a local Cambridge based nonprofit recognized widely for our innovative efforts in refugee work. We provide lasting solutions for the world's most at-risk refugees. We have referred over 37,000 refugees for resettlement to new countries since 2005. We identify and protect refugees who have fallen through the cracks of humanitarian assistance and have no other options for survival.