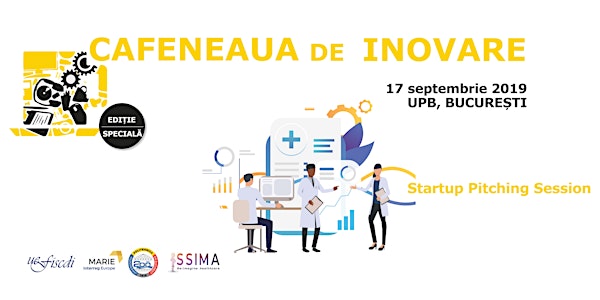 Re:Imagine Healthcare with AI Startup Pitching Session
When and where
Location
Biblioteca Centrală a Universității Politehnica București 313 060042 București Romania
Description
Re:Imagine Healthcare with AI
Startup Pitching Session
presented by Cafeneaua de Inovare |
powered by MARIE | endorsed by UEFISCDI
* Call for Projects *
Cafeneaua de Inovare, in partnership with SSIMA Re:Imagine Healthcare, is looking for MedTech startups in Romania and the wider South Eastern Europe region to participate in the "Re:Imagine Healthcare with AI" Pitching Session in Bucharest, on September 17th.
If you have an active business or are working on a project in the field of MedTech, and looking to meet potential investors as well as international high-level experts, we invite you to join our event in Bucharest.
Submit your startup/project description electronically at crew@cafeneauadeinovare.ro, using the template available [here] by September 2nd.
The selected applicants will be announced by September 4th.
*Later edit
Get to know the selected teams taking the stage:

Book your free ticket and find out more about their business plans.
The projects selected to participate in the pitching session will get the chance:
- to present their business concept in front of an experienced jury, receiving feedback from high-level international experts in MedTech & AI from Israel, USA, Netherlands, France (see SSIMA speakers) and a pitching training session
- to have a one-to-one meeting with experienced mentors, such as: George Haber - Managing Partner CrestaFund Sillicon Valley, M. Alex O. Vasilescu - CTO at TensorVision California, Nikos Paragios - CEO & Founder TheraPanacea, Azim Celik - GE, Albert Puente - Neuroimaging Engineer at Qmenta
- to network with a group of international MedTech companies, presented at SSIMA.

SSIMA is the annual international MedTech festival in Eastern Europe, covering topics related to medical technology, such as: Deep Learning and Big Data in Healthcare, Medical Imaging, Medical Sensors and Robotsand AI-based Data Analysis.
It covers these topics from academic, business and public policy perspectives, with the explicit aim of increasing relationships between Eastern European academics, companies and governments and their global counterparts.
Cafeneaua de Inovare (Innovation Café) is an initiative of the Executive Agency for Higher Education, Research, Development and Innovation Funding (UEFISCDI), taking place twice or three times per year: a flexible networking framework aiming to facilitate the exchange of experience and the dialogue between innovative entrepreneurs, investors, venture capitalists and other actors active in the innovative entrepreneurship ecosystem in Romania.
*The event will include a session on "Sustaining regional innovation: moving towards high technologies", presented by Erasmus+ SME/HPC project.