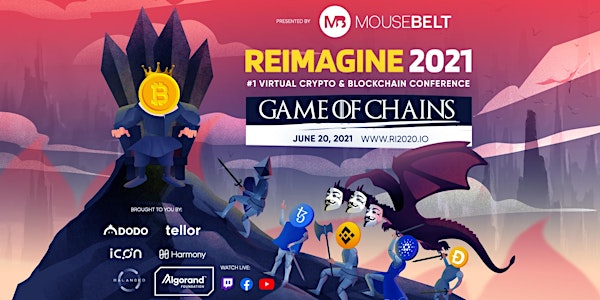 REIMAGINE 2021 Game of Chains - #1 Virtual Crypto & Blockchain Conference
An increasing swarm of strong 3rd generation blockchains has entered the cryptosphere, but who will reign supreme when all is said and done?
About this event
REIMAGINE 2021 v9.0: Game of Chains
Ethereum is the first major smart contract blockchain, and as such it has an incredible network effect that gives it a leading market share advantage. But though being first out of the gate has left ethereum with an important edge, it faces some important technical hurdles that have spawned an entire 3rd generation of blockchain evolution that has sought to improve where ethereum is lacking, including ethereum itself with its aspirational goals of launching 2.0. With the launch of ethereum 2.0 on the horizon, and the increasing swarm of successful 3rd generation blockchains, the question on everyone's mind is whether ethereum 2.0 will be a successful enough transition to keep its market share, or if new contenders will steal the show.
Much of this discussion centers on the successful implementation of proof-of-stake consensus mechanisms, the elimination of high gas fees, cutting down on transaction speed, allowing for cross-chain interoperability, on-chain governance of protocol amendments, the difference between formal vs. object oriented programming languages for smart contracts, as well as the ease of use of these programming languages. Will there be an ethereum killer? If so, who will it be? If multiple, who are the contenders? What is their difference? Why does it matter? What are the goals of smart contract blockchains?
We will be streaming on Facebook, Youtube, Twitch and DLive starting Sunday at 6:00PM EST. Check out the links here:
#1 Virtual Crypto & Blockchain Conference is back with featured guest speakers:
Anatoly Yakovenko, President at Solana Foundation
Arthur Breitman, Co-founder of Tezos
Kevin Wang, Co-founder of Nervos
Evan Kuo, CEO of Ampleforth
and many more!
Returning guests include powerhouses such as:
Mark Yusko of Morgan Creek Capital
Bruce Fenton of Chainstone Labs
Plus panels by industry leaders:
Icon
Tellor
Algorand Foundation
Dodo
**Brought to you by**
Join us on June 20th at 3pm PST, as we explore the new value being created in the crypto industry by artists, collectors and fans. We'll be releasing 30+ exclusive interviews predicting the impact of the recent hype and what to expect and hope for in 2021!
Watch Videos From Our Past Events:
REIMAGINE 2020 V1.0 "Reimagining 2020": WATCH VIDEOS
REIMAGINE 2020 V2.0 "Disrupting the System": WATCH VIDEOS
REIMAGINE 2020 V3.0 "WTFi is DeFi?": WATCH VIDEOS
REIMAGINE 2020 V4.0 "Tales From the Crypt(o)": WATCH VIDEOS
REIMAGINE 2020 V5.0 "Happy HODL Days": WATCH VIDEOS
REIMAGINE 2020 V6.0 "BUIDL Crypto Resolutions": WATCH VIDEOS
REIMAGINE 2020 V7.0 "History of Coins": WATCH VIDEOS
REIMAGINE 2020 V8.0 "State of Artchain": WATCH VIDEOS
Past Content
Talks on real world use-cases with enterprise executives from Coca-cola, Budweiser, Boeing, Daimler, ING
Industry keynotes and workshops from Ripple's Xpring, Hedera Hashgraph, Stellar, ICON, Ontology, Multi.io, KuCoin, Neo, IoTeX, Matic Network, Quantstamp, Orbs, LTO Network, Emurgo, NEM, ETC Labs.
Panels and regional reports from 100+ Universities and student groups from USA, UK, Australia, Argentina, Spain, Czech Republic, Ghana, and Nigeria
Past Keynote Speakers:
Tim Draper, Founder - Draper Associates
Michael Saylor, CEO - Microstrategy
Raoul Pal, Founder - Real Vision
Mark Yusko, Managing Partner - Morgan Creek Capital
Anthony Pompliano, Co-Founder - Morgan Creek Digital
Eva Kaili, Member - European Parliament
Scott Melker, Founder - The Wolf Of All Streets
David Gokhshtein, Founder - Gokhshtein Media
Erik Voorhees, CEO & Founder - Shapeshift
Charles Hoskinson, Founder - Cardano
Justin Sun, Founder - Tron
Arthur Breitman, Founder - Tezos
Dan Held, Growth - Kraken
Roger Ver, Founder - Bitcoin.com
Synthetic Assets & Stablecoins
James Simpson, CEO & Co-Founder - mStable
Evan Kuo, Co-Founder - Ampleforth
Dorjee Sun, CEO - PerlinX
Kain Warwick, Founder - Synthetix
Daniel Hwang, Head of Ecosystem Development - Terraform Labs
Brian Kerr, CEO & Co-Founder - Kava Labs
Scott Smiley, Co-Founder - Balanced
Yield Optimizers
Gregory Keough, CEO & Founder - DMM Foundation
Doug Leonard, CEO - Mainframe
Oracles
Soravis Srinawakoon, CEO & Co-Founder - Band Protocol
Clayton Roche, Head of Community Development - UMA
Patrick Collins, Developer Advocate - Chainlink Labs
Nick Fett, CTO - Tellor
Paul Claudius, Co-Founder and Association Member - DIA
AMM & Dex
Diane Dai, Co-Founder - DODO
Antonio Juliano, Founder - dYdX
Nate Hindman, Head of Growth - Bancor
Erik Voorhees, CEO & Founder - Shapeshift
Wallets and Infrastructure
Jacob Cantele, Head of Product - MetaMask
Kevin Wang, Co-Founder - Nervos Network
Jack O'Holleran, CEO & Co-Founder - SKALE Labs
Loong Wang, CTO - Ren
Joe Lallouz, Founder & CEO - Bison Trails
Michael Shaulov, CEO & Co-Founder - Fireblocks
Ingamar Ramirez, Mascot - dOrg
Nimrod Lehavi, Co-Founder & CEO, Simplex
Kosala Hemachandra, Founder & CEO - MyEtherWallet
General
Jordi Baylina, Founder & CTO - iden3 and Hermez
Zack Seward, Managing Editor - CoinDesk
Kim Grauer, Head of Research - Chainalysis
J.D. Salbego, CEO - AnRKey X
Yoni Assia, CEO & Founder - eToro
Diego Gutierrez Zaldivar, CEO - IOV Labs
Itai Elizur, COO & Partner - Market Across
Ciara Sun, Head of Global Business & Markets - Huobi
Joshua Frank, Co-Founder & CEO - The TIE
Lou Kerner, Managing Partner - Just Stable
Paul Claudius, Co-Founder & Association Member - DIA
Roger Ver - Founder, Bitcoin.com
Brock Pierce - Entrepreneur
Paul Brody - Global Blockchain Leader, EY
Josh Goodbody - Binance
Dr. Alex Cahana - Consensys Health
Andreas Antonopoulos - Author
Justin Sun - Founder, Tron
Joshua Rivera - General Counsel and Chief Compliance Officer, Blockchain Capital
Charles Hoskinson - Founder, Cardano
Catherine Coley - CEO, Binance US
Dr. Craig S. Wright - Chief Scientist, nChain
Dan Held - Growth Lead, Kraken
Alex Mashinsky - Founder, Celsius Network
REIMAGINE 2021 is a virtual blockchain conference and networking event designed to educate you to adopt a decentralized future and disrupt the old system. Our goal is to broaden education while strengthening ties between academia, industry and enterprise communities by providing a virtual forum that will serve as the standard for blockchain events going forward. Let's reimagine what's possible!
------------------------------------------------------------------------------------------------------