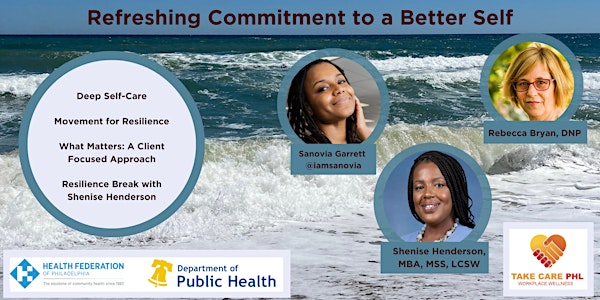 Refreshing Commitment to a Better Self - August Resilience
August: Refreshing Commitment to a Better Self - Deep Self-Care, Movement for Resilience, What Matters: A Client-Focused Approach.
About this event
Refreshing Our Commitment to a Better Self
Resilience Break with Shenise Henderson
Friday, August 5, 2022 10 -10:50 AM EDT
Friday, August 12, 2022 10 - 10:50 AM EDT
Take some time out of your day for a brief resilience break where we will use breath and movement to explore common emotions that impact our resilience. This is the final session of the Friday series that explores a different emotion and breathing or movement technique to support letting go and re-stabilization in our minds and bodies.
Connecting with our body through gentle movement, breath practice, and reflection is a powerful way to build internal resilience to be able to handle any challenges each day brings.
Same Zoom link both Days!
Guest Faculty: Shenise Nicole Henderson MBA, MSS, LCSW (bio below)
What Matters: A Client Focused Approach
Tuesday, August 9, 2022 10:00 - 11:15 AM EDT
Service industries often set expectations that don't necessarily align with what's important to the populations they engage with. Using recommendations from the Institute of Healthcare Improvement, this workshop will teach you their 4M model, focusing especially on, What Matters.
Focusing on "What Matters" - in our work lives, our personal lives, and our relationships - helps us to be stronger in the face of challenges.
Guest Faculty: Rebecca Bryan, DNP (bio below)
Movement for Resilience
Tuesday, August 16, 2022 1:00 - 3:00 PM EDT
What happens when we tap into our own bodies? What happens when we listen to the quiet and lingering urge to dance like no one's watching? Transformation? Healing? Find JOY? Journey into our SELFish zones? Come prepared to move at this interactive workshop on the benefit of movement, authenticity, and community with movement and music artist, @iamsanovia. Movement supports emotional balance, mental stability, and physical health. All of these elements support resilience for providers working in a fast-paced, crisis-driven field.
Guest Faculty: Sanovia Garrett (bio below)
Deep Self-Care
Friday, August 26, 2022 10:00 -11:15 AM EDT
We will explore three facets of self-care that can become lifelong practices. Offered towards the end of summer, this workshop will allow you space to set intentions for the inevitably busy fall season.
Focusing on caring for self and making goal-directed intentions are resilience skills that support personal and professional efficacy for life.
Guest Faculty: Rebecca Bryan, DNP (bio below)
Guest Faculty Bios
Shenise Nicole Henderson MBA, MSS, LCSW, has been in the field of social work for 16 plus years and has dedicated her work to trauma informed care and practice with children, adults, families and communities through psychotherapy practice, consultation, advocacy and training. Ms. Henderson works very closely with the foster care system helping to implement trauma informed practice within organizations through continued clinical work and training of foster parents and professionals. Ms. Henderson also directly supports children and families on the road to permanency working to directly reduce the impact of intergenerational trauma and secondary traumatic stress on the caregivers. Along with her clinical and therapeutic work, Shenise developed a love for yoga and holds a certification in trauma sensitive yoga. She teaches yoga in a professional studio, and in various schools/recreational centers within the School District of Philadelphia. Shenise is running coordinator of an active running group for minority women in the Mt. Airy neighborhood of the City of Philadelphia.
Rebecca Bryan, DNP is an adult nurse practitioner whose passion is raising interprofessional awareness about trauma-informed approaches to care. In 2012 she founded the UrbanPromise Wellness Center in Camden, NJ, with evidence-based initiatives grounded in Adverse Childhood Experiences (ACEs) research. Dr. Bryan is currently an adjunct professor at Rutgers University School of Nursing and has 20 years of experience working in the primary care setting, as well as experience working with pastors at Credo wellness conferences. She has educated interprofessional audiences about the impact of childhood adversity on health, behavior, and social consequences across the lifespan.
Sanovia Garrett is an Energetic Storyteller that uses music and movement performances, Sanovia instigates an instinctual full-body expression that sparks her audience to infuse more authenticity and joy in their everyday lives. Sanovia leads first as a trauma-informed artist with a MA in Urban Studies (Community Arts) from Eastern University/BuildaBridge International. You can find her on Youtube and instagram using her hashtag #catchmeinthelight, @iamsanovia.
Staff Facilitators
Don Jackson and Ashleigh Ryans, MSW
Supported in part by the Philadelphia Department of Public Health
This Resiliency Series is specially offered for community members and organizations who through their work are First Responders or are involved with those affected by the Substance Use Crisis in Philadelphia. The stress of caring for others can affect our bodies and minds. This free virtual series is here to support our workplaces and community and is open to anyone.
For information on Secondary Traumatic Stress (STS), visit #TakeCarePHL at https://www.philadelphiaaces.org/sts. Visit the Events page to sign up for notifications of future events.
Photo Credits
Refreshing Ocean Photograph by KLBregman
Sanovia Garrett Photograph by @tracyshotme