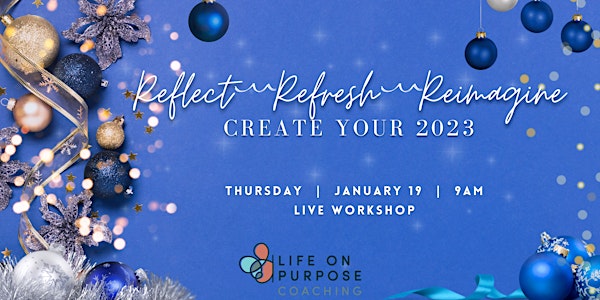 Reflect. Refresh. Reimagine: Create Your 2023
Create new possibilities and start moving toward the future that you want!
About this event
The beginning of the year is a natural time to pause, reflect and take stock of where we are. A new year offers us the chance to create new beginnings and set intentions for the year ahead, rather than staying stuck in old habits.
But most New Year's resolutions stem from self-judgment and criticism; based on fixing something we think is wrong with us. This year, join me to break up with disempowering resolutions and learn to create your year from an empowered, authentic place.
Through guided questions and reflection, we'll review and reflect on year that was, and create space, clarity and purpose for the year ahead.
This workshop is for you if:
• You're ready to get clarity and set intentions for the year ahead
• You want to create a year built on joy, happiness and meaning
• You're ready to take a look at the life you actually want to be living
Stop setting resolutions based in self-criticism and blame, and come learn to design a new year that's in alignment with what you want your life to look like. Let's make 2023 your most magical year yet!
The recorded session will be available for those that aren't able to attend the live workshop but don't want to miss these valuable insights and resources.
Your host, Jen, is a certified coach who's committed to helping brilliant people (hey, that's you!) live their lives on purpose. Let's have some fun.