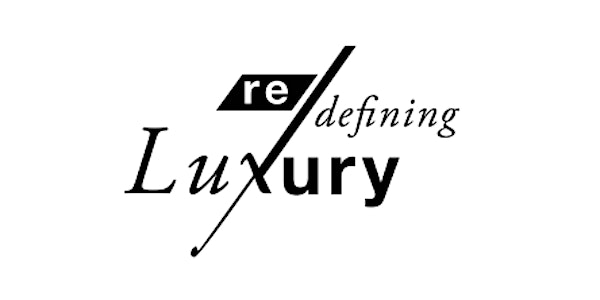 Redefining Luxury
When and where
Location
Kellen Auditorium 66 5th Ave, Room 101 New York, NY 10011
Description
Led by faculty and students in the School of Design Strategies and the School of Fashion, Redefining Luxury, seeks to challenge current definitions of Luxury, provoke new paradigms in the Luxury Industry, and imagine the future of luxury.
As an institution committed to creative strategies to solve the most pressing social issues, students and faculty at Parsons are examining the roles and responsibilities in the field of Luxury, to fostering sustainable practices, equity, and social justice.
This initiative celebrates a moment of change where advances in biotechnology may make material rarity obsolete; advances in digital technology and social media have created new expectations that remove authority from a single source; consumers are valuing experiences over physical product, and developments in AI and blockchain will change our decision-making processes.
Website - http://parsonsredefiningluxury.org
Handles - @SDSParsons @Parsons_Fashion @W_W_F @EmilyHuggard
CONFERENCE FORMAT:
10:00am Open Remarks: Kay Unger, Parsons Board of Trustees, Kay Unger Design
10:45am Panel 1 - Luxury Now x Future
Christopher Lacy, Barney's New York, Director of Customer Experience, Learning, and Strategy
Lisle Richards, The Metric,, Chief Operating Officer
Noa Raviv, Noa Raviv, Emerging Fashion Designer
Marie Driscoll, Fashion Tech Lab, Fashion Tech Advisor
12pm Networking / Lunch
*Free lunch will be provided to the first 50 registered attendees.

1:00pm Panel 2 - Luxury A Force for Good?
Ben Prosky, Center for Architecture, Executive Director
Carol Chen, Covetella, Founder and CEO, Entrepreneurship/Fashion/Asia
Karin Raguin, Christine Dior Couture, VP of Global Talent
Preeti Gopinath, Parsons - Director of the MFA Textile Program, Associate Professor of Textiles
--Coffee Break--
3:00pm Keynote: Mark Fina, Air Paris, Executive Creative Director
3:45pm Closing Remarks:
Erin Cho, Associate Professor of Design & Management, School of Design Strategies
Emily Huggard, Assistant Professor of Fashion Communication, Parsons School of Fashion
Jessica Corr, Assistant Professor of Design, Parsons, The New School
Wendy W Fok, Assistant Professor of Integrated Design, School of Design Strategies
4:00- 5:00pm Happy Hour / Networking
Presented by Parsons School of Design Strategies and Parsons School of Fashion.