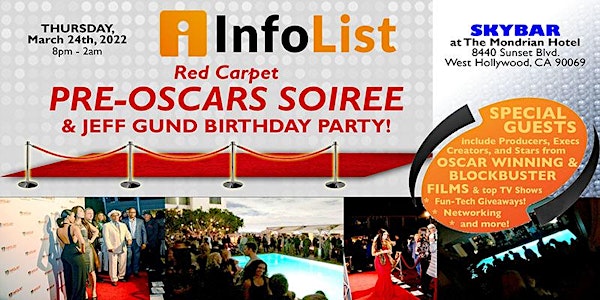 Red Carpet PRE-OSCAR SOIREE: An INFOLIST High-End Networking Event!
A RED CARPET PRE-OSCAR SOIREE with Special Guests including Creators, Execs & Stars from Blockbuster & Oscar-Winning & Nominated Films!
When and where
Location
Skybar 8440 Sunset Boulevard West Hollywood, CA 90069
Refund Policy
Refunds up to 1 day before event
Eventbrite's fee is nonrefundable.
About this event
JEFFREY R. GUND
&
INFOLIST.com
invite you to attend a
RED CARPET
PRE-OSCAR SOIREE
& BIRTHDAY PARTY FOR INFOLIST FOUNDER JEFF GUND
Please note this event is not affiliated with or endorsed by the Academy of Motion Picture Arts & Sciences in any way whatsoever.
A HIGH-END NETWORKING EVENT
Hosted by:
INFOLIST.com
with
SPECIAL INDUSTRY GUESTS:
THIS YEAR'S OSCAR NOMINEES:
WRITER/DIRECTOR
TADEUSZ LYSIAK
This year's OSCAR-NOMINATED film, THE DRESS
And the film's star, ANNA DZIEDUSZYCKA
Radosław Śmigulski (Director of the Polish Film Institute)
Veronica Andersson (Warsaw Film School | Producer Representative)
Ewa Sokołowska (Warsaw Film School | Producer Representative)
Monika Ossowska (Co-Producer)
Mariusz Gos (Editor) • Konrad Bloch (Cinematographer)
Michalina Robakiewicz (actress)
Starring in this year's OSCAR NOMINATED film
PLEASE HOLD
DOREEN CALDERON and
DANNY MORA
DIRECTOR/WRITER
SHANE BLACK
IRON MAN 3, THE PREDATOR (2018), LETHAL WEAPON (1-4)
Kiss Kiss Bang Bang, The Nice Guys
MAYLING NG
Starring in THE SUICIDE SQUAD as "Mongal"
Starring in THE SCORPION KING: BOOK OF SOULS as "Khensa"
Appearing in WONDER WOMAN as "Orana"
and in Lady Bloodfight as "Svietta"
ICONIC PRODUCER / WRITER / DIRECTOR
DAVID ZUCKER
(AIRPLANE!, NAKED GUN 1-3, SCARY MOVIE 3-5, Phone Booth, BASEketball)
FILM EXECUTIVE
RICHARD WALTERS
The OSCAR-WINNING film WHIPLASH
the OSCAR-NOMINATED DRIVE (starring Ryan Gosling)
the OSCAR-NOMINATED NIGHTCRAWLER (starring Jake Gyllenhaal)
the GOLDEN GLOBE-NOMINATED BOBBY (starring Emilio Estevez & Lindsay Lohan)
SCREENWRITER
DAVID HAYTER
X-MEN 1&2
THE WATCHMEN
THE SCORPION KING
Writer & Supervising Producer on
WARRIOR NUN
and the voice of Solid Snake in METAL GEAR SOLID games!
SCREENWRITER
JIM HERZFELD
The OSCAR-NOMINATED film MEET THE PARENTS (starring Ben Stiller & Robert DeNiro)
MEET THE FOCKERS (starring Ben Stiller & Robert DeNiro)
MARK PENNELL
Head of New Business & Special Projects for
BEACON PICTURES
Producers of
THE OSCAR-NOMINATED CHILDREN OF MEN
BRING IT ON • DAWN OF THE DEAD • END OF DAYS • THE GUARDIAN
VISUAL EFFECTS EXECUTIVE PRODUCER
BONNIE KANNER
The OSCAR-NOMINATED ACROSS THE UNIVERSE
The OSCAR-NOMINATED BLOOD DIAMOND
The OSCAR-NOMINATED I, ROBOT
And numerous other films including
X-Men 2 • Fantastic Four • Green Lantern
Red Cliff • 300 • Rush Hour 3 • Mr. & Mrs. Smith
Live Free or Die Hard • Under the Tuscan Sun
League of Extraordinary Gentlemen • The Guardian
PRODUCER / EXECUTIVE PRODUCER
KIRK SHAW
BEST PICTURE OSCAR-WINNING THE HURT LOCKER (starring Jeremy Renner)
EXTRACTION (starring Bruce Willis)
BATTLE IN SEATTLE (starring Charlize Theron, Channing Tatum)
HARDWIRED (starring Val Kilmer)
EXECUTIVE PRODUCER
JASON ROSE
CHEF (Starring Jon Favreau)
JANE GOT A GUN (Starring Natalie Portman)
THE CARD COUNTER (starring Oscar Isaac, Tiffany Haddish)
DIRECTOR
MARK L. LESTER
COMMANDO
Firestarter
Class of 1984
EXECUTIVE PRODUCER
JACLYN SURI
CABIN FEVER (2016)
Exposed (starring Keanu Reeves)
The Con Is On (starring Uma Thurman, Tim Roth)
with
SPECIAL CELEBRITY GUESTS:
KEN DAVITIAN
Starring in the OSCAR-NOMINATED BORAT
GET SMART
S.W.A.T.
DIAN BACHAR
Appearing in the OSCAR-NOMINATED NIGHTMARE ALLEY
starring in David Zucker's BASEketball
appearing in Galaxy Quest
appearing in South Park
JASON R. MOORE
Starring in Marvel's THE PUNISHER
JESSICA LEE
Suitcase #16 on DEAL OR NO DEAL
VOICE ACTOR
JON BAILEY
Narrator of HONEST TRAILERS
The voice of "Optimus Prime" in PRELUDE TO TRANSFORMERS: COMBINER WARS
Also Appearing in Hawkeye, BumbleBee (movie & games), Pokémon Detective Pikachu
almost 1 million followers on social media @epicvoiceguy
AND MORE SPECIAL GUESTS:
JASON NEESE - Supervising Producer, Emmy-Nominated Umbrella Academy, Emmy-nominated UnReal, Gone, Cruel Summer, Dear White People
JAMIE NEESE - Supervising Producer, Emmy-Nominated Umbrella Academy, Emmy-nominated UnReal, Gone, Cruel Summer, Dear White People
CISCO REYES – voice artist - appearing in the OSCAR-NOMINATED WEST SIDE STORY, All Eyez on Me, When They See Us, Unsolved: The Murders of Tupac and the Notorious B.I.G., star of Entanglement
PAUL RUNYAN – VFX/SFX/Animator on OSCAR-NOMINATED Free Guy, the OSCAR-NOMINATED Spider-Man: No Way Home, Red Notice, Loki, WandaVision, The Morning Show
RANDY DAVISON – appearing in the OSCAR-WINNING MANK, and the OSCAR-NOMINATED The United States Vs. Billie Holiday
SONNY TIEN NGUYEN – Concept Designer and Prop Fabrication Designer on Matrix: Resurrections, the OSCAR-NOMINATED AVENGERS: INFINITY WAR and AVENGERS: ENDGAME, the OSCAR-NOMINATED INTERSTELLAR, Antman, Spider-Man: Homecoming, Independence Day: Resurgence, Pee-wee's Big Holiday, and Imagineer & Creative Designer on Star Wars Galaxy's Edge for Disney Theme Parks
MYLES REIFF – Executive Producer on the EMMY-NOMINATED Leah Remini: Scientology and the Aftermath
CHRIS JAI ALEX – starring in Extraction, ThunderCats Roar, Deathstroke: Knights & Dragons, Darksiders Genesis
JANESHIA ADAMS-GINYARD – actress/stunt woman appearing in the OSCAR-NOMINATED Avengers: Endgame, the OSCAR-NOMINATED Avengers: Infinity War, the OSCAR-WINNING Black Panther, Jordan Peele's Us, The Falcon and the Winter Soldier, and Godzilla: King of Monsters
MICHAEL HIRANO CULROSS – composer, Phineas and Ferb Main Title Theme Song, series regular with Weird Al Yankovic on Disney's Milo Murphy's Law
ADRIAN DEV - appearing in the OSCAR-WINNING Vice, Westworld, Star Wars: Obi-Wan Kenobi
ELISE LUTHMAN – appearing in the smash hit Euphoria, The Politician, CSI: Crime Scene Investigation, Henry Danger
WALTER JONES - original Black Power Ranger on Mighty Morphin Power Rangers
NAJEE DE-TIEGE - Blue Power Ranger in Power Rangers Samurai, Starring in The Bay (Amazon Prime)
EMILY ALABI – choreographer for Chef, appearing in Marvel's The Runaways, Teen Wolf, and Jane the Virgin
RAFA SARDINA - 5-time Grammy winner and 13-time Latin Grammy winner known for his work with Lady Gaga, Alejandro Sanz, Luis Miguel, and more
JAYRAH GIBSON - music producer, BTS, EXO, Usher, Ty Dolla $ign
KEITH HARRIS - record producer & songwriter: has worked with Black Eyed Peas, Will.i.am, Estelle, Robin Thicke, Usher, Madonna
GIGI EDGLEY – Plays Chiana on Farscape (Syfy), host on Jim Henson's Creature Shop Challenge (Syfy), and appearing in Feud: Bette & Joan
ABRAHAM RODRIGUEZ – starring as the Gold Power Ranger in Power Rangers Beast Morphers, and as Spencer in the new Saved by the Bell
JACKIE DALLAS - appearing in Stranger Things, Fear the Walking Dead, 13 Reasons Why, The Resident, Leverage: Redemption, Criminal Minds, NCIS: New Orleans
MAKSYM KAPITANCHUK - choreographer for the OSCAR-NOMINATED short Walk Run Cha-Cha, and appearing in Dancing with the Stars and So You Think You Can Dance
ELENA KRIFUKS - choreographer for the OSCAR-NOMINATED short Walk Run Cha-Cha, and appearing in Dancing with the Stars and So You Think You Can Dance
ALLIE MORENO - voice artist on the OSCAR-WINNING Coco, Star Trek: Picard, Cry Macho
LAVINIA POSTOLACHE - former Miss World Romania, appearing in Babylon, Neon Demon
JUDY BEECHER - starring in Tango Shalom, and Taken 3
MELANIE HALFKENNY - appearing in Queen & Slim
JENNIFER COLLINS - appearing in Twilight, The Conjuring 2
SADIE KATZ – Wrong Turn 6: Last Resort, The Beast Inside
ZHALEH VOSSOUGH - appearing in Jason Bourne, The Dropout
TAJA V. SIMPSON – starring in Tyler Perry's The Oval, appearing in Insecure
JF DAVIS - appearing in American Assassin, Lethal Weapon, and S.W.A.T.
PAMELA BACH-HASSELHOFF - starring in Baywatch, appearing in Viper, Superboy
PETRI BYRD - Co-host/Bailiff on the Emmy-winning Judge Judy, appearing in Curb Your Enthusiasm
POONAM BASU – Voice actor in Ugly Dolls and hit video game Genshin Impact, guest starring on SWAT
TROY METCALF –recurring guest star on The Middle, original cast member of Strangers with Candy, supporting role opposite Brad Pitt in feature film Babylon
AVERY POHL – starring in the Sundance feature film Sound of My Voice, and series regular on General Hospital, and appearing in Never Have I Ever
GREGG BINKLEY – appearing in Café Society, series regular on Raising Hope, guest star on NCIS: Los Angeles, guest star on Apple TV's Roar
GLORIA GARAYUA – appearing in Maid (Netflix), How to Get Away with Murder, Grey's Anatomy, Fun with Dick and Jane
KELLY PERINE – appearing in School of Rock, Ghostbusters: Station 6, The Baby Pact, Family Reunion, staring in Knight Squad
SUNESSIS DE BRITO - top Brazilian model, also appearing in the films The Incredible Isaura Garcia and I Want to Say Goodbye
SERAH HENESEY - Produced and starred in The Surprise Visit, and appearing in The Guilty, and Scandal
ALEJANDRO DE HOYOS – appearing in The Man From Toronto (with Kevin Hart and Woody Harrelson)
JENISE SPITERI - Olympic Snowboarder from 2022 Olympics
SIMONE POSEY – appearing in Good Trouble, The Foundry
MARIA PAMO - international model (Maxim, Vogue, L'Official, etc.)
ALEXANDRA VINO - appearing in Spenser: Confidential (Netflix), Mile 22
VANESSA EICHHOLZ - appearing in Hellboy (2019), Lost in Space (2018)
ROBERT PAUL TAYLOR - appearing in Better Call Saul, The Good Place, Fresh Off the Boat
GALEN HOWARD – appearing in The Book of Boba Fett, Brooklyn Nine-Nine, Henry Danger, Agents of S.H.I.E.L.D.
NEIL D'MONTE - Storyboard Artist on Hitman's Wife's Bodyguard, Rambo: the Last Blood, Batman v Superman: Dawn of Justice, Concept Artist on Jurassic World, Star Wars: The Phantom Menace, Producer/Writer on Clan of the Vein
GABRIELLA MARTINEZ – appearing in S.W.A.T., Young Sheldon, Penny Dreadful: City of Angels, Fear the Walking Dead
BRYAN MICHAEL STOLLER – Author: Filmmaking for Dummies (quote from the book: "InfoList is a great resource for filmmakers!") and Imagining Hogwarts; Director, Tales from the Dark Side
GAY BLACKSTONE - former President of the Magic Castle in Hollywood, executive producer of Masters of Illusion
LUCAS LOCKWOOD – appearing in Ballers on HBO, Rosewood
ETHAN HENRY (appearing in Genius: Aretha, Bloodline, South Beach)
CHRISTINE SCLAFANI - appearing in Scandal, Black Monday
CRAIG MILLER – writer, The Hunger, Curious George, Stargate: Infinity, Godzilla the Series, Beast Wars: Transformers, Smurfs, Trollz, The Real Ghostbusters; publicist, Star Wars, The Empire Strikes Back, Splash, The Dark Crystal, Superman 2
and
INFLUENCERS:
NAYA MOUSA
3.8 million followers on TikTok
JENNIFER KASSIR
Aka Ms. Beanie
3 million followers on TikTok
JACK JERRY
2.1 million followers on TikTok
KRISTINA MENISSOV
International Model & Recording Artist
484k followers on IG
VICTOR GARIBAY
Influencer, Producer, and Entrepreneur
263k followers on IG
DARIAN DALI
Fashion Model
200k followers
…and MORE TO BE ANNOUNCED!
THIS WILL BE A MAJOR NETWORKING EVENT!
THURSDAY, March 24th, 2022
8pm - 2am at
SKYBAR
at The Mondrian Hotel
8440 Sunset Blvd.West Hollywood, CA 90069
This will be an OUTDOOR EVENT
Strict VACCINE-REQUIRED protocols will be enforced.
 (see full Covid policy at the bottom of this posting)
YOU MUST BRING VALID I.D. - Skybar requires this! 
DRESS CODE:  UPSCALE, HIP, COOL, SEXY!  (Dress Code Enforced by Skybar, so look sharp!)
SPECIAL DISCOUNT
FOR INFOLIST.com PREMIUM and PRO MEMBERS ONLY!
For a LIMITED TIME ONLY, InfoList Premium Members can get 40% OFF!  That's just $18 (normally $30!) for General Admission tickets, and only $24 (normally $40!) for VIP Tickets with Red Carpet priority access!
EARLY DISCOUNT TICKETS WILL GO FAST - SO DON'T WAIT!  Limited Amount Available!
NOT A PREMIUM INFOLIST MEMBER and want to join so you can take advantage of this special offer?
Create your Premium account now at:
https://infolist.com/membership/premium/
Then view the Premium posting while logged in to get your 40% off code:
http://infolist.com/listing/infolist-red-carpet-pre-oscar-soiree-2022-a-high-end-networking-event/
You MUST RSVP - THIS IS A GUEST LIST ONLY EVENT!
*Advance tickets will be guaranteed entry.  All other admission on a first come, first served basis - and if you've been to previous events, you know we will definitely hit capacity!
BOTTLE SERVICE RESERVATIONS GET PREFERENTIAL ENTRY
THIS WILL BE A SOLD OUT EVENT! Please call Skybar to make your Bottle Service Reservations ONLY at (323) 848-6025 or email them at skybarlatables@sbe.com
Tell them you were sent by Jeff Gund!(Use this email for BOTTLE SERVICE ONLY! Tickets must still be purchased for admission.)
To inquire about being a featured SPECIAL GUEST or
EVENT SPONSORSHIP
Please contact:
For Testimonials and InfoList SUCCESS STORIES:
For PICS and VIDEO of our previous events:
I look forward to seeing you there! 
COVID POLICIES FOR THIS EVENT:
Proof of vaccination is required for all guests (2 shots for Moderna or Pfizer, 1 shot and booster for J&J).  Proof may consist of either original physical vaccination card or digital QR Code, and state ID with matching name. Vaccination status will be verified for all attendees.  If guests cannot provide verification upon arrival, they will not be allowed to enter.
While most areas for this event are outdoors, masks will be required for all INDOOR areas at all times.  Masks may be removed indoors only when guests are actively consuming food or beverage.  Anyone refusing to comply with mask requirements is subject to removal from the event.  No refunds will be given for those not admitted or removed for failure to comply with the above measures.  Please note that protocols are subject to change, as new information comes to light.  Information on protocol updates or changes will be communicated via this website posting, and emailed to all ticket holders.  While we will try to make the event safe for everyone, you are responsible for your own safety and risk assessment.  We cannot guarantee a zero risk of catching Covid-19 (or other communicable disease).  Guests with health conditions or who are concerned about their safety are encouraged not to attend the event.  By purchasing a ticket or registering for this event, you agree to these terms. If you do not agree to these terms, we look forward to welcoming you at a future event when our policies have changed.
FAQs
Are there ID or minimum age requirements to enter the event?
Age 21 & over - you MUST bring valid ID (Skybar is very strict about this!)
What are my transportation/parking options for getting to and from the event?
Valet Parking at Hotel, as well as street parking and lots in the neighborhood.  Be sure to read any posted restrictions, etc.
How can I contact the organizer with any questions?
How can I sign up for INFOLIST PREMIUM MEMBERSHIP to get DISCOUNTS on this event, as well as many other industry events?