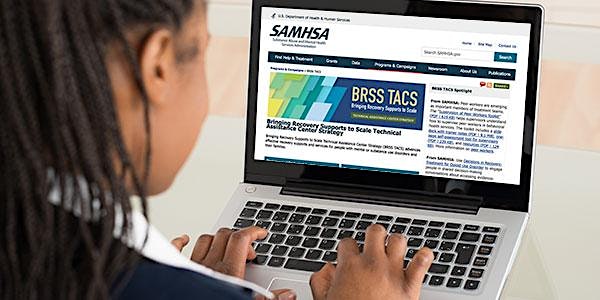 Recovery LIVE! Increasing Access to Treatment and Recovery Supports for Peo...
Description
SAMHSA's Bringing Recovery Supports to Scale Technical Assistance Center Strategy (BRSS TACS) invites you to join national experts in a conversation about how organizations and service providers can engage and support people with disabilities who are seeking treatment and recovery support services for serious mental illness or substance use disorders.
According to the Centers for Disease Control and Prevention Morbidity and Mortality Weekly Report, nearly one in four, or 61 million, Americans live with a disability. The spectrum of disability ranges from conditions that are easily observed by others, including physical disabilities that result in the use of a wheelchair or other assistive devices, to less outwardly apparent conditions, such as traumatic brain injury and chronic pain. Some individuals also experience serious mental illness, substance use disorders, or both, and encounter difficulties when accessing treatment and recovery supports.
Our presenters will discuss the importance of finding ways to be more inclusive when providing services, offer specific strategies to improve access to care, and share a new BRSS TACS resource for service providers with tips relating to accommodations for different types of disabling conditions.
Join us for this free, interactive virtual event, moderated by BRSS TACS Senior Associate Cheryl Gagne.
Presenters:
John deMiranda, Executive Director, National Association on Alcohol, Drugs and Disabilities
Anastasia Edmonston, Project Coordinator, Maryland Behavioral Health Administration's Federal Traumatic Brain Injury Partner Grant
Sterling Johnson, Lawyer, Legal Science