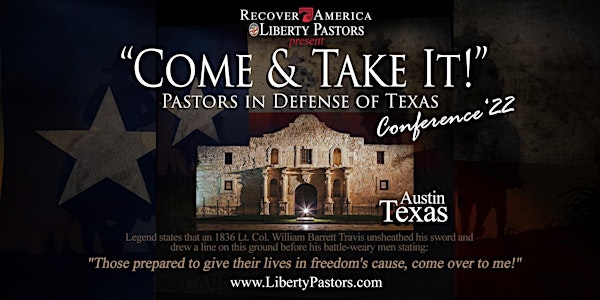 Recover America & Liberty Pastors Conference - Austin, TX
Join us in Austin! Recover America in cooperation with Liberty Pastors present a Conference you don't want to miss!
When and where
Location
Omni Barton Creek Resort & Spa 8212 Barton Club Drive Austin, TX 78735
Refund Policy
Contact the organizer to request a refund.
About this event
Recover America / Liberty Pastors Conference
Pastors in Defense of Texas
August 29-31, 2022
For this registration fee per pastor & wife couple/per room, you can enjoy 3 days and 2 nights at the beautiful Barton Creek Resort in Austin, 5 meals & tuition for 3 days of continuing education! See ticket options below.
Enjoy 3 days of R & R, fellowship with other pastors/leaders and be equipped to engage on cultural issues of the day aimed at destroying the Church and the family!
_________________________________________________________
Pastors, God has placed us here for such a time as this!
America is in peril! People are gripped with fear, yet where is the Prophetic voice of Almighty God?
As Hosea said, "My people are destroyed for lack of knowledge!"
We invite you to join us for four days of R & R, fellowship, food and training on Critical Race Theory, Cultural Marxism, Covid-19, Climate Change and the calls for Global Government, & much more!
Did you ever wonder what it would be like in the terminal generation of the Church that would be alive when the Lord Jesus returns for His own? We may be that generation!
Pastor, are you living in fear or are you prepared to lead and protect your flock as you boldly engage the culture with the Truth of Jesus Christ?
Biblical training on how to become a Black Robed preacher/leader in the 21st century:
What part of your life is Jesus not Lord over?
Proper roles of Government: self, family, church and civil
Biblical Principles of Civil Government
What does it mean to be a Black Robe preacher?
Does Rom 13:1-5 demand unlimited submission to government?
Should you fear the IRS and worry about your church's 501-C3 status?
Is the Johnson Amendment constitutional and should pastors obey it?
How do I deal with the myth of "Separation of Church and State" in my pulpit?
What do I say when I am accused of preaching politics over the Gospel?
How should a pastor respond to the growing threat of Marxism, Critical Race Theory, COVID lockdown/hysteria, the "Great Reset," global climate change, etc.?
How do I become a Black Robe preacher and join the Black Robed Regiment?
Liberty Pastors speakers include (subject to change):
Dr. Rick Scarborough Dr. Scarborough is a pastor, author, public speaker, and Christian activist. He has mobilized pastors for more than 30 years, impacting communities across the nation. He holds a Bachelor of Arts degree from Houston Baptist University, a Master of Divinity degree from Southwestern Baptist Theological Seminary, and a Doctor of Ministry degree from Louisiana Baptist Theological Seminary. In addition to founding and serving as President of Recover America, Dr. Scarborough is also the founder of Recover America Action, Vision America, and Vision America Action.
Paul Blair is a former NFL football player who was called into ministry in 2001. Paul Blair has served as the Senior Pastor of Fairview Baptist Church in Edmond since 2001. Blair is also the founder and President of Reclaiming Oklahoma for Christ, President of Reclaiming America for Christ and founder Liberty Pastors Training. Paul is a national speaker on America's Christian Heritage and God's design and intent for Civil Govt.
Dan Fisher is a 41-year vocational pastor & founder of the Bringing Back the Black Robed Ministry. Dan served two terms in the Oklahoma Legislature before running for Governor of OK in 2018. In addition to co-pastoring Fairview Baptist Church with Paul Blair in Edmond, OK, Dan also travels the country presenting his one-man, Broadway style presentation that brings to life the story of the Patriot Preachers of the War of Independence - men the British called the "Black Regiment." Dan's vision and prayer is that the American church, pastors/church leaders in particular, will regain the "spirit" of the original Black Regiment and again actively engage in the defense of truth and liberty. Dan is convinced that if the American pulpit does not re-engage, our Republic will most likely collapse and our liberty will be lost.
Alex Newman is an award-winning international journalist, educator, author, and consultant. Alex has written for a wide array of publications in the United States and abroad. He currently serves as a contributor to The Epoch Times, WND (World Net Daily), FreedomProject Media, The New American, the Law Enforcement Intelligence Brief, and more. Click here for his podcast.
Steven F. Hotze, M.D., is a best-selling author, American talk-radio host, physician, and activist. He is the founder and CEO of the Hotze Health & Wellness Center, Hotze Vitamins and Physicians Preference Pharmacy International, LLC. Dr. Hotze received his medical degree from the University of Texas Medical School at Houston. His goal is to change the way women and men are treated through the use of bioidentical hormone therapy. His 8-Point Treatment Regimen has helped thousands of individuals to get on a path of health and wellness and enjoy a better quality of life in an environment of extraordinary hospitality and guest service. Dr. Hotze has appeared on hundreds of television and radio shows across the nation, including ABC, NBC, CBS, and FOX affiliates, CBS' The Morning Show and The Biography Channel. He was also a regular guest on the KHOU Channel 11 morning program, Great Day Houston and the WFAA morning program, Good Morning Texas. Dr. Hotze is a past member of the American Academy of Otolaryngic Allergy and the Association of American Physicians and Surgeons, and is former president of the Pan American Allergy Society. Dr. Hotze hosted Health & Wellness Solutions Radio Show on KSEV 700 AM and Dr. Hotze's Wellness Revolution Radio Show on KPRC AM 950 and iHeart radio. Click here to listen to Dr. Hotze's Wellness Revolution podcasts of Dr. Hotze, his colleagues, expert guests and patient testimonials.
"Early Bird" Ticket Discounts
- $99.00 per PASTOR, per hotel room (no spouse attending)
- $99.00 per PASTOR & spouse couple, per hotel room
(Pastors have a special subsidized all-inclusive rate that has been covered by VERY generous investors. Take advantage today of this incredible opportunity & generous gift from Christian investors who want to empower pastors across the country!)
Enjoy 3 days and 2 nights of R & R, fellowship with other pastors/leaders and be equipped to engage on cultural issues of the day aimed at destroying the Church and the family! Pastors, we encourage and invite your spouses to join you for every session and meal!
If you have any questions, please feel free to email us at info@RA4C.org.
Ticket sales will end 8/19/2022 at 5pm CST.
For questions, please contact us
PHONE: (405) 348-1745
EMAIL: info@RA4C.org
____________________________________
To learn more about Recover America & Liberty Pastors, please visit us at
____________________________________
To take a look around the hotel gallery & local attractions:
https://www.omnihotels.com/hotels/austin-barton-creek
____________________________________