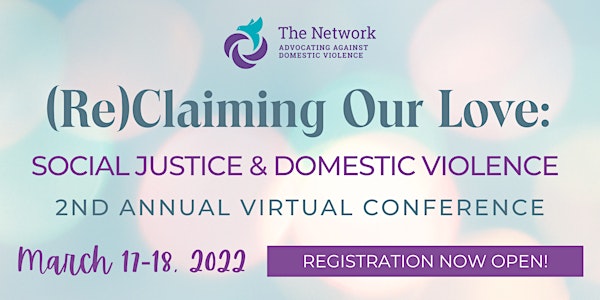 (Re)Claiming Our Love: Social Justice & Domestic Violence Conference
Event Information
Refund policy
Contact the organizer to request a refund.
Eventbrite's fee is nonrefundable.
About this event

Join us in our mission to end society's tolerance of domestic violence and social injustice at our second annual virtual (Re)Claiming Our Love: Social Justice & Domestic Violence Conference, hosted by The Network: Advocating Against Domestic Violence.
Participants will advance their understanding of anti-violence and anti-oppression models to best serve survivors that are focused on intersectionality, racial justice, abolition, decarceration, and transformative justice.
Over the two days, we'll hear from activists, advocates, and practitioners who are relentlessly using these approaches in their efforts to create a violence-free world.
The conference will center critical conversations on social justice and equity approaches and frameworks that directly influence interventions and solutions for domestic violence and other forms of violence.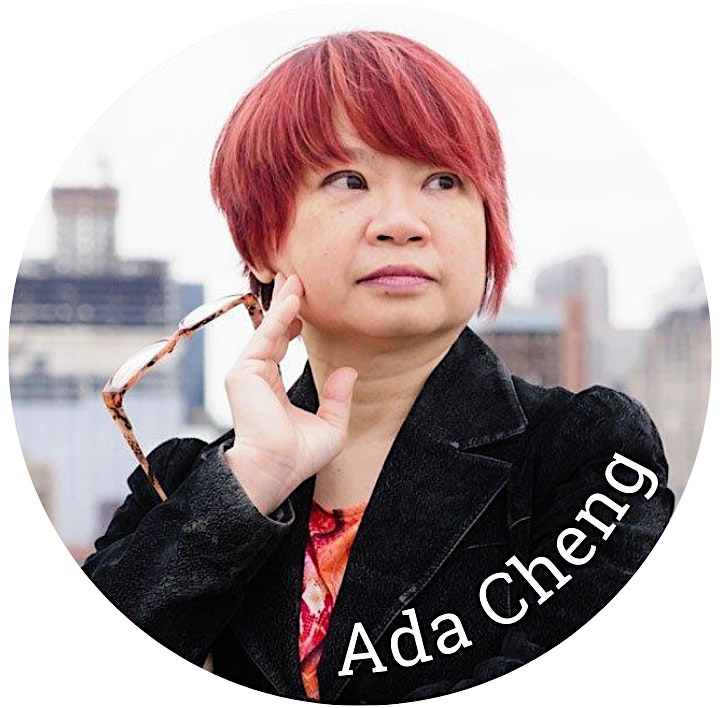 Our Opening Keynote Speaker is Dr. Ada Cheng - a storyteller, solo performer, show producer, educator, facilitator, and speaker based in Chicago.
An educator-turned artist, storyteller, and creator, Dr. Ada Cheng has utilized storytelling to illustrate structural inequities, raise critical awareness, and build intimate communities. Committed to amplifying and uplifting marginalized voices, she has created numerous storytelling platforms for BIPOC and LGBTQIA community members to tell difficult and vulnerable stories. Because of her artistic and intellectual work, she has recently been named the Educator of the Year by the 7th Congressional District's Multi-Ethnic Task Force and the American Multi-Ethnic Coalition, Inc.
She was the Education and Outreach Specialist for Campus Advocacy Network at UIC Women's Leadership and Resource Center between 2019-2021, adopting innovative approaches for gender-based violence prevention education. She created signature storytelling events, dialogue-centered workshops, and community spaces rooted in intimacy and vulnerability. As a scholar, she has published extensively on international migration, globalization, gender and migration, domestic service, and work. Her show, Am I Man Enough: Stories of Toxic Masculinity, regularly produced in collaboration with Center on Halsted, has become a pivotal space for people to address the impact of GBV. In 2021, she has delivered keynotes for Chicago Cultural Alliance's Activating Heritage Conference, AAPI Heritage Month at Dominican University, AAPI Heritage Month at Environmental Protection Agency, and Immigrants in Our Midst Conference. Talented as a creator and producer, she has also twice worked with Cook County to produce signature events for their Racial Equity Week since 2020. Dr. Cheng is currently a speaker for Illinois Humanities Road Scholars Speakers Bureau and an adjunct faculty at Dominican University.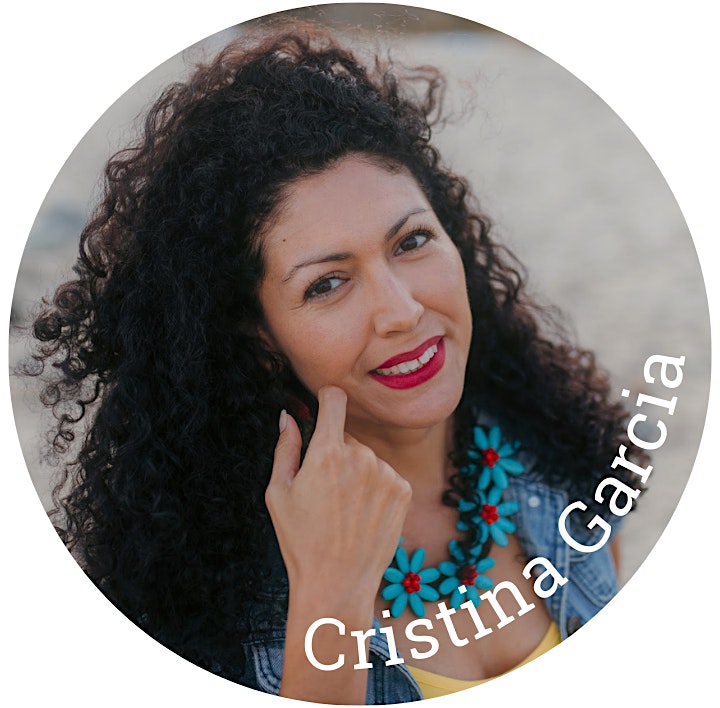 Our Closing Keynote Speaker is Cristina Garcia - a liberation-focused educator, activist, mentor and consultant. She helps People of the Global Majority heal from internalized oppression, racial trauma and identity loss so that they can reclaim their voice and fully affirm their power.
Cristina is the visionary leader behind She Grows, We Grow, a revolutionary community that helps bring consciousness to issues of identity, race and equity drawing attention to how these impact our individual and collective social, political, and spiritual wellbeing. Cristina brings an anti-oppressive and healing justice approach and over 15 years' experience in policy advocacy and organizing to all of her work.
She is a product of Chicago's southside and her social and political formation is grounded in Chicago's long legacy of activism and struggle. She credits her parents and extended community as her biggest Teachers infusing in her the wisdom, strength and determination to move through the world. As a daughter of immigrants, she is unapologetic about advocating for communities of color and making sure she is always bringing her ancestors to the table.
Cristina's work is grounded in her personal lived experiences, ancestral wisdom, and her professional training in macro social work. She holds a Bachelors in Business Administration from Robert Morris University and a Masters in Social Work from the University of Chicago.

Join us for panels, workshops, and performances focused on moving beyond the state's carceral approaches, strengthening anti-oppression practices, reshaping the realities of gender-based violence, and centering survivors and healing!
Em Gonzalez, a Senior Prevention Educator at Resilience, will guide us in a session about community defense practices in action. What's working? What could be strengthened? How do we hold state violence accountable? What does it mean to envision a world without sexual violence and how can we account for emotional labor and compassion fatigue?
We'll talk about language and cultural justice. In honoring the expertise of indigenous Pasifika communities and co-developing community resources to respond to gender-based violence, the Asian Pacific Institute on Gender-Based Violence's Matāpuna Levenson will share lessons from the Pasifika Power and Control Wheel Translation Project.
Could you use practical guidance for social workers on how to create daily acts of abolition? Elena Gormley will help reduce our complicity in carceral systems, by suggesting alternatives to mandated reporting.
The Women's Justice Institute and four currently incarcerated survivors will share "Look At Me," a performance of GBV experiences and poetry written and directed by incarcerated survivors. Four panelists will join remotely from within the Logan Correctional Center to share their experiences, discuss legal issues that drive survivors toward incarceration, share a piece of their own cases and current freedom campaigns, and offer recommendations for change.
Mujeres Latinas en Acción's Kayla Martinez will lead a workshop utilizing the "In her shoes" framework to build solidarity with immigrant survivors.
How can we reimagine the victim/perpetrator binary? Christine Call offers ideas in a workshop focused on trauma-informed interventions to reduce harm and build safe intimate-partner relationships.
Brain injuries are pervasive with gender-based violence. What are the effects of traumatic brain injuries (TBI) and how can we better serve survivors who have suffered TBI? Presenters from DePaul University and the Swedish Hospital will highlight effective collaborations between domestic violence service providers and healthcare professionals in Arizona and Illinois.
… and even more sessions and performances! See our full agenda here.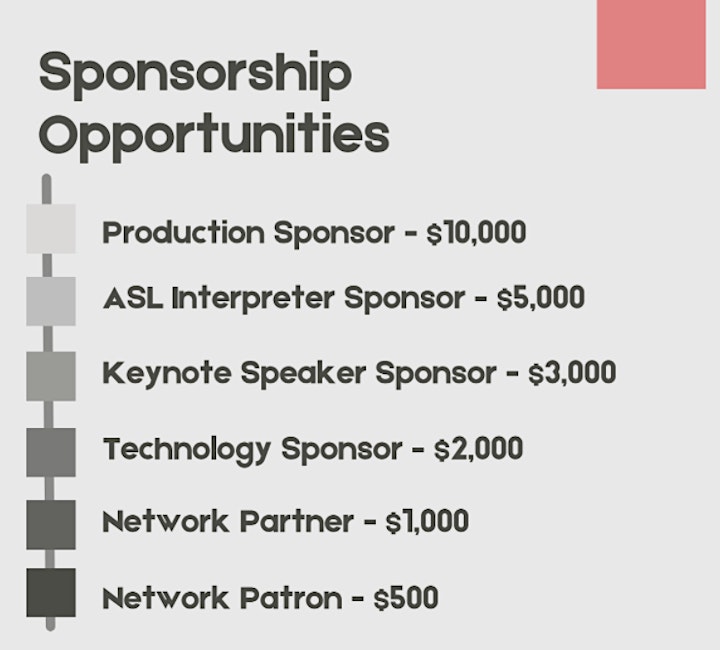 As a valuable sponsor, your company will be given brand visibility and recognition on all promotional materials on social media (Facebook, Twitter, Instagram, LinkedIn), the organization's website, etc. Our conference program will mention you as our sponsor and include your logo. Additional benefits like tickets to the event, and domestic violence and racial equity training for your staff are also available.
Click here to learn more about becoming a sponsor: https://bit.ly/3HGPLK2

Date and time
Location
Refund policy
Contact the organizer to request a refund.
Eventbrite's fee is nonrefundable.
Organizer of (Re)Claiming Our Love: Social Justice & Domestic Violence Conference