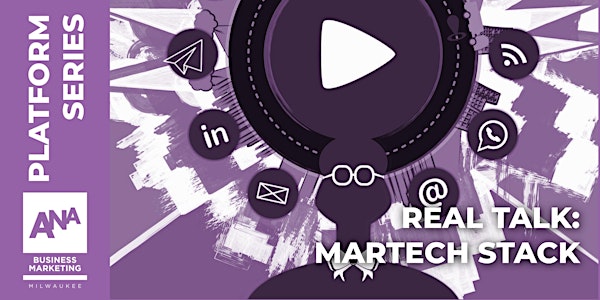 Real Talk: MarTech Stack
Real Marketers + Real-world Tech Stacks = A Real Talk Not to be Missed!
About this event
Whether you're a B2B, B2C, Enterprise, SMB, agency, sole proprietor or other Marketer - at times you just can't help feeling somewhat overwhelmed by how much is going on in MarTech. A prime example? Scott Brinker's latest (April 2020) Landscape Supergraphic has 8,000 martech solutions!
Is there ever truly a way to know that you've got the best stack in place?! Does more MarTech = better marketing?! Will there always be some feeling of FOMO for a platform you think may be better or think you absolutely need?!
During this panel discussion, we'll try to shed some light on the above questions and more. Four Milwaukee-based marketers will share their perspectives on the real-world stacks they use to power their businesses (or their clients). We'll talk about:
MarTech Stack Integrations
When to choose platforms and clouds versus assembling your own
How to assemble a sane and rational MarTech stack
Working with IT as collaborators (instead of adversaries)
Join us via Zoom (link will be emailed to those who register) on Tuesday, May 11 from 12:00 - 1:00.
Our Panel:


Stan's Fit For Your Feet is a family owned Milwaukee business that started as Stan's Bootery in 1950. Today Stan's manages over 50 brands of shoes, 6 physical store locations and the "always open" stansfootwear.com.
Megan Sajdak, Director of Marketing, and Andy Sajdak, Finance, IT, and Operations will bring a B2C perspective, sharing how marketing technology has helped Stan's grow and change throughout their rich history.

Standard Process is a third generation, family-owned company that partners with health care practitioners to effectively and holistically address issues related to health conditions. They're dedicated to changing lives through whole food-based nutritional supplements that support the body's interrelated systems, rather than simply treating the symptoms.
Andy Parmann, Social Media Marketer, has helped develop and manage their social media platforms to be utilized more effectively. Andy will provide a great B2B perspective and valuable insights in the social media platform space when it comes to MarTech stacks.

Ascedia has kept businesses ahead of the digital curve for more than nineteen years—by putting people first. It's in the way they treat their clients and how they make every online and mobile experience feel personal. Genuine connection is the difference that will turn a visitor into your next customer.
As Executive Director, Nick works with a variety of clients and their martech stack needs. With a background in project management, digital strategies, Content Management Systems (CMS), coaching, and leadership, Nick will bring a well-rounded perspective to our discussion.
Our Moderator:

As the Senior Content Strategist at Standard Process, Beau Walter is responsible for all web, social, and email strategies and communications. He and his team produce engaging content for all channels. In addition, Beau has driven analysis, evaluation and strategy for eCommerce, marketing automation, marketing planning calendars, and more.
Beau also serves as the Web Chair for the ANA Business Marketing Milwaukee board.