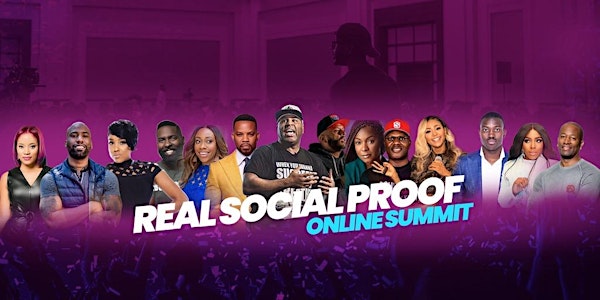 Real Social Proof
The Social Proof Online Summit Helps Entrepreneurs START, GROW & SCALE Their Business.
Refund Policy
Contact the organizer to request a refund.
Eventbrite's fee is nonrefundable.
About this event
Different phases of entrepreneurship require different phases of learning and resources. At Social Proof you have the opportunity to learn from experts who have mastered each phase along with the tools they used.
For The Entrepreneur who's ready to START
You may or may not have a business idea but you know you want to be an entrepreneur.
You get excited about the possibilities of owning a business but you really don't know where to start or the type of business to start. These workshops are going to open your mind up to business opportunities in several industries. The experts teaching these workshops are individuals who have success doing exactly what they're teaching. You'll walk away with a clear plan and vision for whatever business you decide to start.
For The Entrepreneur who's ready to GROW
You're moving in the right direction but you know you could be doing much better.
You seem to be stuck at a certain income amount or you never have a steady flow of clients. In these workshops, you'll learn how to keep your pipeline full, how to create systems that allow you to make more money, and help you create additional revenue streams from your current business. These workshops will give the tools you need to build a 6-figure business.
For The Entrepreneur who's ready to SCALE
You're successful but you know there's more. You have all the pieces to the puzzle but there are still a few things you're missing.
Part of expansion involves more exposure, partnerships, and investment opportunities. These workshops are going to help you create a bigger vision for you and your business as well as take you from 6 to 7 figures in earning potential.
You can also get your FREE Event Packet on www.RealSocialProof.com