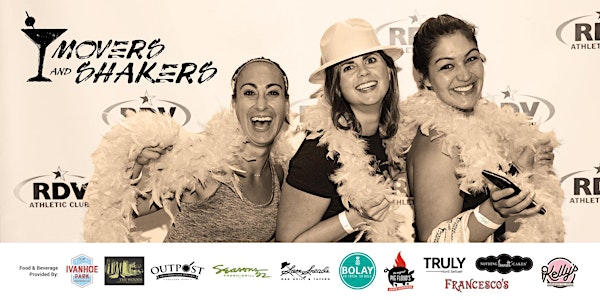 RDV MOVERS & SHAKERS
When and where
Location
RDV Sportsplex Athletic Club 8701 Maitland Summit Blvd Orlando, FL 32810
Description
Your workout has never been this fun! This COCKTAIL PARTY FOR CHARITY, inspires you to WORK OUT for a GREAT CAUSE! Challenge yourself in one of TEN of our most popular GROUP FITNESS classes before you SIP fine wine, craft cocktails, craft beer, and spiked seltzer, EAT delicious food from Orlando's best restaurants, and SHOP a silent auction!
Start your evening off with a good sweat in your choice of AQUA FIT, BLAST, CARDIO TENNIS, DEEP WATER FITNESS, FIGHT, GLOW RIDE, HOT YOGA, POWER, TRAINING FOR WARRIORS, or the ZUMBA/GROOVE DANCE PARTY. After class enjoy local Orlando favorites Bolay, Pig Floyd's Urban Barbakoa, Sam Snead's Oak Grill & Tavern, Season's 52, The Outpost Neighborhood Kitchen, Francesco's Ristorante, Nothing Bundt Cakes, and Kelly's Homemade Ice Cream, plus delicious and crafty cocktails provided by The Woods Orlando, craft beer from Ivanhoe Park Brewing Company, and hard seltzer from Truly, while having fun with friends and checking out the silent auction. It's an evening you don't want to miss!
All proceeds go directly to the Orlando Union Rescue Mission, one of Central Florida's oldest and largest homeless service providers. Since 2018, $55,000 has been raised to help homeless individuals and families return to a life of independence through this event.
Event is for ages 21+. Attendees must show photo ID at check-in.
Kid's Stuff will NOT be open during event.


SHOP OUR SILENT AUCTION
Check out and pre-shop the items at https://www.bidpal.net/ms2020. Auction goes LIVE at noon, Wednesday, March 4!
All proceeds go to Orlando Union Rescue Mission!
EVENT MENU -
The Woods Orlando - the Cat's Meow, a mix of Russell's Reserve 10 Year Bourbon, Honey-Ginger Syrup, Fresh Squeezed Lemon and Black Walnut Bitters; and Naked & Famous, Hendrick's Gin, St. Germaine Elderflower, Midori, Cucumber-Mint Syrup, Fresh Lemon and Grapefruit.
Craft beer from Ivanhoe Park Brewing Company including Joyland IPA , a slighty dry IPA with a malty balance, and Tupac Shaporter, award-winning deep brown beer with mild notes of roasted grains, chocolate and toffee and undertones of coffee.
Pig Floyd's Urban Barbakoa will serve Brisket Skewers with Chimichurri Sauce and Chicken & Roasted Pineapple Skewers with Honey Sriracha.
Francesco's Ristorante Homemade Meatballs, ground beef and pork with cheese, garlic and pesto in a marinara; Rigatoni alla Norma, marinara, fresh mozzarella, roasted eggplant, basil and aged ricotta salata
Bolay is serving Cilantro Noodles with Jasmine Rice, Lemon Chicken and Avocado.
Outpost Neighborhood Kitchen will serve Shrimp and Grits, white cheddar and Parmesan with grits, shrimp and a spicy Cajun brown butter sauce and chorizo
Sam Snead's Oak Grill & Tavern is dishing up Oak Grilled Chicken and Cheese and Nut Salad, plus Sam Snead's Buffalo Chicken Wings
Season's 52 is offering three Mini Indulgences; Raspberry Chocolate Chip Cannoli, and Chef's Choice
Nothing Bundt Cakes will be providing Mini Bundt Bites in Chocolate Chocolate Chip and Lemon.
Kelly's Homemade Ice Cream – Cake Batter 'N Sprinkles and Strawberry Sorbet.
A selection of Sauvignon Blanc, Chardonnay, Rose, Cabernet Sauvignon and Pinot Noir wine will be poured, as well as non-alcoholic options will also be served.
TRULY Spiked Seltzer will offer Mixed Berry, Citrus, and Lemonade-Infused hard seltzers
---

EVENT DETAILS
Thursday, March 5
Doors open at 6:15pm
Classes start at 7:00pm
Cocktails & Appetizers served at 8:00pm
Dress in your favorite workout gear.


TICKETS
$55 - Individual Ticket Purchased Online
$100 - Couple Ticket Purchased Online
$60 - Individual Ticket Purchased at Door (if available)
Each ticket includes participation in group fitness class, appetizers and two cocktails.


---

EVENT LOCATION
RDV Sportsplex Athletic Club
8701 Maitland Summit Blvd
Orlando, FL 32810

One-quarter mile west of I-4 on Maitland Boulevard, between Keller Road and Maitland Summit Parkway.


---
CLASS DESCRIPTIONS
Attendees choose to participate in one of TEN group fitness classes taught by top-level industry professionals. Classes are 55 minutes and designed for ALL FITNESS LEVELS.
AQUA FIT
Get fit and have fun in this water class that incorporates resistive training with aqua dumbbells, wave webs and more to focus on muscular strength and toning.
[Instructors -- Marcela Sindolar]
**SOLD OUT** BLACK LIGHT GLOW RIDE
Apply a little, a lot or no body paint at all, in this fun black light cycling class! Cycle your way to burning calories and strengthening your lower body as you climb mountains, roll over hills and chase the pack in this high energy class set to motivating music. No experience necessary. If you can ride a bike, this must-not miss class is for YOU!
[Instructors -- Mark Sutherland, Jen Yaden]
BLAST
Blast through your workout with 55 minutes of athletic cardio training that will get your heart pounding and body moving as you improve your fitness, agility, coordination, and strength with exciting music and group energy.
[Instructors -- Bryse Conner, Janelle Reid, Jonny Specht]
CARDIO TENNIS [Weather Permitting]
Cardio Tennis is a fun group activity featuring drills to give players of all abilities an ultimate, high energy workout set to fun music. Class includes a warm-up, cardio workout, and cool-down phases.
[Instructors -- Alice Reen, Mike Dickenson]
DEEP WATER FITNESS
This low impact, joint-friendly workout builds strength and cardiovascular health. Utilizing flotation devices, this class uses resistance exercises and underwater running drills to achieve a cardio burn that will leave you feeling strong and energized!

[Instructors -- Robin Densberger]
FIGHT
Tap into the hottest mixed martial arts movements done at a rapid-fire pace to smash your cardio fitness! Join us in this outdoor Fight Class combining cutting-edge moves with thrilling music in an electric experience that's addicting!
[Instructor -- Michelle Carroll, Bora Erbilen, Nikki Fisk ]
HOT YOGA
Warm and welcoming, heat up your yoga practice and work out the day's stress with a dynamic yoga class designed to help you ultimately restore and relax. This all-level class combines strength, flexibility and breathing techniques that will leave you feeling energized.
[Instructor -- Yanet Ralls, VB Joshi]
POWER
This guided weights class will increase your workout results with cutting-edge strength training! Get muscle strong and movement strong when you combine traditional strength training with functional exercises and the revolutionary science of Loaded Movement Training, using an adjustable barbell, body weight, and heart-pounding music. POWER UP!

[Instructors -- Danielle Korte, Nick Mog, Sydni Watson]
TRAINING FOR WARRIORS (TFW)
Find your Warrior within! This endurance training class combines strength training, cardio, agility and flexibility in an encouraging and motivating environment. No matter your fitness level, achieving your personal best is all that counts to achieve Warrior status!
[Instructors -- Jett Bryan, Jake Ratke, Alisha Veta]
ZUMBA/GROUP GROOVE DANCE PARTY
Get movin' and shakin' in this fun, fast-paced cardio class set to great dance beats with an All Star instructor line-up! Burning calories has never been this much fun!
[Instructors -- Tom Cannold, Ana Somers, Cherie LaRosa-Ceppos, Devon Patsel, Megan Reiplinger]
---

SPONSORSHIP OPPORTUNITIES
Be a part of this exciting evening supporting the Orlando Union Rescue Mission breaking the cycle of homelessness and providing for the immediate physical needs – including food, clothing and shelter – while leading the homeless to permanent independence built on a personal relationship with Christ.
Want to become a sponsor? Contact us at 407-916-4233.
FOOD & BEVERAGE SPONSORS
The Woods Orlando | Ivanhoe Park Brewing Co | Bolay | Pig Floyd's Urban Barbakoa | Sam Snead's Oak Grill & Tavern | Season's 52 | The Outpost Neighborhood Kitchen |Truly Hard Seltzer | Nothing Bundt Cakes | Francesco's Ristorante | Kelly's Homemade Ice Cream
TEAM SPONSORS
BBM Structural Engineers | FFVA Mutual | First Class Cleaners