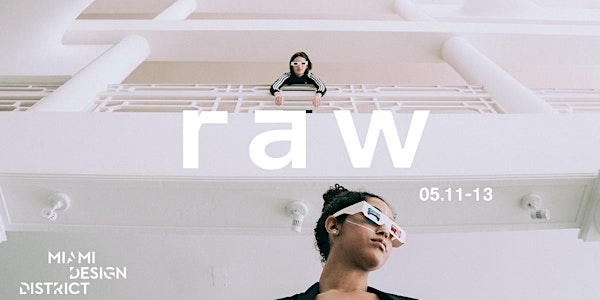 RAW Pop Up at The Moore Building
When and where
Location
The Moore Building 191 NE 40th Street Miami, Florida, 33137
Description
RAW Pop Up – The Moore Building
May 11th to May 13th 2018
RAW is a 3-day, 5-floor multi-sensory pop up of art, music, and technology, redefining how art is experienced from May 11-13th at The Moore Building in partnership with the Miami Design District.
RAW challenges you to not settle for being a mere observer, we want you to firmly grasp and lock the present moment in space.
We disrupt existing visual boundaries found in everyday art shows and encourage you to dive into new and ephemeral experiences where you can allow yourself to taste, touch, feel, listen, and actively experience and influence art.
RAW features site-specific installations that highlight the human senses. With over 50+ participating artists and musicians, RAW's pop up aims to challenge, engage and awaken. The artists are ready, are you?
FRIDAY 05.11 8PM - 3AM / RAW GRAND OPENING (21+)
The senses unfold as we present RAW opening night featuring over 80+ emerging artists, 4 floors of immersive installations, surprise performances, and RAW's signature Pop Up Bar on The Moore Building's rooftop.

Music by Salomon Beda, Jason Joshua & The Beholders, French Horn Collective, and more.
SATURDAY 05.12 8PM - 3AM / RAW PERSPECTIVE (21+)
Leave your preconceptions at the door as your experience art through a new lens. Dive deep into RAW's second night of immersive installations, special performances, and more.

Music by City of the Sun, Lipstick Gypsy, Millionyoung, and more.
Feel your senses awaken as we challenge you to change perspectives through our RAW'S 3D glasses. Entry includes a pair of 3D glasses.
SUNDAY 05.13 12PM - 5PM / ODE TO MOM (ALL AGES)
We close this pop up with Ode to Mom, a RAW program celebrating mother's and women. Open to all ages, RAW's four floors of immersive installations creates a multi-sensory experience, allowing you to interact with the art and ignite your own creativity. With a special focus on Mother's Day, a proceed of tickets will be going to Arts for Learning and all mom's and children under 8 will receive complimentary entry. Come explore you RAW senses!
We are proud to announce a new partnership with the Miami Design District, Miami's creative neighborhood dedicated to innovative fashion, design, art, and architecture. RAW will pop up at The Moore Building, a historical landmark totaling 21,000 square feet in the heart of the district.
RAW shares the Miami Design District's passion and philosophy in creating the best cultural experiences within an architecturally significant context.
All tickets include entry to RAW's Rooftop Bar, a sensory pop up bar experience that transcends the five senses on The Moore Building's rooftop.

Tickets guarantee quick entry to RAW. Tickets are non-refundable. Tickets will be available at the door. Guests must be 21+ on 05.11 & 05.12. Open to all ages on 05.13.
Welcome to RAW
#AreYouRAW
#AtMDD