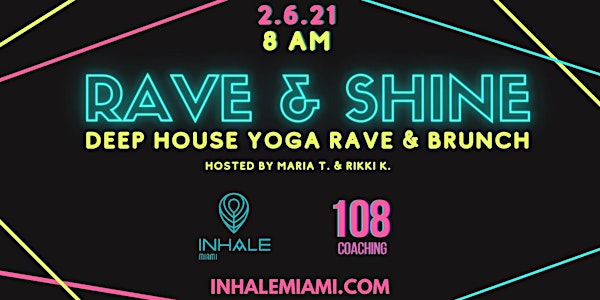 Rave & Shine
Join Maria for a power vinyasa yoga class to rejuvenate the mind and strengthen the body. Get ready to sweat and allow the beats to resonate
When and where
Location
Inhale Miami 6310 Northeast 2nd Avenue Miami, FL 33138
Refund Policy
Contact the organizer to request a refund.
Eventbrite's fee is nonrefundable.
About this event
Deep House Yoga Rave & Brunch
Hosted by Maria T. and Rikki K.
Yoga & Sound Healing
Live DJ
Crystal Bowl Sound Bath w/ Binaural Beats
Rave & Open Dance Floor
Gourmet Vegetarian Brunch & Fruit Bar
Holistic Vendor Marketplace
Don't wanna do yoga ? Purchase your ticket for just DJ Rave & Brunch at 9:30am 💃
8 AM - 2 PM
Doors open at 7:30 AM
8 AM - 9:15 PM - Sunrise Deep House Yoga w/ Maria T. and [Live] DJ Rikki (Power Vinyasa Yoga Class/Electronic Flow)
9:15 - 9:30 AM - Deep Healing Sound Bath with Crystal Bowls & Binaural Beats
9:30 AM - 2 PM - Rave & Brunch- Morning
Ticket 1 - Yoga, Rave & Sound Healing
Early Bird $20
Regular - $25
Door - $30
Ticket 2 - Just Wanna Rave (from 9:30 AM and on) - $10
Ticket 3 - Brunch Add On - $15
What to bring:
Mat
Water Bottle
Smile
Dress: Yoga Ravewear/Whites/Neons
Limited Availability for Yoga & Sound Healing - Please Pre-Purchase Your Ticket 🙏
Come early and get body painted!
Masks are required upon entry and optional once you find your spot.
Temperature is taken at the door and hand sanitizer available.
Please stay home if you're feeling unwell 🙏
We can't wait to see you 💙
About the class:
Join Maria for a power vinyasa yoga class to rejuvenate the mind and strengthen the body. Get ready to sweat and allow the beats to resonate deep within. Let's rave & shine! Class is for all levels.
About Maria:
Maria is a career coach yogi that empowers her clients to be their best selves. With over 15 years' experience coaching over 10K individuals - from young adults to executives to retirees starting anew, she has heard countless stories of love, loss, and triumph. She specializes in career coaching, professional development training, and strengths-based leadership. As a daily ashtanga yoga practitioner and vinyasa teacher at Wynwood Yoga Studio, Maria's yoga classes are a mix of traditional and joyous, with the ultimate goal of having her students feel deep bliss and peace within. The founder of 108 Coaching - a collective of the mind, body and spirit, Maria combines her love for career coaching, yoga, and passion for her clients to live a holistic lifestyle and balanced, successful career. Yoga has been her journey to self-love and she looks forward to sharing it with you.
About Rikki:
Rikki Kamensky is a Yoga Instructor, Licensed Massage Therapist, entrepreneur, the sole owner of Inhale Miami, a multi-purpose Holistic space in Miami's Little River district and founding member of non-profit Yoga Kidz Inc.
After opening Inhale in September 2015, Rikki saw the need for affordable yoga in the Little Haiti area and now offers a free weekly yoga class for those who can't afford yoga.
She opened the non-profit Yoga Kidz Inc. in 2015 to bring awareness to the importance of diversifying the yoga community.
Living, working and studying in NY, she has developed an expertise in finding ways to incorporate yoga, meditation, massage, acupuncture and nutrition into urban life – both through teaching groups and working privately.
Her deep belief in the "yoga for everyone, everywhere" approach led her to start 'Inhale Brooklyn' and teach in numerous yoga studios, warehouse spaces, corporate settings and even conscious raves around NY.
In her work, Rikki draws from many influences, inspired by her extensive training in a wide variety of fields including psychology and human sciences at CUNY, Dharma Mittra Yoga Teacher Training (LOAY) and a Holistic Massage Therapy degree from the Pacific College of Oriental Medicine.
After moving from New York to Miami in January 2015, she opened Inhale Miami in September and has been yoga-ing it up ever since.
She is also a proud mom of eight year old Elijah.
Inhale Miami [Venue]
Community
Connecting, engaging and establishing long-term relationships with our neighbors, and providing a meeting place for the community of the like-minded people are at the core of our mission.
Atmosphere
An indoor urban oasis beautifully designed to accommodate a variety of events - from sound healing ceremonies to photoshoots and wellness conferences, and everything in between.
Good Vibes
Spirit of gratitude and openness rules our space, we appreciate every opportunity to foster positive social interaction, spread the love and provide a refuge from the daily grind.
Mindfulness
Our daily choices, actions and rituals shape our lives, so we designed our space to cultivate mindful engagement and nurture connection to our true selves and each other.
Insight
Life is a process of discovery and revelation, at INHALE we live for creating magical moments and interactions, opening new perspectives and transforming the mundane into sacred.
Urban Art
Creativity is the vital part of a vibrant life and in our space we honor art in all possible expressions, from the art of tea ceremonies to amazing live music events and exhibiting art pieces produced by the local artists.
We look forward to seeing you 🙏