Description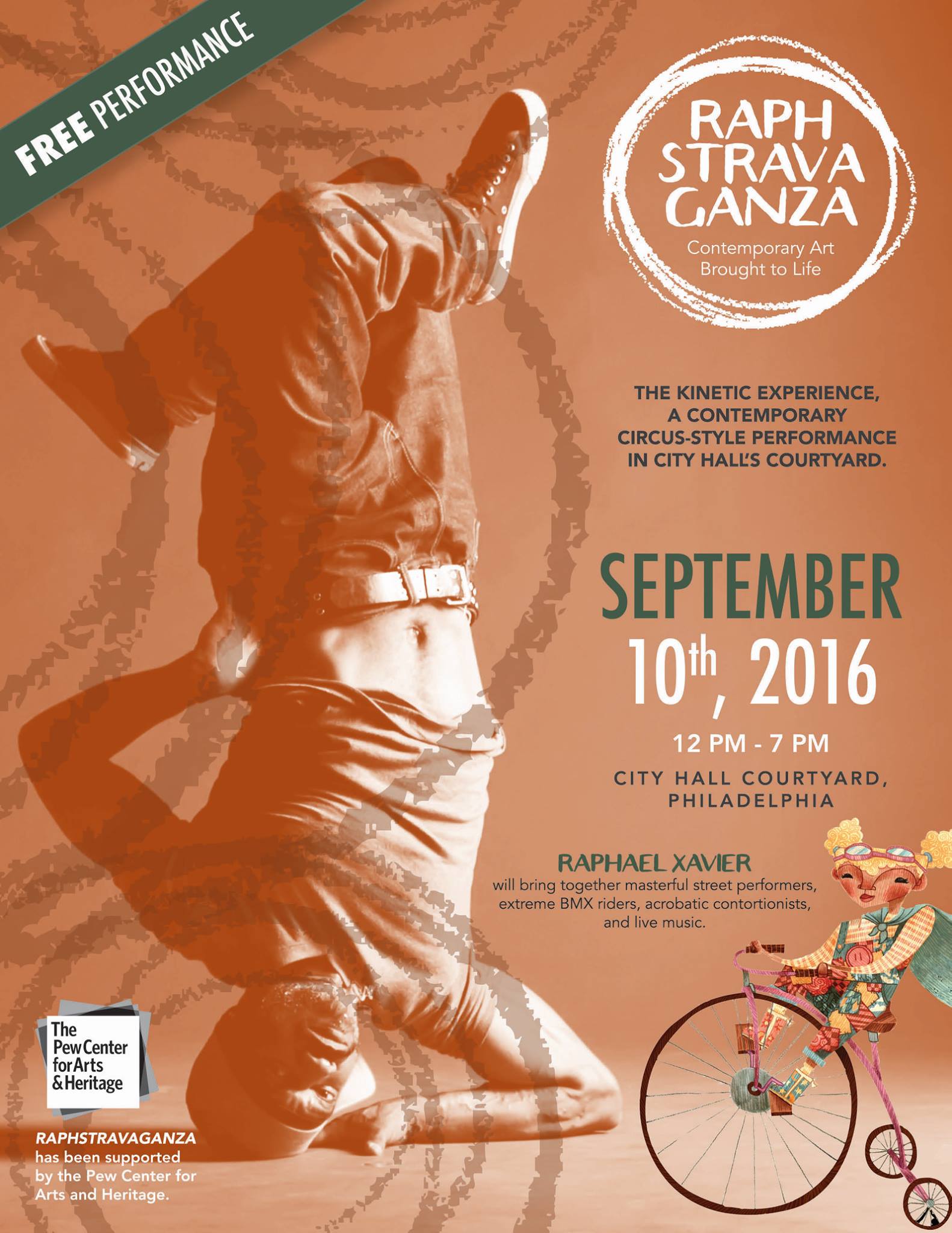 Award Winning Break Dancer Creates Fantasy Driven Street Theater with City Hall Cirque Event
Raphael Xavier will present RAPHSTRAVAGANZA: A Kinetic Cirque Experience, on Saturday, September 10th from 12pm-7pm, with support from The Pew Center for Arts & Heritage. The event is the first, all day, free and family friendly event in the city's Fringe Festival.

Raphael, a leading hip-hop artist, 2016 Guggenheim Fellow and 2013 Pew Fellow will bring together a masterful event that challenges the lines between theater, street performance, and every day life.
Headlining performers include:
Bill Shannon, Crutch Master who has choreographed for Cirque Du Soleil;

Lamonte 'Tales' Goode, CYBER Yoga and hip-hop acrobat contortionist;

Pete Brandt, an extreme BMX rider and top professional Flatland pioneer.
Original compositions by saxophonist, composer, and 1996 Pew Fellow Bobby Zankel will act as musical narration for the urban styles. The day long event features four, 30-minute choreographed performances at Noon, 2pm, 4pm and 6pm and will be structured throughout the courtyard space, paying tribute to the soul of the city, and inviting discovery of urban street dance and movement. Additional acts and some of the city's most vibrant street performers and DJ's perform in between sets, to include:
Slackliner Martin Hernandez, Sir Wheel Acrobatic Mathieu Bolillo, and Juggler Michael LeRoy along with DJ's Rich Medina, Sonny James, and Blaak the 9th Man.
Sponsors include: Body Armor Sports Drink, Nestle/Nesquik, Gianfranco Pizza Rustica, and Poor Richards Charitable Trust.
The event is free and open to the public. However, reserved bleacher seating and VIP access can be purchased via Eventbrite. For more information visit Raphstravaganza.com or email: RaphStravaGanza@gmail.com.
Raphael Xavier is a professional dancer is a Breaking practitioner for over 30 years and draws his inspiration from his many artistic practices such as photography, music, painting and even comedy. He is extremely excited about presenting this work.
The Pew Center for Arts & Heritage is a multidisciplinary grantmaker and hub for knowledge-sharing, funded by The Pew Charitable Trusts, and dedicated to fostering a vibrant cultural community in Greater Philadelphia. The Center fulfills this mission by investing in ambitious, imaginative projects that showcase the region's cultural vitality and enhance public life, and by engaging in an exchange of ideas concerning artistic and interpretive practice with a broad network of cultural practitioners and leaders.
Contact:
Raphael Xavier
Viazeen@gmail.com
(267) 253-3923