Description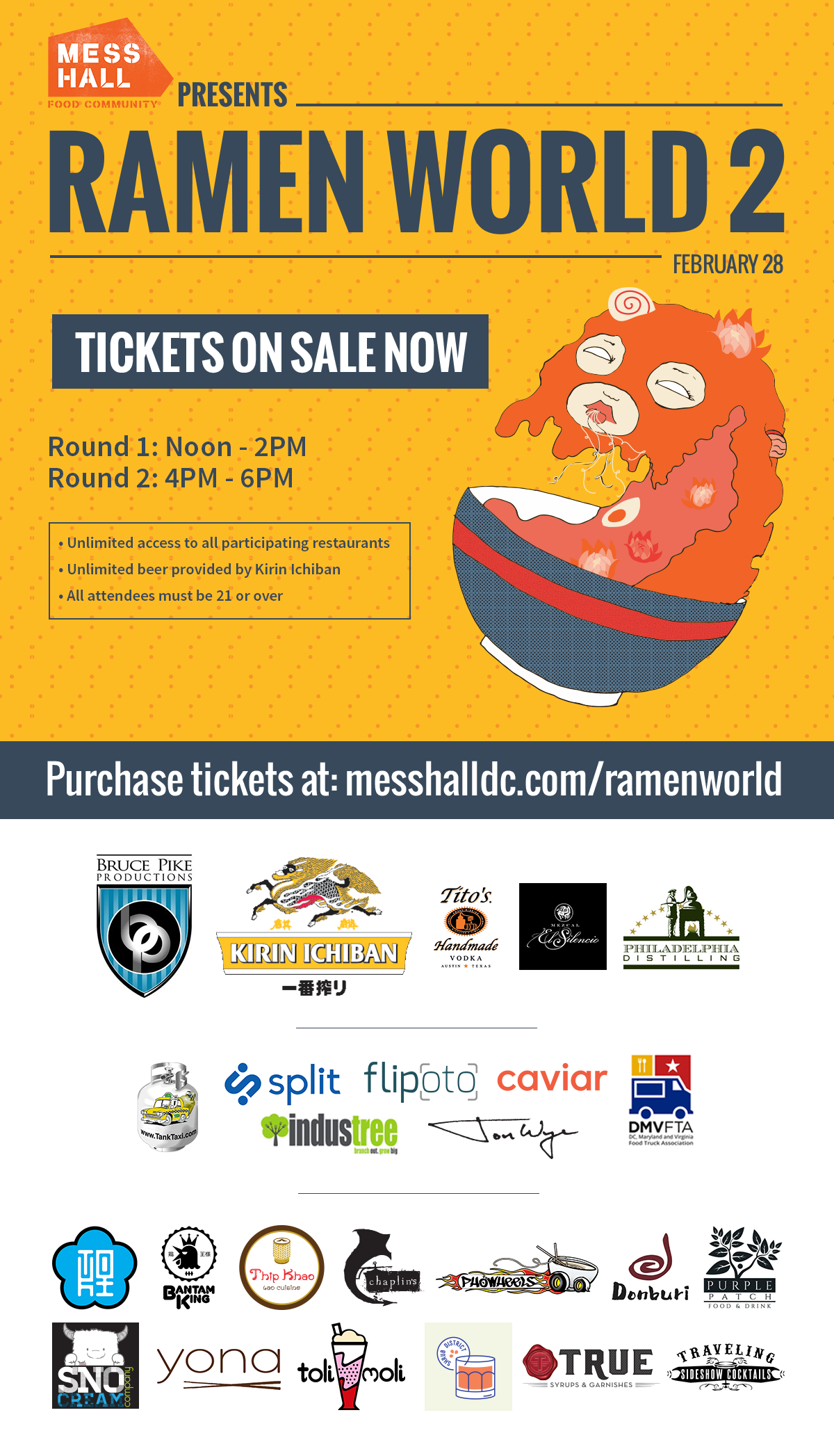 #RamenIsComing
#ThisIsRamenWorld
Although it looks like the only time slot available is Noon, its not! Click thru the menu and pick your "round" at the end.
Mess Hall is pleased to present "Ramen World 2", a collaborative culinary event to take place on Sunday, February 28th, 2016 featuring some of DC's best culinary professionals, music, specialty cocktails and most importantly – ramen masters.

Last year, for the first time ever - we brought some of best noodle powerhouses together under one roof. We're doing it again this year, and it's bigger and more badass. The biggest change from last year? TWO ROUNDS OF 2-HOUR RAMEN EATING FUN.
We're keeping the best parts.
Everything is still unlimited during your 2-hour time slot, so best to be on time.
Ramen World co-founder Erik Bruner-Yang of Toki Underground is returning after a successful launch of his second H street restaurant, Maketto. Myo Htun of Chaplin's is back as well, and will be joined by newcomers Jonah Kim & Mike Isabella's shared Ballston eatery Yona. Patrice Cleary's Purple Patch will also be in the mix, showing off their Filipino fare.
Also returning to Ramen World is Chef Katsuya Fukushima from Daikaya. Want to know something amazing?
The Daikaya team is offering the first ever "sneak slurp" of Bantam King - their newest ramen concept set to open in Spring of 2016. That's right. You read that correctly, you'll get to try the noms before the restaurant even opens. Chicken ramen and Japensese fried chicken? Delicious.
And 'Ramen World 2' won't end at ramen. We like to mix it up.
Can't get that reso at Chef Seng's Thip Khao? You know, because of that whole "50 Best New Restaurants in the Country" thing? Now's your chance.
The king of #FoodPorn PhoWheels is back. Plus Donburi's new food truckvwill be PARKED inside Mess Hall to give you the very first sight and taste of its mobile food venture.
Kirin Ichiban will provide unlimited beer, while True Syrups, Shrub District, and Traveling Sideshow Cocktails craft unique cocktails using Tito's Vodka and Mezcal El Silencio.
Desserts will be provided by Toli Moli, a new Burmese falooda shoppe, and the Taiwanese fusion shaved ice makers at SnoCream Company. Ticket donations and fundraising activities during the event will go to Ramen World's charitable benefactor Miriam's Kitchen. Additional participants will be announced at a later date.
IMPORTANT NOTES ABOUT ATTENDING:
Please pay close attention to the Round you are purchasing!! Before making your purchase, you much choose:
Round One: Noon-2:00 PM
OR
Round Two: 4:00 PM - 6:00 PM.
Your participation WILL be limited to the start and end times of your chosen round.

DONT DRINK AND DRIVE.
Drink and Split, instead.
How to Split:
1. Download the app at split.us, and register with promo code RAMEN. (New users get FOUR FREE RIDES, YO)
2. Request a ride on-demand.
3. Walk to your pickup point, just a block or so away.
4. Share the ride - they will pickup and dropoff people along the way.
5. Arrive or get picked up directly in front of Mess Hall.
****Disclaimers: Ages 21 and ONLY. IDs will be checked at the door.******
*********SORRY, NO REFUNDS***********
Unlimited food does not give you permisson to be a #RamenWaster. Not cool, bro. DON'T BE THAT GUY or GAL.
Please enjoy Ramen World responsibly and peacefully. The organizers reserve the right to deny service to particpants for any reason.
ABOUT MESS HALL
Mess Hall is a unique culinary incubator, born out of a 10,000 square foot warehouse and a need for commercial kitchen space in the city. Shared by food professionals who come together to cook share and collaborate, Mess Hall also houses premium event space with an open demonstration kitchen. The space is often used for pop-up restaurant concepts or other events that revolve around local food concepts. Mess Hall also provides exclusive resources, support, and innovative programs to help pave a path to success for its Members. The facility is located at 703 Edgewood Street, NE, in the historic Edgewood section of Washington, DC - and a 10 minute walk from either Brookland or Rhode Island Avenue Metro Stations. For additional information on Mess Hall, please visit www.MessHallDC.com/ @MessHallDC.