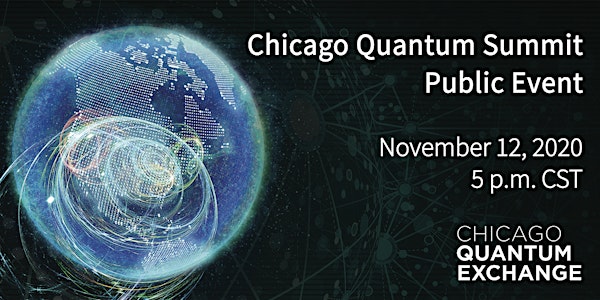 Quantum Computing: Fact v. Fiction
Join us for a keynote talk and conversation with Scott Aaronson to learn more about the progress and promises of quantum computing.
About this event
Quantum computing can advance the scientific community and our society, creating solutions for previously unsolvable problems. Achieving this level of large-scale impact will require the collaborative efforts of the broader quantum community, including academia, industry and government, and increased engagement of students and those who will use the technology to help improve our lives.
Join Scott Aaronson, professor of computer science and founding director of the Quantum Information Center, The University of Texas at Austin; and David Awschalom, director of the Chicago Quantum Exchange, to learn more about the distinct power of quantum computing.
The event will first feature a keynote presentation by Aaronson, followed by a fireside chat and Q&A between Aaronson and Awschalom. The event is moderated by science journalist Sophia Chen.
This event is part of the Chicago Quantum Summit, a program of presentations and discussion exploring the future of quantum information science. The Chicago Quantum Summit, which takes place virtually Nov. 11-13, is open to the public.
Speakers
Scott Aaronson is the David J. Bruton Centennial professor of computer science at the University of Texas at Austin. He received his bachelor's from Cornell University and his PhD from UC Berkeley. Before coming to UT Austin, he spent nine years as a professor in electrical engineering and computer science at MIT. Aaronson's research in theoretical computer science has focused mainly on the capabilities and limits of quantum computers. His first book, Quantum Computing Since Democritus, was published in 2013 by Cambridge University Press. He received the National Science Foundation's Alan T. Waterman Award, the United States PECASE Award, the Vannevar Bush Fellowship, the Tomassoni-Chisesi Prize in Physics, and MIT's Junior Bose Award for Excellence in Teaching.
David Awschalom is the Liew Family Professor in Molecular Engineering at the University of Chicago and a leading scientist in spintronics and quantum information engineering. He is also a senior scientist at Argonne National Laboratory, the director of the Chicago Quantum Exchange, and the director of Q-NEXT, a Department of Energy National Quantum Information Science Research Center led by Argonne National Laboratory. His research involves understanding and controlling the spins of electrons, ions, and nuclei for fundamental studies of quantum systems, as well as potential applications in computing, imaging, and encryption. He is also a member of the American Academy of Arts and Sciences, the National Academy of Sciences, the National Academy of Engineering, and the European Academy of Sciences.
Moderator
Sophia Chen is a science journalist based in Columbus, Ohio. After earning an M.S. in physics from the University of Arizona in 2015, she began covering physics, quantum technology, and data science news. You can find her writing in outlets such as WIRED, Science, Gizmodo, and various publications of the American Physical Society and SPIE. She also writes educational videos for the YouTube channel Physics Girl, which has an audience of over 1.7 million subscribers.
The Chicago Quantum Exchange is an intellectual hub and community of researchers with the common goal of advancing academic and industrial efforts in the science and engineering of quantum information across Chicago Quantum Exchange members, partners, and our region. The hub aims to promote the exploration of quantum information technologies and the development of new applications. The Chicago Quantum Exchange facilitates interactions between research groups of its member and partner institutions and provides an avenue for developing and fostering collaborations, joint projects, and information exchange.