Description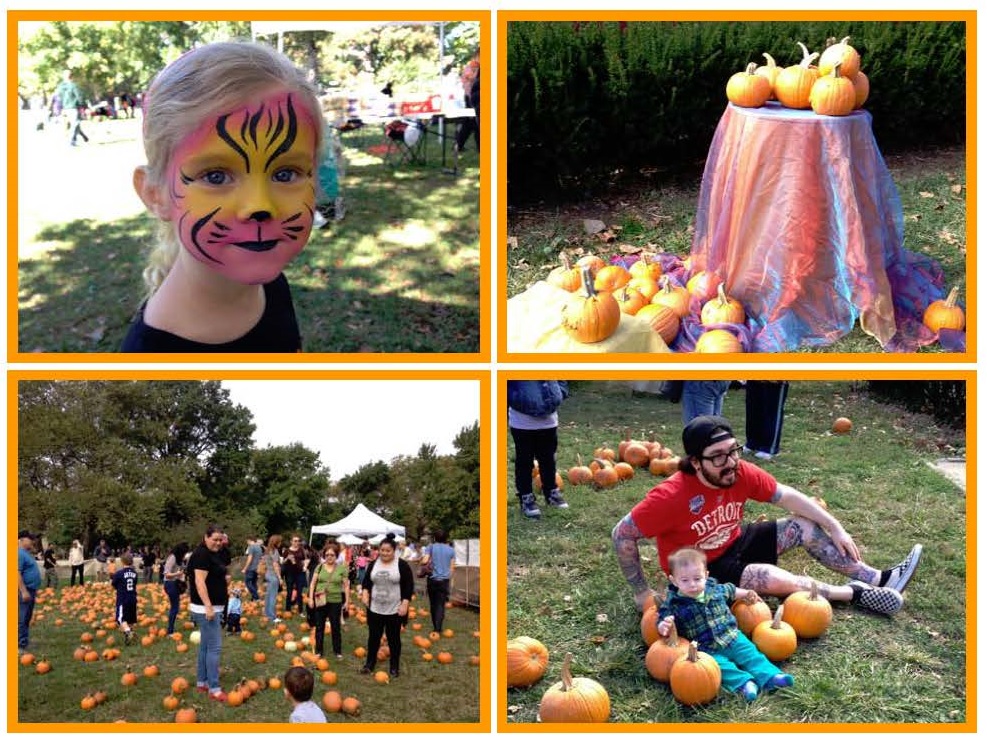 SATURDAY, OCTOBER 1, 2016 | 12-3 PM
Brooklyn Expo Center
72 Noble Street, Greenpoint/Williamsburg, Brooklyn
PLEASE NOTE THE NEW DATE & PLACE
Town Square's Pumpkin Day has become a highlight of the fall season in North Brooklyn. This year, kids and parents will enjoy this popular event at the Brooklyn Expo Center on Saturday, October 1st. Pumpkin Day will be held alongside this year's Schoolfest. We offer a pick-your-pumpkin, arts & crafts, face painting, concessions, activities presented by local businesses and organizations, and live music and dance performances. Nothing kicks off autumn like Town Square's Pumpkin Day!

Tickets are $15 for each child ($20 at the patch). Tickets will get you a pumpkin of your choice and a trick-or-treat bag with decorating items. Each ticket will also come with 2 complimentary Schoolfest tickets at the door (an add'l $40 value, based on prices at the door). Buy your tickets now and avoid long lines! Proceeds will help benefit local Greenpoint Cub Scout Pack 7; in fact, this is the cub scouts' only fundraiser so please join us in supporting them! Contact brad@andersonllc.com if you are interested in learning more about Lucky Pack 7.
PUMPKIN DAY FAQs
Do I need a ticket to come to Pumpkin Day? ANSWER: YES, you will need a ticket.
What else is available at Pumpkin Day? ANSWER: There'll be face painting, crafts, music and yummy food for purchase...and pumpkins!
What is the $15 ticket for? ANSWER: Your child will need the $15 ticket to pick a pumpkin and receive a trick-or-treat bag with pumpkin decorating crafts.
Do infants need a ticket? ANSWER: YES, all children need a ticket to pick a pumpkin.
Do children need to be accompanied by an adult? ANSWER: YES.

Every child must be accompanied by a responsible adult.
Do adults need a ticket? ANSWER: YES, all adults must have a Schoolfest ticket.
Why Schoolfest tickets? ANSWER: This year, Pumpkin Day is being held with Schoolfest 2016. When you check in, we'll provide 2 complimentary Schoolfest tickets for every Pumpkin Day ticket (a $40 additional face value!). Any additional adults must also have a Schoolfest ticket.
I need extra "adult" tickets. How do I get a Schoolfest ticket? ANSWER: Schoolfest tickets can be purchased online: https://schoolfest-2016-tickets.eventbrite.com. You're in luck! There's 2-1 Schoolfest Special going on right now! Apply BRINGAFRIEND promo code. woo hoo!
Can I get a refund? ANSWER: YES until midnight on Sunday, September 25, 2016. No refunds will be provided after September 25th

.
Can I buy Pumpkin tickets at the event? ANSWER: YES but it will cost $20. So get your tickets now and save 25%!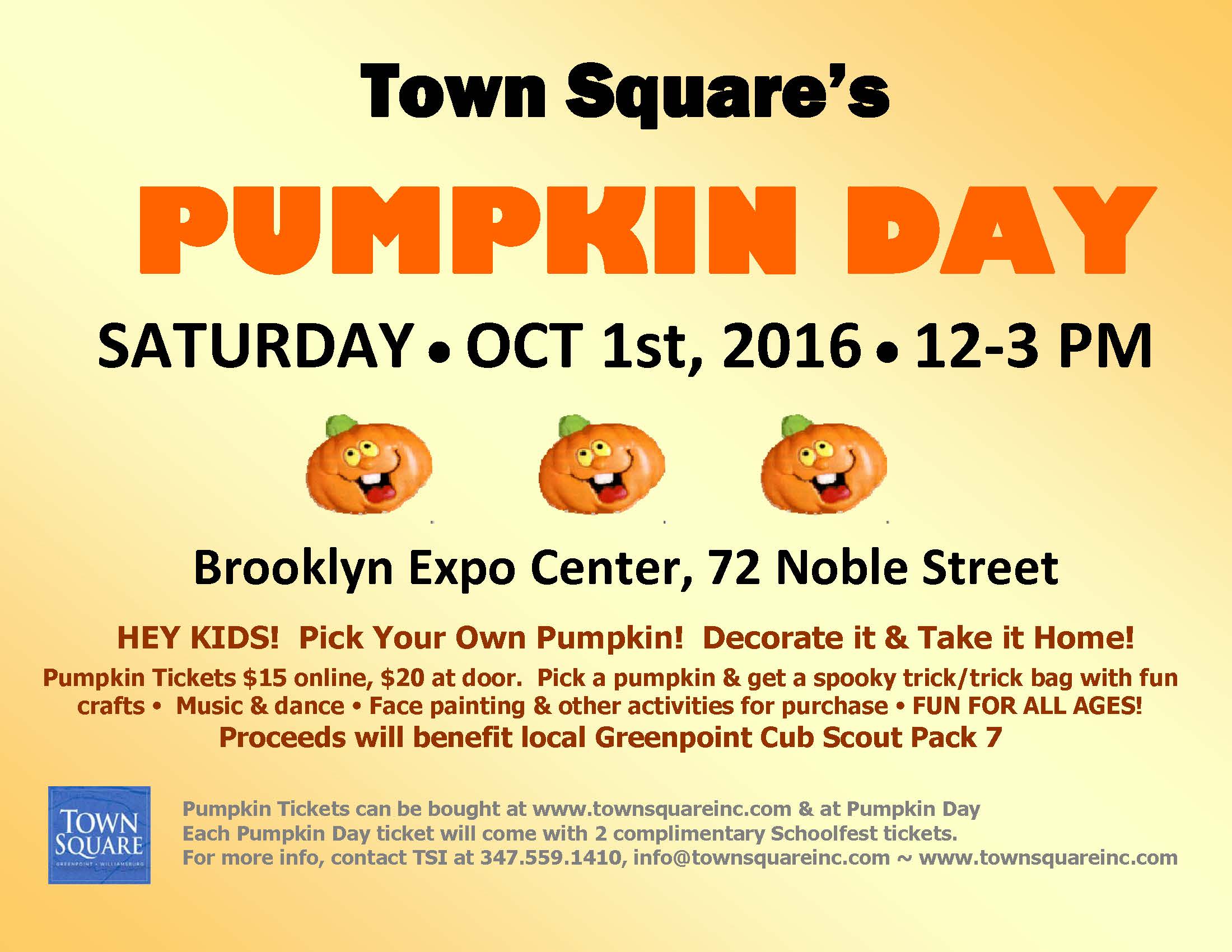 Organizer of Pumpkin Day 2016
TOWN SQUARE is a community-based 501(c)(3) organization serving Brooklyn since 2004.  We're responsible for many recurring family events in Greenpoint and Williamsburg including our popular Spring Egg Hunt, SummerStarz movie series, Greenpoint Children's Halloween Parade, Spooktacular Party, Zombie Nerf War, Santa Brunch and more. We also offer green programs and informative expos including Greencycle Swaps, Go Green Brooklyn Festival, and Schoolfest.