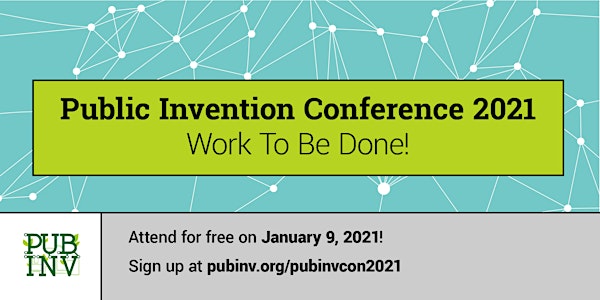 Public Invention Conference 2021 -- Work to be Done!
PubInvCon2021 is a coming together of those interested in inventing "In the public, for the Public". Humanitarian inventions.
About this event
PubInvCon (Public Invention Conference) 2021 Agenda - Jan. 9th, 20201
The Public Conference is conceived of a 3 hours in the morning (10:00 AM CST, 8:00 AM PST, 11:00 AM EST ), to 1:00 PM CST.
Introduction - 10:00 CST - 15 minutes - Robert L. Read
Code of Conduct
Review of Agenda
Mission and Values
Review of 2020 projects 10:15 CST -- (Fuller voting wisdom of crowds)
Introduce The Fuller Scale - 10 minutes
COVID-19 Vent List - Sonika Goginenii from Fraunhofer
Vision of Open Source Medical Device Ecosystem - Robert L. Read
Pandemic-related
VentMon - Lauria Clarke
SFM3X00 - Lauria Clarke
PIRDS - Robert L. Read
VentDisplay - Geoff Mulligan
VentOS - Ben Coombs
PIOC - Ben Coombs
Patient Inflating Valve - Avinash Baskaran
Non-pandemic
Euler Notebook - David Jeshcke
Gluss Controller Video - Robert L. Read
ProtoLicense - Marc Jones
Moonrat - Halimat Farayola
REc - Chris Ferguson
Fun Exercise: - 11:30 CST - Rachel Carp
Evaluating microFullers for our active projects
Evaluating microFullers for selected proposed projects
Status and Relations 12:00 - Robert L. Read
Finances - 2 min.
Conferences - 2 minutes
VentCon1 - Robert L. Read
VentCon QA - Ben Coombs
Rice University Teams - 10 minutes
EcoPot Team - Rice Ecopot Team - 5 minutes
Minicubator Rice Team - 5 minutes
Parallel Organizations
Helpful Engineering - 4 min. Ben Treuhaft
OSMS - 4 min. Victoria Jaqua
COSMIC - 4 min. Dr. Philip Edgcumbe and Patrick Wilkie
Academic papers: -- 2 min. Robert L. Read
Published:
ICMME
Anesthesia
ICMA (upcoming, from previous work)
Fraunhofer work
Respiratory Care - Megan Cadena (5 minutes)
VentMon to HardwareX - Lauria Clarke (3 minutes)
Non-academic publication -- Robert L. Read - 1 minutes
LibrePlanet COVID-Vent List
Maker Plan C videos
Other media interviews
Plans and Vision - 12:30 - 15-minutes
Spin off new non-profit for FDA approved devices
Continue growing invention teams
Better outreach and publication
Continued academic publication
Building an open source ventilation ecosystem
Focus on health and climate change
Challenges
Outreach remains a problem -- how do we change the way the world thinks?
Award Recipients - 12:45 CST - Robert L. Read
Closing call to action - 12:55 CST
Check out Ben Coombs essay on humanitarian inventing:
https://www.pubinv.org/2021/01/04/the-humanitarian-engineering-response-to-the-pandemic-the-new-years-mid-game/