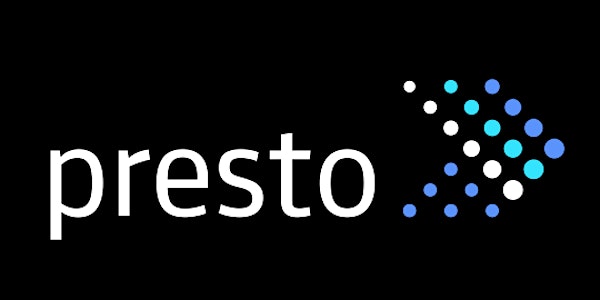 When and where
Location
Facebook HQ 300 Constitution Drive Building 23 Menlo Park, CA 94025
Description
We are excited to host a Presto Summit at our Facebook campus! Throughout the past few years we have seen increasing community interest, adoption, and participation. This event is a great opportunity for the Presto community to connect with each other, share experiences and discuss challenges, and start conversations around how we can build a community roadmap going forward. We will also have interesting talks from Alibaba, Amazon, Facebook, LinkedIn, Starburst, Twitter, and Uber.
Please note that parking will be limited so it's highly recommend for attendees to take Uber/Lyft/taxi.
AGENDA:
10:00 - 10:15 Opening Remarks
10:15 - 11:15 Community Update & Discussion
11:15 - 11:45 Presto at Twitter, Maosong Fu (Twitter)
11:45 - 12:30 Lunch Break
12:30 - 1:00 Presto and Amazon Athena, Akila Tennakoon and Raghu Rao (Amazon)
1:00 - 1:30 Presto at Alibaba Group — How Alibaba AnalyticDB Supports Real-Time PB Scale Online Analysis, Yu Dong (Alibaba)
1:30 - 1:45 Break
1:45 - 2:15 Presto @ Facebook: Past, Present and Future, Nezih Yigitbasi (Facebook)
2:15 - 2:45 Uber at Presto Speed, Atul Gupte and Girish Baliga (Uber)
2:45- 3:00 Break
3:00- 3:30 SLA and Latency Sensitive Queries on Presto, Shardool S (LinkedIn)
3:30- 4:00 Next Chapter for Presto Cost-Based Optimizer, Kamil Bajda-Pawlikowski (Starburst)
4:00 - 6:00 Happy Hour
For those who won't be able to make it to the Presto Summit today in person, here is the remote participation info:
Meeting URL
https://bluejeans.com/317302516
Meeting ID
317302516
Want to dial in from a phone?
Dial one of the following numbers:
+1.408.740.7256 (US (San Jose))
+1.888.240.2560 (US Toll Free)
+1.408.317.9253 (US (Primary, San Jose))
SEE ALL NUMBERS
Enter the meeting ID and passcode followed by #
To have a productive, safe, and fun time in the summit, here's our open source code of conduct.