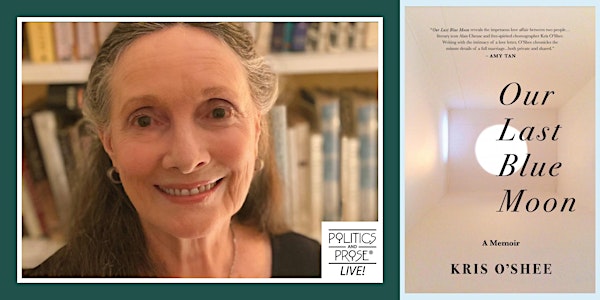 P&P Live! Kris O'Shee | OUR LAST BLUE MOON with Nicholas Delbanco
O'Shee discusses her new memoir about losing her husband of 25 years, writer Alan Cheuse, and how she grappled with her incredible grief.
Refund Policy
Contact the organizer to request a refund.
About this event
In Our Last Blue Moon, dancer Kris O'Shee, widow of Alan Cheuse—the beloved teacher, novelist, and literary commentator known as the "voice of books" on NPR—tells the story of the loss of her husband after he sustained injuries in a car crash in the summer of 2015. O'Shee chronicles the days in the Northern California hospital, the bedside vigil after Cheuse lapsed into a coma, and ultimately, his death.
O'Shee never expected to author a book because, as she writes, Cheuse was the writer and she was the choreographer. But the grief she experienced sparked her own desire to write, and so she found herself sitting in the very desk where Cheuse had sat. The uniquely interwoven storytelling unfolds with lyricism and grace, like the most intricate danced she herself choreographed in her days as a dancer, and gives voice to what Cheuse and O'Shee found in each other and what she lost when he died. The result is a compelling memoir that offers insight into finding lasting love at the midpoint of life, navigating grief in the face of tragedy, and working through loss by telling the story.
O'Shee is in conversation with Nicholas Delbanco, author of numerous books of fiction and non-fiction, including his most recent novel It Is Enough,as well as Why Writing Matters. Among the dozen books for which he served as editor are two with Alan Cheuse: Talking Horse: Bernard Malamud on Life and Work and the three-volume textbook, Literature: Craft and Voice. He is the Robert Frost Distinguished University Professor Emeritus of English at the University of Michigan.
Proceeds from the book will be going to the Alan Cheuse International Writers Center at George Mason University; this event marks the fifth year since its founding in 2016. The Cheuse Center aims to support international writers and translators and to provide young American writers with travel fellowships in order to pursue international creative projects.
**A special reception will be held after the event at Buck's Fishing and Camping next door to P&P. Kris will sign books, and there will be food and drink available for purchase, so do come celebrate with us!