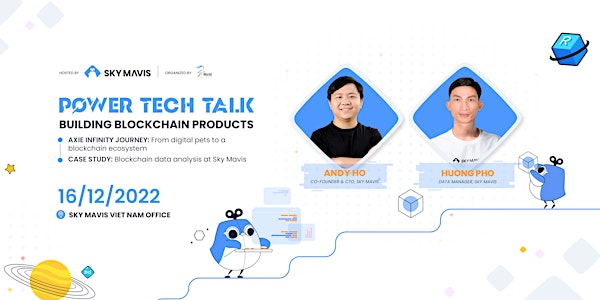 POWER TECH TALK #2: BUILDING BLOCKCHAIN PRODUCTS
The Power Tech Talk #2 with a topic that is attracting the attention of many communities in the field: "BUILDING BLOCKCHAIN PRODUCTS."
When and where
Location
33 Đ. Lê Duẩn 33 Đường Lê Duẩn Hồ Chí Minh, Quận 1 70000 Viet Nam
About this event
TECH TALK #2: BUILDING BLOCKCHAIN PRODUCTS
According to Statista, global spending on blockchain solutions is expected to grow 3 times and reach almost 19 billion USD by 2024, as compared to 6.6 billion USD in 2021.
Following this thriving industry, we are currently constructing a sustainable blockchain ecosystem with a diverse range of products, rather than just an NFT game developer. So, how did we manage it?
Returning with the Power Tech Talk series* - A monthly series events with technology experts, we came up with a topic that is attracting the attention of many communities in the field: "BUILDING BLOCKCHAIN PRODUCTS."
Explore this with us in Tech Talk #2, which includes in-depth analysis and case studies from our own expert team:
🔹 Keynote 1: Axie Infinity journey: From digital pets to a blockchain ecosystem, presented by Andy Ho - CTO at Sky Mavis
🔹 Keynote 2: Case study: Blockchain data analysis at Sky Mavis, presented by Huong Pho, Data Manager at Sky Mavis.
Tech Talk 2 will also include a Q&A session following each keynote so that you can discuss and interact with the guests in greater depth. At the same time, don't forget to try Sky Mavis's exciting mini-game during this event!
Information About Tech Talk 2:
🔹Time: December 16, 2022, 18:30 - 21:30
🔹 Venue: Sky Mavis Vietnam Office
🔹 Registration form (Limited seat): https://forms.gle/jSUBbRTNQQkFNMme8
POWER TECH TALK EVENT SERIES* by Sky Mavis is a monthly networking & Discussion Series with leaders, experts in Technology and community development. We hope to create a forum for the Blockchain technology community to exchange and connect with each others more closely and frequently through this series of events. Furthermore, we want to share knowledge with you, solve Blockchain technology problems, and grow together.
📞 Contact us:
Website: https://www.skymavis.com/ Fanpage: https://www.facebook.com/SkyMavisVietnamCareers Groups: https://www.facebook.com/groups/skymavis.learninganddeveloping