Location
Cyclorama
539 Tremont Street
Boston, MA 02116
Craft beer fans, assemble! Power Beer Fest returns to bring a powerful taste bud punch to the Cyclorama spring of 2022.
About this event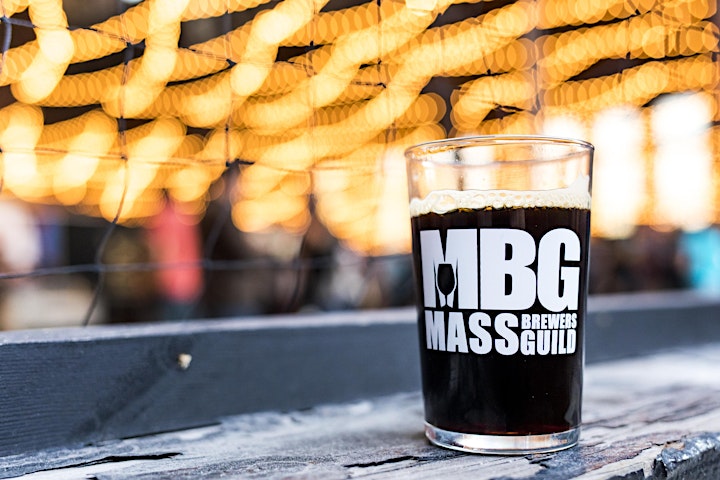 It's HAPPENING! The long awaited Power Beer Fest returns. Come for the Juice Bombs, sip the sours and savor the stouts. The fundraiser and beer tasting will feature 40 local breweries for a two session event on Saturday, May 14 from 1 to 4:30 p.m. and 6 to 9:30 p.m.
Ticket sales of Power Beer Fest support the Mass Brewers Guild, the state's nonprofit organization that works to protect and promote the interests of craft brewers across the Commonwealth. Mass Brewers Guild beer festivals are the only beer events run by brewers, for brewers.
Tickets are $55 for general admission and includes unlimited beer samples from participating breweries. Designated drivers/non-drinkers can attend the festival for $10.
The lineup Includes:
Amherst Brewing
BareWolf Brewing
BLDG8 Brewing
Brato Brewhouse and Kitchen
Bright Ideas Brewing
Castle Island Brewing Company
Crue Brew Brewery
Distraction Brewing Co
Exhibit 'A' Brewing Company
Faces Brewing Co.
Flying Embers
Greater Good Imperial Brewing Co.
Harpoon Brewery
Jack's Abby Craft Lagers
Kismet Brewing Company
Lamplighter Brewing Co
Lookout Farm Brewing Co.
Lord Hobo
Lost Shoe Brewing & Roasting Company
Mayflower Brewing Company
Mighty Squirrel
Naukabout
Penny Pinchers Brewing Co.
Purgatory Beer Co
Redemption Rock Brewery Co
River Styx Brewing
Rockport Brewing Company
Rustic Brewing Company
Samuel Adams Boston Brewery
Seven Saws Brewing
Shire Breu-Hous
The Brewery at Four Star Farms
Timberyard Brewing Company
Tree House Brewing Co.
True North Ale Company
Twisted Fate Brewing
Wachusett Brewing
Wormtown Brewing Co.
Food vendors include Brato Brewhouse & Kitchen, Burgundian waffles, Eastern Standard Provisions and Wild Fox Pierogis. For more information about the Mass Brewers Guild visit, MassBrewersGuild.org. This event is produced by Craft'd Co. Power Beer Fest is made possible thanks to our generous sponsors and supporters Aetna Health and GHM Craft Beverage Insurance.
**This event is for ages 21+, IDs required at the door. No exceptions. This is a beer industry event -- no cider, wine or hard seltzer is served. No dogs allowed except for service animals. No Refunds. No exceptions. Breweries may be subject to change. Being green is important to us - bring an empty canteen to fill up at the water station. H20 is your friend**
***The Mass Brewers Guild has zero tolerance for racism, sexism, homophobia, xenophobia, discrimination, violence or harassment. We do not tolerate any aggressions or microaggressions against one another. The association utilizes Speakfully, an anonymous third party reporting system to help monitor its events. If you see or hear something, you can locate a poster throughout the venue, scan the QR Code and let us know.
Power Beer Fest Attendee FAQs:
What are your Covid policies?
Currently the city of Boston does not have any restrictions or regulations. Masks are respected and encouraged, but not required. There will be ample hand sanitizing stations throughout the venue. If you are feeling unwell, please stay home and test.
What do I get once I am inside?
Unlimited beer samples from participating breweries. Please drink responsibly.
Is there a beer list? Map?
Download our free mobile app, "Mass Craft Beer," available in iTunes and Google Play stores. Within it you'll find a map and the beer list.
Can I purchase tickets at the door?
Yes, but we strongly suggest that you purchase them in advance. We accept cash and credit cards.
Will there be music?
We've mixed up a stellar playlist that will be rocking throughout the afternoon.
If you leave The Cyclorama can you re-enter?
Re-entrance is not permitted once you leave.
Can I bring my dog?
No. We love our dogs too. But, only service animals are allowed into the event and must be wearing their service vest or harness.
I know this is a 21+ event, but can I bring my child in a stroller or in a baby carrier?
No. We love our kids too. But, this is an adult event.
What if it rains?
This venue is fully enclosed and climate controlled. Bring cover while waiting to get checked in.
Are outside food or beverages allowed inside?
Outside snacks and pretzel necklaces welcome. We recommend bringing an empty canteen to fill up on H2o once inside at the water station. Sealed water bottles are welcome too. H20 is your friend.
What kind of food will be at the event?
Pierogis, bratwursts, and loaded waffles. See our full list of vendors under the food tab within our mobile app.
My gluten intolerant friend is coming to the festival, will cider or seltzer be served?
No. This is a beer industry event. If they'd like to enjoy the day alongside you we suggest that they purchase a designated driver ticket.
My friend doesn't drink and/or my wife is pregnant and wants to come, is there a discounted price for them?
We recommend that they purchase the designated driver ticket for $10.
Are there restrooms?
Yes. Real, live flushable bathrooms await.
What's the best way to get there?
We always recommend letting someone else do the driving when you come to a beer fest. Cabs, Ubers and Lyfts are plentiful, and public transportation is also available:
MBTA Orange Line to Back Bay Station
Take the Clarendon Street exit and walk with traffic (Clarendon Street is one-way). Walk approximately 500 yards to Tremont Street. Take a left onto Tremont Street. BCA is on the first block on the left.
MBTA Green Line to Copley
Continue along Boylston Street with traffic (Boylston Street is one-way). Take a right onto Clarendon Street and walk approximately 750 yards to Tremont Street. Take a left onto Tremont Street. BCA is on the first block on the left.
MBTA Silver Line SL4 & SL5
Exit at either East Berkeley Street or Union Park. Walk towards Tremont Street by following the direction of traffic on either Berkeley or Union Park. From Berkeley, turn left onto Tremont; from Union Park turn right onto Tremont.
MBTA Bus #43
Bus route 43 travels along Tremont Street between Ruggles, on the Orange line, and Park Street, on the Green and Red lines. Boston Center for the Arts is located between the Tremont Street at Union Park and Tremont Street at Waltham Street stops.
On-street parking is very limited in the immediate area and metered. There are three parking garages/lots nearby
• Atelier 505 Parking Garage
• Garage @ 100 Clarendon Street
• Corner of Shawmut and East Berkeley Streets
**No weapons of any kind are allowed. Bags are subject to search**