Event Information
Location
Skirball Cultural Center
2701 N. Sepulveda Blvd
Los Angeles, CA 90049
As of January 7th, the Los Angeles Alumni Brunch has been postponed and will not be held on January 16th.
About this event
CANCELLED for January 16th - POSTPONED
At the recommendation and in compliance with Berklee event policies, the Los Angeles Alumni Brunch has been cancelled for January 16th, 2022 and is postponed until a later date. All tickets purchased for the January 16th date will be fully refunded.
We regret postponing the Brunch at this time, as we were so looking forward to being together again in person to celebrate the New Year. However with the recent surge of COVID-19 cases in Los Angeles, we think it's best for the community to postpone. We eagerly look forward to rescheduling this event and will keep everyone updated on rescheduling plans as they develop.
||||||||||||||||||||||||||||||||||||
Join Berklee Alumni Affairs in celebrating the return of our Los Angeles Alumni Brunch!
The Los Angeles Alumni Brunch is our community's flagship event. We're so happy to be able to gather together again!
Join us as we hear from Berklee leaders before introducing this year's keynote speaker, Daryl Simmons.
Due to the ongoing pandemic and its various impacts, we're doing things a little bit differently this year. This year we'll have two ticket types so attendees can choose what fits their goals and needs. Please review the ticket type and see the FAQ below for more details. Vaccination record and masks will be required of all attendees.
With a chance to come together as a community and musical entertainment from talented and inspiring Berklee peers, there's so much to be excited about! This is the perfect setting for reconnecting with fellow alumni and celebrating all things LA. It's an event you don't want to miss, so come join the us!
Check-in begins at 10:30 a.m. PST in the Murphy Foyer of the Skirball Cultural Center. 
10:30am - 12:00pm - Time to eat/network
12:00pm - 1:00pm - Program
1:00pm - 2:00pm - Open Networking
The full brunch menu and seating will be available outside from 10:30am - 12:00pm.
The program will begin at 12:00pm and run for about an hour.
Parking: Free parking in the Skirball northern parking garage ("North Parking") accessed from Skirball Center Drive.
For questions, check out the FAQ below. Can't find your answer below? Email Zack Lucia at zlucia@berklee.edu.
Featured Speaker | Daryl Simmons
Daryl Simmons, a Grammy Award–winning R&B songwriter and producer, is the keynote speaker at this year's Los Angeles Alumni Brunch. Simmons is a music consultant best known for his association with the LaFace Records production duo of L.A. Reid and Kenneth "Babyface" Edmonds. Simmons has worked with such notable artists as Boyz II Men, Toni Braxton, Mariah Carey, TLC, Michael Jackson, Elton John, Destiny's Child, Diana Ross, Aretha Franklin, Monica, Aaliyah, Dru Hill, Bobby Brown, Johnny Gill, and Whitney Houston.
Featured Performer | TRISHES
This year's musical performer is TRISHES (Trish Hosein B.M. '11). A multidisciplinary artist who synthesizes music and psychology, TRISHES has forged a fresh identity via her concept-driven music. The Trinidadian-American vocalist is challenging the confines of art and constructs of self through live looping, visual art, and spoken word. "I created TRISHES as a way to work through my inner conflicts," she said in a recent interview with Rolling Stone India.
Unique This Year
Due to the impacts of the ongoing pandemic and in accordance with public safety guidelines, we have adjusted some elements of the LA Alumni Brunch this year. We have shaped the event to accommodate a max capacity of 300 people.
This year we'll have two ticket types so attendees can choose what fits their goals and needs. Both ticket types will come together in the Ahmanson Ballroom for the program and open networking portion of the event. Prior to the program start, tables will be set outside for those who have selected the Full Brunch Menu ticket type while the Ahmamson Ballroom remains set up with auditorium seating and additional high-top tables for those who have selected the Light Refreshments ticket type.
HEALTH AND SAFETY REQUIREMENTS: The Full Brunch Menu experience will be hosted outside, and similar to the experience of outdoor seating at a restaurant, attendees can unmask while seated. Once attendees are ready, they can join folks inside. The Light Refreshments ticket type will have inside seating with light refreshments provided. Attendees will be asked to remain masked when not actively eating and drinking. Both ticket types have limited capacity.
A vaccination record and mask will be required of every attendee.
Questions about these requirements? Email Dana James at dmjames@berklee.edu.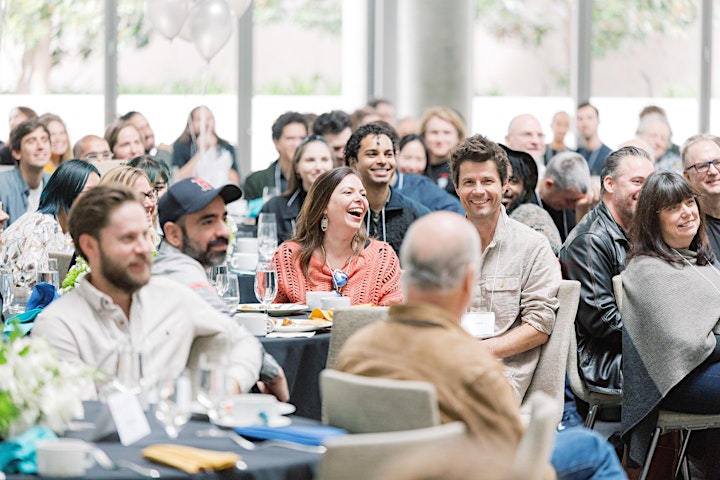 FAQ
What is the ticket fee for the event? This year we have two ticket types. The Full Brunch Menu option ($25), and the Light Refreshments option ($10).
If you are looking forward to sitting down and enjoying a full brunch menu, select Full Brunch Menu ticket type. Tables will be set outside where attendees can take off their masks and share a meal together, just like being seated outside at a restaurant.
If eating in a group is still outside of your comfort zone, or if you'd like to just focus on connecting with other attendees, select the Light Refreshments ticket type. This ticket type will enter directly into the Ahmanson Ballroom. There will be beverages and assorted pastries. We ask that everyone remain masked while not actively eating or drinking. It's airplane rules while inside, ya'll.
In the event of a sell-out, there will be no more tickets available for purchase.
Do I have to show my vaccination record? Yes. Berklee asks that our community join with us in providing the safest space possible for our community members. A photo or copy of vaccination record will suffice as long as the name of the attendee matches.
COVID-19 ADVISORY: An inherent risk of exposure to COVID-19 exists in any public place where people are present. By attending events, you voluntarily assume all risk related to exposure to COVID-19.
Our health and safety measures continue to evolve based on recommendations provided by the CDC and Public Health.
Why do you sell tickets for this event? As we continue to create offerings for this community, we need to be mindful of event costs and reserving the best space for the number of attendees. This registration process allows for an accurate count of attendees so we can plan accordingly.
What does my ticket fee cover? Your ticket secures your RSVP and parking. It does not cover the cost of the event. Berklee covers the full cost of the event each year.
Do Berklee Faculty/Staff have to pay to attend? Yes. All attendees who are not working the event are required to purchase a ticket. Walk-up and unregistered guests will not be allowed the morning of the event.
Can I bring a guest? Yes. Attendees may bring one ticketed guest. You can purchase a ticket for your guest at any time until the event sells out. Walk-up and unregistered guests will not be allowed the morning of the event.
Am I guaranteed a seat? Yes. We will have the seating and food stations set for the number of people who RSVP per each ticket type.
The event says "Sold Out" - can I still attend / can I add a guest? Unfortunately, no. We've communicated a specific number of people to the Skirball in our guarantee. We cannot allow more guests than we've paid for, nor go above the fire marshal limit of the Ahmanson Ballroom floor plan.
What about walk-ups the morning of the event? Walk-ups and unregistered guests will not be allowed the morning of the event.
I made a donation, does this count as my registration?Thank you for donating! Unfortunately, no. Donations are just that, donations. If you'd like to attend the event as a ticketed guest, please purchase a ticket. If tickets are sold out, a donation does not count as entry into the event.
What if I register and then cannot attend? We cannot offer refunds on tickets, however, it is OK to resell your tickets or give your tickets to other Berklee alumni. Please notify us of any changes by emailing Zack Lucia at zlucia@berklee.edu ahead of the event.
How many people are you expecting? The Ahmanson Ballroom will be set up to accommodate 300 masked attendees. We'd love to sell out.
What does parking cost?Parking will be available in the "North Parking" garage (follow signs) for no additional charge. The Skirball provides parking to event attendees in their on-site garage. Skirball parking information.
What about inclement weather?The Skirball's Ahmanson Ballroom area will be equipped to handle our event in case of inclement weather.
Do the speakers receive a fee? No. Each year our guest speaker volunteers their time and energy to join us at the event. They do not receive a speaking fee.
Date and time
Location
Skirball Cultural Center
2701 N. Sepulveda Blvd
Los Angeles, CA 90049
Refund policy