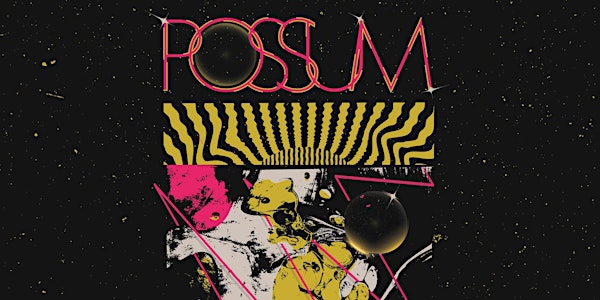 Possum with Carinae and Plains
Location
Sun Tiki Studios
375 Forest Avenue
Portland, ME 04101
Possum is making their Portland Maine debut with us here at Sun Tiki with Carinae and Plains.
About this event
Possum is Brandon Bak (Guitar, Vocals) Tobin Hopwood(Guitar) Patrick Lefler (Bass) and Bradley Thibodeau (Drums). The group first connected over the sounds of CAN, Grateful Dead, Fela Kuti, and Ty Segall, resulting in an other-worldly fusion of garage, kraut, psych rock and ethno jazz with heavy, time-bending rhythm, chugging bass, and hypnotic riffs. Live audiences can expect all the cerebral happenings of a party that starts at noon and ends at dawn. The band's colorful, high-energy performances transport audiences back to the glory days of psychedelic-rock music. It's a "punch you out cold twang toned tornado" in the words of one eloquent fan. Often accompanied by enchanting visual projections by The Oscillitarium, Possum brings a visceral, immersive, experience to each show they play.
The band met within the psych/garage music scene in Toronto, started playing together and quickly decided to amalgamate equipment and build a recording studio. With an admiration for old tape machines, Possum has independently recorded, mixed, produced and packaged 100% of their music. Recorded almost entirely live and mixed by Brandon Bak & Tobin Hopwood, their debut album "Space Grade Assembly" is an example of their DIY ethos. Studded in riffing arpeggios and cooled with a shadowy ghost rider gouging, "Space Grade Assembly" takes you through a "kaleidoscopic hot washer of a particularly kinetic and frenetic head rushing TV personality all replete with sci-fi-tronic electro shocks".
Possum has performed at festivals, clubs, and DIY spaces all over North America with the likes of Ty Segall, All Them Witches, Shannon and The Clams, Bombino, LA Witch, & Chad Van Gaalen. After looming in the dark for the past year, Possum is set to release their debut album
"Space Grade Assembly" June 7, 2019 via Garment Street Records.