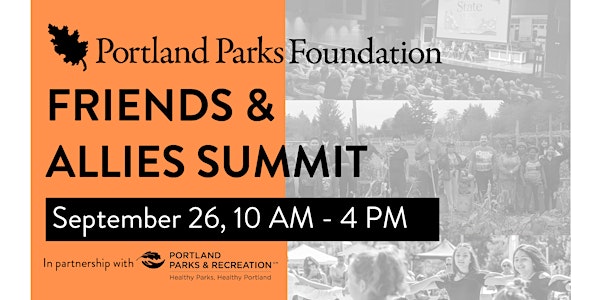 Portland's Parks Friends & Allies Summit
Friends and partners of Portland's parks, gardens and natural spaces are gathering to build volunteerism, advocacy and programming.
About this event
The magic superpowers of Portland's parks system are the 200+ non-profit, volunteer, and grassroots groups devoted to stewarding and developing programs for and in individual parks, natural areas, community gardens and community centers. On September 26, PPF, in partnership with Portland Parks & Recreation (PP&R), invites members of these groups to join together virtually for a day of inspiration, training, and engagement with each other at the 2020 Friends & Allies Summit.
Highlights include:
Special workshop with Dr. Alisha Moreland-Capuia one of the nation's leading voices (and a Portland native) on how understanding individual and societal trauma can help deconstruct racism and racist structures.
Building and expanding a membership base
Communication strategies in a COVID-era world
Connecting with local funders
Taking the next steps and overcoming barriers for the work you're currently doing
How to give new groups momentum
Day of Service (optional): Remember Parke Diem, PPF's annual work day in Portland Parks? We're bringing back smaller, more-focused, socially distanced form in a variety parks in East and North Portland. Get your hands dirty on Saturday, October 3! Space is limited, so sign up early!
Don't miss this free opportunity to energize your organization, network and collaborate with individuals engaged in similar efforts and deepen your understanding of what it means to create an inclusive culture within your group. Looking to get engaged with your local park and not sure where to start? This is also the summit for you.
Note: When registering you will self select your afternoon breakout session and choose which location you would like to volunteer at during the optional Day of Service on October 3. If you wish to change your selection, you must email Jessica Green at jgreen@portlandpf.org no later than September 21.
Questions? Contact Jessica Green at jgreen@portlandpf.org.
For full event details details, Go to PPF's Friends & Allies Summit webpage.
Deadline to register: September 23, 2020
Program for Saturday, September 26, 10 AM to 4 PM
Exploring the intersection of fear, trauma, racism and a path to healing with Dr. Alisha Moreland-Capuia, 10 AM to 12 PM
Welcome with PP&R Director, Adena Long and PPF Executive Director, Randy Gragg, with special performances by the Portland Tongan Community and Friends of Noise artist, Mei Zuch, 12:40 PM to 1:40 PM
Small Group Breakout Sessions, 1:45 PM to 3:15 PM
Next Steps, 3:15 PM to 3:45 PM
Day of Service Volunteer Locations for Saturday, October 3, 9 AM to 11 AM
George Park, planting and mulching
Lincoln Park, ivy removal
Native Gathering Garden, weeding and native plant education (AT CAPACITY)
Portland Memory Garden, weeding and education
Fernhill Park, nature patch planting (FRIDAY, OCTOBER 2)
Luuwit View Community Garden, general maintenance
For detailed information about each session and Day of Service location, please go to the Friends & Allies Summit webpage.
Thank you to our generous sponsor: The Anderson Family Giving Fund