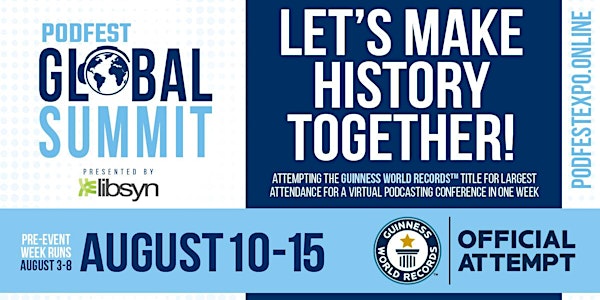 Podfest Global Summit
Bringing the Podcast Industry together under one Virtual Roof!
Refund Policy
Refunds up to 7 days before event
Eventbrite's fee is nonrefundable.
About this event
Schedule:
Monday, August 10th- Zero to Launch
Tuesday, August 11th - Tech Tools
Wednesday, August 12th - Micro Con day
Thursday, August 13th - Micro Con day
Friday, August 14th - Masterclass and Monetization Day
Saturday, August 15th - Keynote Speaker and AMA with speakers
Chasing a Dream
Podfest was born on August 5th, 2013 at a meetup I hosted with 13 attendees! Here are our highlights from that point forward!
In 2014 Chris Krimitsos holds 2 workshops around Podcasting
2015 1st Official Podfest is held April 24th-26th 100 Attendees
2016 2nd Podfest Feb 26 & 27th 181 attendees. Podfest Pioneers the Gratitude closing ceremony. The Messengers: A Podcast Documentary starts filming at Podfest 2016
9/13/2016 The Messengers reaches 123% of Goal raised with $22,152 becoming the 1st Documentary funded by the community for the medium of podcasting
Feb 23-25th 2017 Podfest Moves to Orlando to help demand from Intl Travelers The Messengers: A Podcast Documentary Premiers to a standing ovation 373 Registered Attendees.
2018 Podfest keeps growing 496 Attendees. Holds the 1st Ever Friars Roast of a Podcaster Dave Jackson of the School of Podcasting
2019 Podfest March 7-9th 975 Attendees Doubles in size 975 Attendees Launch of Vidfest The Roast of John Lee Dumas
2020 Podfest doubles in size with over 2000 Registered Attendees Last conference to go on prior to Coronavirus shutting everything down Podfest Launches Microcons to rave reviews. Podcast Editor Con, Audio Drama Con, Military Creator Con, and many more targeted brands for sponsors to partake in.
Be part of the Podfest story as we take on the largest undertaking to date.
This Summer we have Partnered with WHOVA our Tech platform to Bring Podfest to life and are Officially going for a record-setting attempt to host the World's Largest Podcasting Conference Virtually this Aug 10th-17th!
The Impact
This is a global undertaking that is intended to bring what we do so well Community, Collaboration, and Education to peoples homes the world over.
We believe everyone should have access to the richness of the Podfest community.
We have been helping people since 2013 in this endeavor.
This record attempt is special because it begins almost 7 years to the day it all began so long ago with 13 people.
Risks & Challenges
We have put it all on the line to make this happen and believe that in life the most important thing to focus on is helping others get their message out to the world.
We will be partnering up with local podcast meetups & Groups across the globe bringing them under the Podfest umbrella and allowing the cross flow of information to disseminate freely!
Other Ways You Can Help
You Can help us make some noise about this event by sharing out.
And that's all there is to it.