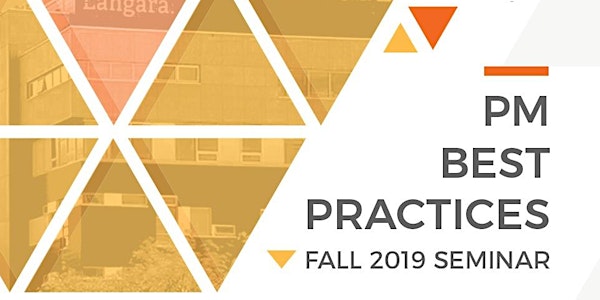 PMC 2019 Fall Seminar - Project Management Best Practices
Learn some of the best practices three Project Managers selected to share and get familiar with the Project Management theme.
When and where
Location
Langara 100 West 49th Avenue Room T001 Vancouver, BC V5Y 2Z6 Canada
About this event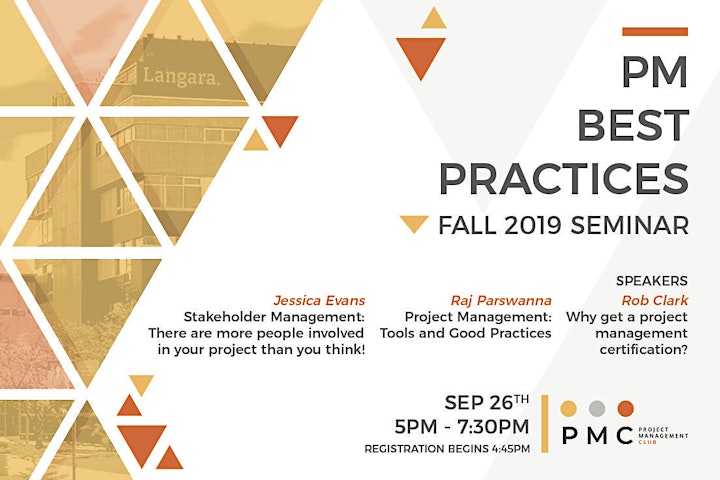 SPEAKERS AND TOPICS:
1. Jessica Evans, "Stakeholder Management: there are more people involved in your project than you think!"
Jessica is a certified Project Management Professional (PMP) and the founder of Jocosity Management Solutions, Inc. A self-described "PM Geek", she is genuinely enthusiastic to share project management methodologies, and how she has leveraged project management in her personal and professional life.
Jessica has worked with Fortune 500 companies like Coca-Cola UK and Pokémon, along with government agencies and many others. The focus for her PM consultancy these days is to support businesses with portfolio management, design robust processes, and implement these along with customized team training.
2. Raj Parswanna, "Project Management, tools and good practices"
Raj is an Accomplished PMP Certified Project Manager, Consultant and Speaker. With ten plus years' experience in Project Management, he has consulted to all major Canadian Telecommunications Companies such as Bell, Rogers, Shaw Communications, Manitoba Insurance and Provincial Government.
Raj is a member of the Project Management Institute (PMI) and Toastmasters International for ten plus years and served as a volunteer/executive. He believes that the right set of tools to tackle analytics, requirements, change and project progress will help project managers perform at their best, and will discuss this in his talk.
3. Rob Clark, "Why get a project management certification"
Rob teaches the Applied Project Management Certificate program and is the CEO of the Applied Management Centre. With comprehensive business experience, he has been fortunate enough to work and manage projects in a wide variety of industries. When he started managing projects, Rob was like everyone else – doing his best just to get the job done. He then decided there must be a more effective way to work. This realization led him to complete his graduate education in project management, and to gain his PMP® credential. "Since then," he says, "project management has been a wonderful learning experience".