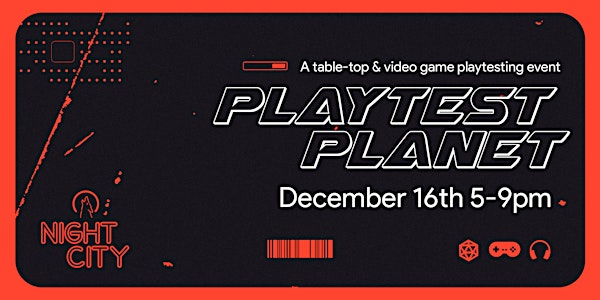 Playtest Planet
A reception and playtesting event for community-developed games
When and where
Location
Night City 3650 West Wrightwood Avenue Chicago, IL 60647
About this event
Night City presents Playtest Planet. Join us and explore a galaxy of playable tabletop and video games in development from the local community. Chat with the developers and share your feedback.
While supplies last, attendees will receive a playtest passport. Complete your playtest passport by getting a stamp from each demo station. Completed passports can be exchanged for prizes.
Interested in demonstrating your game at Playtest Planet? Submit here. (submissions close 12/10 @ 11:59PM CST).
Rules and Important Information
RSVP required
Entry is NOT guaranteed
First come, first served until we hit capacity
All ages event
Refreshments available
Bathroom available
No weapons or fireworks
ZERO TOLERANCE for drugs or underage drinking.
Health and Safety Policy
Masks optional per state and city requirements. We will have hand sanitizer stations and multiple HEPA air purifiers on-site.
Do not attend the event if you have cold, flu, or COVID-19 symptoms (fever, chills, cough, shortness of breath, fatigue, muscle or body aches, headache, new loss of taste or smell, sore throat, congestion or runny nose, nausea or vomiting, diarrhea), even if you have been vaccinated.
Do not attend the event if you have tested positive for COVID-19 in the last 7 days.
People with active symptoms or who have tested positive for COVID-19 within the last 7 days cannot attend the event.
At the event:
Wash your hands frequently with soap and water, or with hand sanitizer.
If you are unvaccinated or at high risk for severe COVID-19, avoid crowded areas and stay at least 6 feet away from other groups.
When you get home:
Stay home and get tested if you develop any symptoms of COVID-19, even if you are fully vaccinated.
By RSVP'ing you are agreeing to join the Night City mailing list.
In consideration of Night City, LLC (the "Company"), permitting me to attend and/or participate in the Night City event ("Event"), by attending the Event, I hereby agree as follows:
PHYSICAL CONDITION AND SAFETY RULES
I represent that I am physically fit to attend the Event and/or other related activities in connection therewith (collectively, the "Activities"). I agree to comply with all applicable safety rules for the Activities, and not to act recklessly or carelessly during the Activities in a manner that can jeopardize my safety or the safety of other participants in the Activities.
IMAGE AND LIKENESS RELEASE
In consideration for being permitted to participate in the Activities and/or attend the Event, I hereby irrevocably grant to Company a perpetual, worldwide, unlimited, fully paid-up right and license: (i) for use of any photograph(s), images, recordings, likeness of me, etc., and any related information or data, made or taken by Company at the Event ("Images") in promotional materials for the Event, exploitation of the Event, and other general advertising/promotional uses for the Night City brand and ancillary related uses ("Intended Use"), and I furthermore acknowledge and agree that Company may make any and all uses thereof as it may deem in its sole discretion in connection with the advertising and promotion of Night City and its brand image in any and all media channels whatsoever, including but not limited to the Intended Use. I agree that I have no right to any payment or accounting from Company in connection with the foregoing and that I will make no claims for compensation against Company, nor by virtue hereof do I acquire any right or interest in or to any of Company or any of its property including intellectual properties.