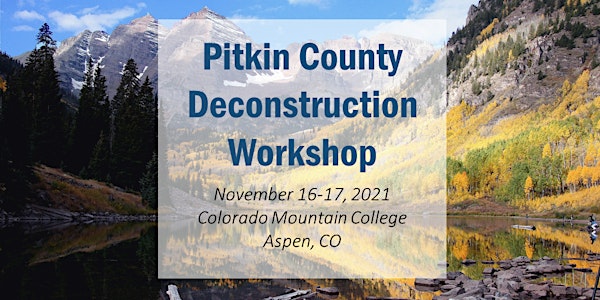 Pitkin County Deconstruction Workshop
Hosted by Pitkin County, we welcome Ted Reiff, Founder of The Reuse People, to lead a two day workshop about the deconstruction process.
When and where
Location
Colorado Mountain College Aspen 255 Sage Way Aspen, CO 81611
About this event
Workshop Overview
The ReUse Institute, the training and consulting division of TRP, offers an outstanding two-day workshop covering the entire deconstruction process, from building material salvage, project review and bidding through the shipment of reclaimed materials from the jobsite to targeted destinations. More than an introduction, this tested workshop is loaded with valuable information.
DAY 1 of the workshop features classroom presentations and discussions on:
The benefits of deconstruction vs. demolition
Tools and equipment
Layout of the jobsite
Sequence of work
Deconstruction techniques for specific materials
Layered-materials handling
Debris handling and source separation
Materials handling and shipping
Maintaining salvage values
In-depth review of tax-deductible donations for salvaged materials
DAY 2 of the workshop includes:
Visit(s)to a potential deconstruction project, including:
Jobsite inspection
Analysis of jobsite layout
Identification of salvageable materials
How salvaged materials are removed and handled
Identification of materials to be recycled
Review of local recycling centers
Understanding the business of deconstruction contracting
Return to the classroom for final wrap-up and questions
Schedule
Tuesday, November 16th 9am-5pm
Wednesday, November 17th 9am-5pm
Who Should Attend
This workshop is appropriate for any professionals associated with the construction industry including contractors, architects and designers, local government, policymakers, material reuse organizations and others.
Speaker Bio
Ted Reiff is founder and president of The ReUse People of America, Inc. (TRP), an environmental organization that salvages used building materials and markets them throughout the U.S. TRP is a leader in the emerging field of deconstruction, which, unlike traditional demolition, involves the careful dismantling of buildings in order to preserve their reusable components.
In the 28 plus years since its founding, TRP has deconstructed over 4,000 residential, commercial and industrial buildings ranging from single family residences to military housing complexes and large-scale movie sets. TRP has diverted over 425,000 tons of materials from landfills. TRP works collaboratively with contractors, architects and designers, Habitat for Humanity, specialty wood mills, consignment stores and resellers of used building materials. TRP is a member of the U.S. Green Building Council and Build Reuse.
Further Info
If you have questions or need further information, please contact Michael Port, C&D Diversion Specialist at the Pitkin County Solid Waste Center at michael.port@pitkincounty.com.
**COVID Precautions**
This is currently planned as an in-person, mask optional event. We are closely monitoring the situation with COVID and may change the details or postpone the event if public health guidance deems it necessary.