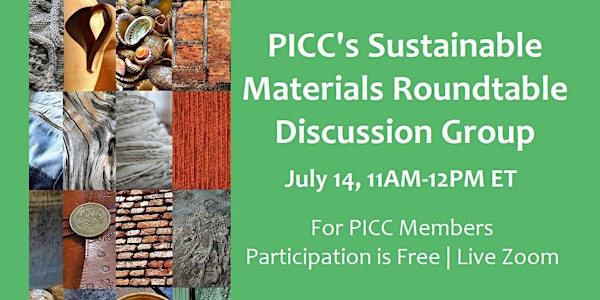 PICC's Sustainable Materials Roundtable Discussion Group
Philadelphia-Israel Chamber of Commerce (PICC) members discuss trends and opportunities to advance sustainable materials.
About this event
PICC will host quarterly meetings for its members on sustainable materials topics of discussions. It may be related to sustainable textiles, packaging, construction materials, regulations and much more. Our goal is to create collisions, exchange ideas and support one another. The group will select the discussion topics, and may invite speakers from Israel and the Greater Philadelphia region.
This event is for our members, click to become a member: https://www.phillyisraelchamber.com/join_picc/.
We welcome non-members who are prospective PICC member to join depending on space availability.
All participants must fill out the following form https://forms.gle/hbgWMnhTfmyj8MUS8 , so we learn who you are, your interests and goals, and facilitate a valuable discussion.
We thank Mark Andrew Sunderland, Vice President Innovation and Technology, Textile Engineer and Strategist, Thomas Jefferson University and Chief Innovation Officer + Chief Sustainability Officer, Hemp Black, for moderating the group.
Thank you and we look forward to hosting you,
Philadelphia-Israel Chamber of Commerce