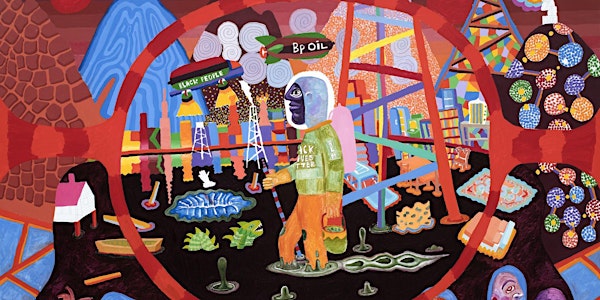 Peter Williams in Conversation with Jordana Moore Saggese
Artists' Legacy Foundation hosts a conversation between 2020 Artist Award recipient Peter Williams and Jordana Moore Saggese.
About this event
Join us for a lively conversation with 2020 Artist Award recipient Peter Williams and Jordana Moore Saggese, Associate Professor of American Art at the University of Maryland, College Park. Williams' vibrant paintings and works on paper combine allegorical tales, personal experiences, current events, and art historical references to actively confront subjects ranging from racism and oppression to environmental destruction.
This event has been postponed. Please check back for updates on the new date and time. Thank you!
About Peter Williams
For more than 40 years, Peter Williams has chronicled current and historical events, interspersing pictorial narratives with personal anecdotes and fictional characters in order to create paintings about the diverse experiences of Black Americans. With boldness and humor, he tackles the darkest of subjects including, but not limited to, police brutality, lynching, slavery, mass incarceration, and other realms of racial oppression. Williams uses cultural criticism to form new creation myths, retelling the history of America from fresh and cosmic perspectives.
Peter Williams lives in Wilmington, DE, and recently retired from his position as Senior Professor in the Fine Arts Department at the University of Delaware. He earned an MFA from the Maryland Institute College of Art and a BFA from Minneapolis College of Art and Design. Peter Williams' paintings are held in the permanent collections of the Smithsonian American Art Museum, Washington, DC; Whitney Museum of American Art, NY; Walker Art Center, Minneapolis, MN; Detroit Institute of Arts, MI; Delaware Art Museum, Wilmington, DE; Howard University, Washington, DC; and Davis Museum at Wellesley College, MA. His works are also in the Pizzuti Collection, Columbus, OH; Mott-Warsh Collection, Flint, MI; McEvoy Collection, San Francisco, CA; Jorge M. Pérez Collection at Espacio 23, Miami, FL; Beth Rudin DeWoody Collection at The Bunker, Palm Beach, FL; C.C.H. Pounder Collection, New Orleans, LA; Bill and Christy Gautreaux Collection, Kansas City, MO; and Kelly Williams Collection, New York, NY, among others.
Peter Williams: Black Universe, a three-venue exhibition, is on view through October 10, 2020 at Luis De Jesus Los Angeles, and through January 2021 at the Museum of Contemporary Art Detroit and Trinosophes in Detroit.
About Jordana Moore Saggese
Dr. Jordana Moore Saggese is an Associate Professor of American Art. Her work centers on modern and contemporary American visual culture with an emphasis on expressions and theorizations of blackness. Her writing has appeared in Exposure: The Journal of the Society for Photographic Education, The International Review of African-American Art, nka: Journal of Contemporary African Art, and Art Journal. She has also published work online for Artforum, CAA Reviews, and Khan Academy. Her first book Reading Basquiat: Exploring Ambivalence in American Art (University of California Press, 2014), which reexamines the painting practice of the often-mythologized 1980s art star Jean-Michel Basquiat, received the PEN Center USA Award for Exceptional First Book in 2015. Dr. Saggese's second book The Basquiat Reader: A Critical Anthology will be published by the University of California Press as part of the "Documents of Contemporary Art" series edited by Jack Flam. Through a combination of interviews with the artist, hard-to-find articles, and previously unpublished research by the author, The Basquiat Reader provides a full picture of Jean-Michel Basquiat's views on art and culture, his working process, as well as the critical significance of his work both then and now. Dr. Saggese's current book project Game On: The Black Male Boxer in American Art and Culture maps the visual terrain of racial ideology in the United States, paying particular attention to the intersecting discourses of blackness, masculinity, and sport. She is Editor-in-Chief for the College Art Association's Art Journal.
Zoom Details
After you register, we will send you a link to join the event.
Please arrive 5-10 minutes before the event to ensure you are connected.