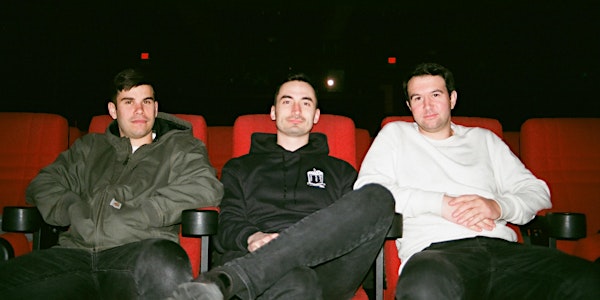 Performers
Pet Fox
Maneka, Magazine Beach, Carmen Canedo
Location
DC9 Nightclub
1940 9th St NW
Washington, DC 20001
with Maneka, Magazine Beach, Carmen Canedo
About this event
Proof of Vaccination REQUIRED
DC9 will require proof of vaccination for entry. Physical card or digital photo will be accepted. Proof of vaccination must match name on photo ID and will be checked at the door.
You can find more information HERE.
Things change quickly and we are all in the same boat trying to navigate and do our best to keep our concerts and communities safe. We appreciate your patience and understanding with our staff as we navigate this together. Thank you for your cooperation & continued support!
This is an ever changing situation and we reserve the right to change these policies at any time.
Pet Fox

FACEBOOK | INSTAGRAM | TWITTER | SPOTIFY

The members of Pet Fox are driven as much by restless creativity and mutual admiration as they are the pursuit to write a perfect pop song. The Boston based trio comprised of Theo Hartlett (vocals, guitar), Morgan Luzzi (bass), and Jesse Weiss (drums) have all spent years playing in bands that include Ovlov, Palehound, and Grass Is Green among others, but Pet Fox is an outlet all their own. The band write songs together, drawing upon influences that range from The Beatles to Pinback, but their sound is still rooted in scrappy hooks and a DIY mentality that saw the band self-release two full length records in the span of a year, amid a busy schedule of shows (both as Pet Fox and with their other respective projects). The band is releasing their third full length record on June 17th. 'A Face In Your Life' will be the first on the indie label, Exploding in Sound Records.

Maneka

FACEBOOK | INSTAGRAM | TWITTER | SPOTIFY

Devin McKnight makes music to be understood. With Maneka, his wildly adventurous songwriting project, the Brooklyn-based indie rock artist has consistently and thoughtfully explored the fringes of identity. As a Black man, he writes songs that resiliently navigate the anxiety of being a minority in largely white spaces, offering solidarity to outsiders everywhere and firm defiance against a regressive status quo. On Dark Matters, the masterful second Maneka album out now via Skeletal Lightning, McKnight is at his most clear-eyed and searching. Across 10 tracks, McKnight asks uncomfortable questions about himself and America's dark past all while scraping the edges of what guitar music can be. Kinetic, unpredictable, and totally resonant, this LP is a triumphant window into McKnight's vision.

Magazine Beach

Carmen Canedo

FACEBOOK | INSTAGRAM | TWITTER | SPOTIFY

Pulling from a wide array of inspiration, Carmen Canedo creates a personal style that has a quiet, steady way of embracing the listener - drawing heavily from her upbringing in Nashville's music scene, education in jazz guitar, and Bolivian music. After graduating high school in 2017, Canedo took a year off to travel and tend to herself. The time off resulted in the writing of Canedo's first record, Wheels Are Turning. The following year, after enrolling in Smith College, she began touring with Nashville band, Dream Wave. Following a break from music, Carmen wrote "Nothing Less Nothing More" in one sitting, deciding then to finish her second record, Know It All. It centers around the onset of nostalgia, nervousness, heartbreak, and first loves.