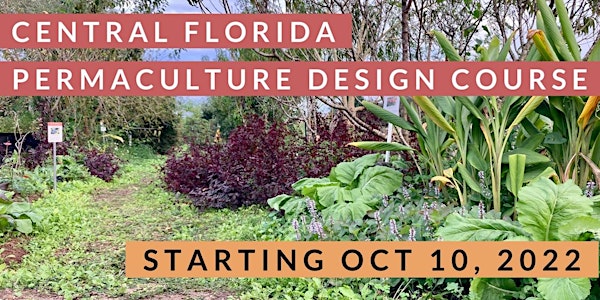 Permaculture Design Certification Course Fall 2022
This 6-week course will give you a dynamic blend of classroom training, hands on experience, practicum work, and unique design experience.
When and where
Location
Howey Homestead 11321 Sipe Lane Howey-in-the-Hills, FL 34737 United States
Refund Policy
Contact the organizer to request a refund.
Eventbrite's fee is nonrefundable.
About this event
About the Fall 2022 PDC
This is our first-ever mobile design course! Not only will participants receive the full advantage of taking a Permaculture Design Course (which we have taught for years), but each week they will also be exposed to a different local host site. From hobby farms to greenhouses... from suburban backyard food forests to local nurseries...Participants will receive class room instruction, practical hands on training in the field, and will be to actually taste and see permaculture in action.
Our Permaculture Design Certificate Course (PDC) material was originally developed by Bill Mollison, co-founder of permaculture, to teach the principles and foundations of sustainable design. All PDC courses offered throughout the world must follow the same format to assure that the integrity of the certification process is upheld. Kris Edler, your course instructor has been teaching permaculture for over 10 years and doing sustainable agriculture since he was in diapers.
Classes will be held at 5+ host sites (a new site each week) and the final week will be "field trips" to other permaculture locations in Central Florida.
Week 1: Howey Homestead - Homesteading on a Mini-Farm (Oct 10, 12, 13)
Week 2: A Natural Farm - Food Forests (Oct 17, 19, 20)
Week 3: Empower School and Farm (Oct 24, 26, 27)
Week 4: TBA
Week 5: TBA
Week 6: Various sites with in 1-hour of Clermont, FL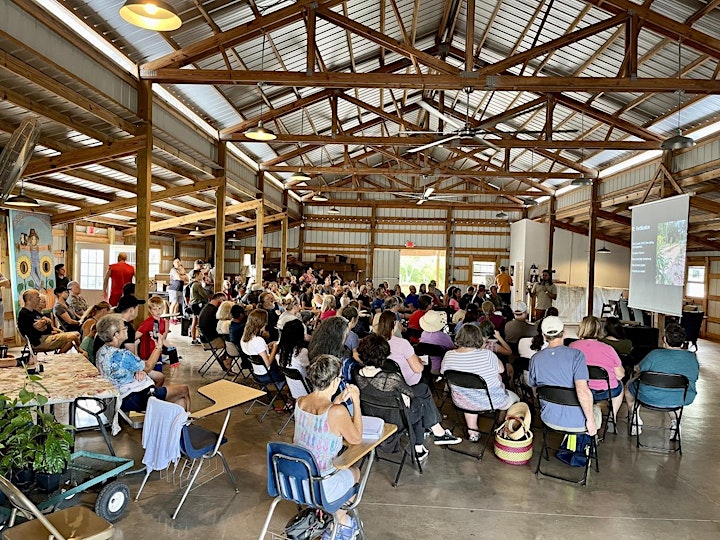 What you will learn
Permaculture Concepts and Design Themes
Methods of Design (zones, orientation, contour, etc.)
Understanding Patterns in Nature (use of swales, water catchment, 3rd world design)
Gardening Climates & Zones: Using Local Knowledge in Central Florida and Beyond
Trees & Perennial Systems
Food Forest Ecosystems in Florida
Water (catchment, dams, swales, urban systems)
Soils (basic elements, understanding pH, microorganisms, fertility, composting)
Earthworks (contour banks, stop-spread-soak, water harvesting)
Climate Designs (humid, drylands, cold-climate)
Strategies for Implementation
Reading the Landscape (understanding key-point, middle slopes, establishing features in your designs)
Permaculture Chickens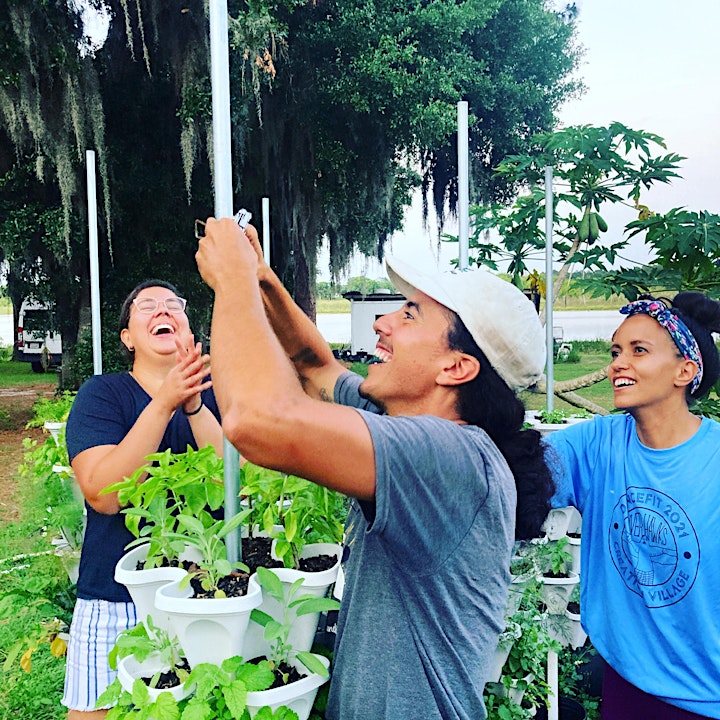 Dates, Times, & Class Info
October 10 - November 17
Classes will be held every Monday, Wednesday, and Thursday from 5 - 8:30pm until the end of the week prior to Thanksgiving. There will be two perma-blitz opportunities offered throughout the course (participants must choose one of the two to attend) to get hands-on experience.
THIS IS NOT AN ONLINE COURSE!
THIS IS AS HANDS ON AS IT GETS!
Service Hours: Each student must work at a site of their choosing for 20 hours (logged and submitted) by December 1. This may NOT be completed on your own property or one on which you are living. This may NOT be a paid work opportunity. These hours must be volunteer hours and are intended to help connect you to the community around you.
Participants should also plan on the following:
Completing the required permaculture design project before December 1, 2022. These individual projects vary in length and depth, and are only required for those seeking to walk away with certification. More info available on the project during the first week.
Your Instructor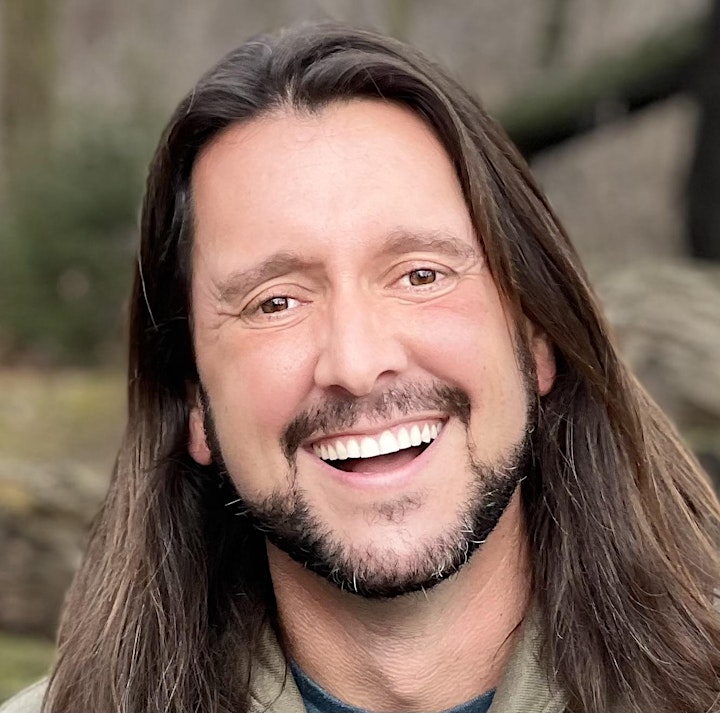 Kristofer Edler is the Founder of PermacultureFX and has been practicing regenerative agriculture for 15+ years. Edler has lived in multiple growing zones from the snowy winters of Northern Michigan to the extreme seasons of Kansas City. He was a founding teacher of a private school in Kansas City, which taught permaculture to K-12 students on an 18-acre property. As a business owner, his former wedding venue also practiced permaculture with community garden connection and compost production from post-event food waste. Currently, Edler is actively practicing and teaching permaculture in Central Florida. He is a certified instructor and was trained by Geoff Lawton (and other permaculture patriarchs). He is especially passionate about making permaculture principles palatable for those in suburban settings and enjoys finding ways to integrate sustainable practices into many diverse scenarios. Over the last few years, he conducted hundreds of property consultations in Central Florida to help new homesteaders get started on their land. All this to say - Edler is a nerdy dirt ninja with a passion for humans and food forests.
Certification
Participants of Permaculture Design Courses that meet the criteria above receive Permaculture Design Certificates from their lead instructor(s) upon completion of the course. The certificate attests that the recipient has acquired certain knowledge of the subject, and it enables the recipient to start using the word "permaculture" in their livelihood and professional practice.
When using permaculture strictly in their personal lives, students are able to begin applying their knowledge right away.
Testimonials
"I took Kris' course on permaculture design, and was blown away by how knowledgeable, passionate, and engaging he is. Kris taught us a wide range of permaculture principles and methods, illustrating them in anecdotes and imparting them through hands-on practice in a variety of actual farm settings. We pruned fruit trees, co-designed and planted a food forest, prepared probiotic compost and fertilizers, made creative revisions to existing properties, and did so much more to learn by combining theory and practice. Kris possesses, and as a teacher imparts, knowledge and skills in establishing resilient systems that both enrich and bring together individuals, communities, and nature. As someone who otherwise has no background in agriculture, I believe the level of comfort and know-how that I now possess in this area speaks to Kris' unique expertise and pedagogy." - Sinan 2021 Florida
"I was a student in Kris' Permaculture Design Certification Course in 2020 and it was an amazing experience. Kris is a great teacher with extensive knowledge. He's not only worked in several US climates, but has traveled to many places globally, and has worked in urban, suburban and rural settings. Whether it's a consultation, PDC class, or an informational/ learning course, this is the place to go! Highly recommend! - Angie (Missouri 2020)
"PermacultureFX guides people to care for themselves, one another, and the world through permaculture and permaculture-based courses. I have been following PermacultureFX for a few years now for techniques, tips, and gardening know-how. I had the incredible opportunity to attend a Permaculture Design Certification (PDC) Course with Kris, in-person, and it was a lively and intense 5 weeks of hands-on learning, field trips, collaboration and application. Kris's dynamic approach to teaching Permaculture helped me apply my learning through many simulations and demonstrations that helped me put into practice what he covers in the sessions. The PDC has prepared me to use the design system for my own personal growth, as well as in my community and in my field of work with schools and education." - Nalani (Florida 2021)