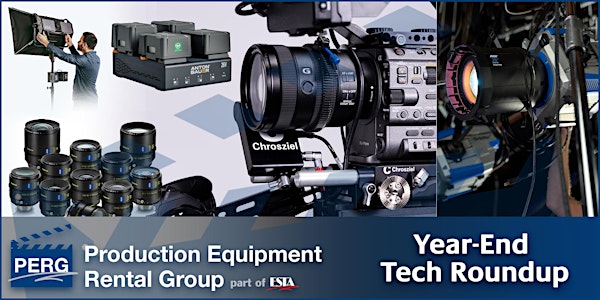 PERG Year-End Technology Roundup, Camera and Camera Accessories
The second of PERG's Year-End Technology Roundup events, focused on innovations from manufacturers of Cameras and Camera Accessories
About this event
Join PERG for our Year-End Technology Roundup, a series of short online presentations from the industry's top vendors and manufacturers focusing on what's new. The format is a fast-paced sixty-minute session featuring succinct presentations from up to ten manufacturers followed by an opportunity for more leisurely one-on-one conversations and demonstrations in their breakout rooms.
Presenters (so far):
ARRI. Chase Hagen will speak about the new Hi-5 Hand Unit.
Anton Bauer. Ted Doubov will fill you in on the new directions for battery technology and AB's pioneering 26-volt ecosystem.
Blockbattery. Cody Mendoza will highlight the advantages and unique technology of the HCL-1600 battery pro block battery.
CORE SWX. Joe Teodosio will speak about their new all-encompassing mobile power station, the Maverick. It's the next-generation block battery system for cinema and lighting applications.
Chrosziel: Timm Stemann will present Sony FX6/FX9 & Canon C70 accessories, Freefly Wave Cage, remote lens control and universal cable ties and accessories,
First Mile Technologies. Bahaa Zantout and Peter Fairlie dive into portable connectivity to the internet, live video streaming, set link streaming, and more--a fast-developing set of technologies that promise to change the way productions handle data.
Preston Cinema Systems. Howard Preston will present their new groundbreaking Hand Unit 4/LR 2 products.
RED. James Lucarelli describes the powerful new V-RAPTOR 8k camera.
Rip-Tie. Peter Rosenfeld will describe their RFID-enabled cable wraps, RipWrap (an alternative to gaffer tape), and Rip-Tie mini for small cables bundles.
Teradek/Wooden Camera/SmallHD. David Bredbury will speak in the SmallHD Cine13 4k production monitor and Colin McDonald will speak on Teradek's Bolt 4k LT MAX.
Additional vendors to be confirmed soon.
Other Sessions
Registration is open for all sessions for PERG members and friends:
Nov 4th, Lighting and Grip. Apture, ASTERA, ARRI, Kino Flo, Ratpac Controls, Litegear, LumenRadio, Prolycht, Rob's Rain Hats, Litepanels/Quasar Science.
Nov 11th, Lenses and Lens Accessories. ARRI, Angenieux (Band Pro), Atlas, Cooke, Chrosziel, Duclos, Fujifilm, Zeiss, and others.
Nov 18th, Tech Panel Discussion. Riding the Next Wave of Technological Evolution. From experts at the forefront of technology: Brandon Cooper (Visionary FirstMile Technology), Michael Cioni (Futurist, Chief Technologist, Frame.Io / Adobe), Stephan Ukas-Bradley (VP Strategic Business Development and Technology at ARRI), join moderator Gary Adcock to discuss the future of remote collaboration and connectivity in production and how it will affect rental companies.