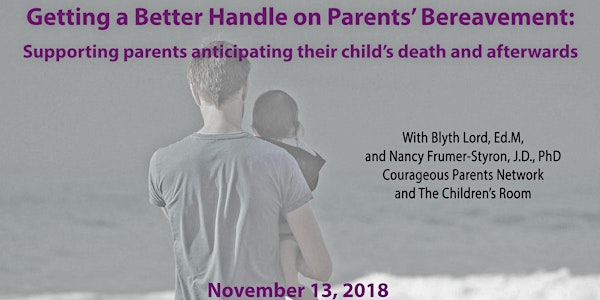 PEDIATRIC WEBINAR SERIES: Getting a Better Handle on Parents' Bereavement: Supporting parents anticipating their child's death and afterwards
Description
The 2018 Pediatric Webinar Series is presented in collaboration with the Pennsylvania's Pediatric Palliative Care Coalition (PPCC) and Greater Illinois Pediatric Palliative Care Coalition (GIPPCC).
In this webinar, we will share important information for providers regarding an understanding of anticipatory grief and the challenges of parenting a child who is dying, as well as parental bereavement following the death of a child. The webinar will include symptoms of grief, seeking support and normalizing the parents' experience. This will better equip providers to work with patients during this challenging course of care.

$30 Individual Registration / $150 Organization Registration (up to 15 attendees in same room)
1 CEU included for nurses and social workers.

---
Webinar participants will:
1. Recognize the many aspects of grief

2. Understand the meaning of anticipatory grief

3. Identify some of the symptoms of anticipatory grief

4. Identify at least three issues parents face following the death of a child
5. Appreciate the importance of support for parents and siblings before and following the death of a child, and name three types of support available to families

---
FACULTY:
Blyth T. Lord, EdM
Founder/Executive Director
Courageous Parents Network
Arlington, Massachusetts

Blyth Lord is the founder and Executive Director of Courageous Parents Network, a nonprofit Web and Mobile platform that empowers parents caring for children with serious illness, including the promotion of pediatric palliative care. Blyth's daughter, Cameron, died of Tay-Sachs disease in 2001. Blyth is also co-chair of the of the AAP's Section on Hospice and Palliative Medicine's Parent Advisory Group. Prior to founding Courageous Parents Network, Blyth worked for over 20 years as a television producer, including positions at WGBH in Boston, and ABC News in Washington. She produced the award-winning film, Cameron's Arc, with the American Academy of Pediatrics to educate doctors in working with families from the time of diagnosis through to the end-of-life. Blyth is currently serving as Board President for the patient disease group National Tay-Sachs and Allied Disease (NTSAD). Blyth received her BA in History from Yale College and has a Master's in Education from Harvard.

Nancy Frumer Styron, JD, PsyD
Clinical Director
The Children's Room
Arlington, Massachusetts

Nancy Frumer Styron is a licensed psychologist and the Clinical Director of The Children's Room, a bereavement center in Arlington, MA. Nancy comes with a background in pediatric psychology and a specialty in oncology. For over 20 years she has seen patients and their families who have been affected by diagnosis, treatment, loss, and death as she has worked in outpatient services at The Dana-Farber Cancer Institute and at Boston Children's Hospital. She also served as the Training Director for graduate students in the fields of social work and psychology at Dana-Farber and continues that role at The Children's Room. Nancy has taught graduate students at the Massachusetts School of Professional Psychology in the area of Health Psychology and has a private practice in Lexington, MA. Nancy has been a meditation practitioner for over twenty-five years and has a particular interest in teaching meditation to children along with mindful parenting. Nancy has interests in training in the areas of grief and loss and the importance of leadership in many forms. She holds a BA from the University of Michigan, an MA from Lesley University, a JD from Boston College Law School, and a Psy.D from Massachusetts School of Professional Psychology.
---
CONTINUING EDUCATION
Full attendance at the live webinar (you must attend a minimum of 50 minutes) is a prerequisite for receiving professional continuing education credit. Attendees requesting CEU credit must each call into the webinar individually using the call-in number and computer link from the instruction email for attendance to be documented. If this is not done, there is no official documentation of attendance, and CEU credit cannot be granted for this webinar. Organizations who wish to show the live webinar to a group of staff (up to 15 attendees in same room) can purchase the organization registration and work with CCCC staff to get sign-in sheets in order for attendance to be documented for CE purposes.

Everyone who wishes to receive CEs is also required to complete an online survey within 30 days following the webinar. A link to the evaluation will be provided in an email sent within 24 hours following the webinar. The email will also include links to the presentation recording and slides. Certificates will be sent via email.

Nursing: Provider approved by the California Board of Registered Nursing, Provider #CEP 15403, for one (1) contact hour.
Social Work: Course meets the qualifications for one (1) hour of continuing education credit for LMFTs, LCSWs, LPCCs and/or LEPs as required by the California Board of Behavioral Sciences. CCCC is approved by the California Association of Marriage and Family Therapists to sponsor continuing education for LCSWs and LMFTs, Provider #91987.
Chaplains – This program may be used for continuing education credit for chaplains certified with the Board of Chaplaincy Certification Inc.


---
CANCELLATION POLICY
Cancellations must be made in writing no later than three (3) business days prior to the webinar, and faxed to (888) 789-9475 or e-mailed to info@CoalitionCCC.org, to receive a full refund. No refunds will be made after this date. Substitutions are encouraged and can be made by calling (916) 489-2222.


ANY QUESTIONS?
CCCC maintains responsibility for this course and its content. Please contact us at (916) 489-2222 or email info@coalitionccc.org with any questions, to address a grievance, or to request special ADA accommodation needs.
Note: When registering, please use the email address of the person attending the webinar.