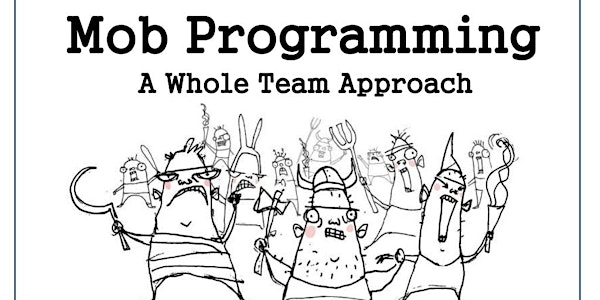 Pay-What-You-Can: Mob Programming with Woody Zuill
When and where
Location
Rackspace 620 Folsom Street San Francisco, CA 94107
Description
All the brilliant people working on the same thing, at the same time, in the same place, and on the same computer.

Mob Programming is a cost-effective, collaborative and fun way to get work done together. It's a whole-team approach to development, where coding, designing, testing, and working with the "customer" (partner, Product Owner, User, etc.) is all done as a team.

Participants in this workshop experience a typical day of Mob Programming while learning the mechanics of how to work together as a Mob and the techniques that make this form of development so effective.

Learn how a mob performs sample project work, including user stories, prioritization, test-driven development, refactoring, and retrospectives.
Designed and facilitated by Mob Programming pioneer Woody Zuill, this workshop provides a hands-on education in the art of mobbing and it's significant benefits for your teams.

Learning Goals
How 5+ people can be effective working on just one thing
Heuristics for team size
Guidelines for successful collaboration
Handling competing solutions and ideas to a coding problem
Encouraging politeness and kindness of team members
Reducing or eliminating harmful conflicts
Mobbing Mechanics
Tools for team coding
Workspace setup
How to "Amplify Learning" and take advantage of continual learning opportunities
"Real-time" and continuous Retrospectives to reflect, tune, adjust
The theory of why Mob Programming is effective.
Test-Driven Development (TDD) as a team
Working with Product Owners, Business Experts, Testers as part of the team
Refactoring as a team
Continuous feedback at all levels of granularity
Instruction Approch
Hands-on Exercises, Interactive Dialogues, Simulations, Videos
Agenda
What Is Mob Programming & The basics of how it works
First Exercise: A Code Dojo to Introduce Basic Concepts
Driver/Navigator teamwork Roles and Techniques
Second Exercise: A sample project
The Importance of Retrospectives
Advanced Mob Programming Concepts
Third Exercise: Expanding on the Sample Project
Amplified Learning - How to take advantage of learning opportunities
Resolving Conflict
Retrospective and review
This is a Pay-What-You-Can course. Pay-What-You-Can agile courses are a gift designed to spread the good word wide and far by making agile skills and knowledge available to all.
Pay-What-You-Can courses:
- Are taught at cost and the cost is fully disclosed.
- Always have an option to pay $0.
- Are a framework that can be used by all course facilitators.
Facilitator travel: $800
Total costs: $800
Expected number of paying attendees = 10. Cost per attendee = $80 ($800/10).
Note: To keep costs low, no refreshments will be provided. Consider bringing a water bottle and snack.
Questions? Contact Michael de la Maza at 617-575-9707 or michael.delamaza@gmail.com