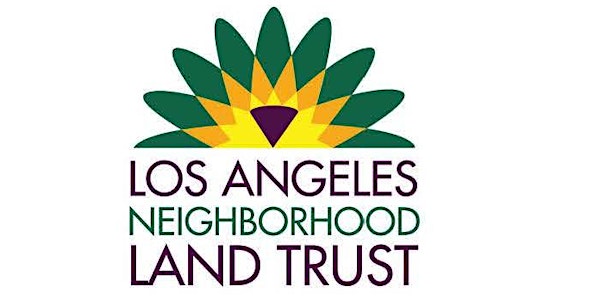 Park Equity Summit 2019
When and where
Location
EXPO Center - Roy A. Anderson Recreation Center 3980 Bill Robertson Lane Los Angeles, CA 90037
Description
The Los Angeles Neighborhood Land Trust Presents, the 2019 Park Equity Summit:
Strengthening Communities Through Equitable Development
Co-hosted by L.A. Department of Recreation and Parks
The 2019 Park Equity Summit will serve as an opportunity to further our mission and values by convening a collective dialogue between parks, housing, and transportation advocates, developers, government officials, academics, funders, and community members who are working to advance park equity and social justice. The Summit is designed to highlight the work being done by allies, colleagues, and partners both locally and nationally, while honoring new and innovative ideas and approaches to equitable housing and greenspace development in support of transformative community change in low-income communities and communities of color.
The panels will challenge inequitable development patterns and highlight opportunities for cross-sector collaboration with the goal of building bridges across the parks, affordable housing, urban planning, transportation, and environmental sectors, while promoting built environments of the future that reflect and honor the people, wisdom, and history of underserved communities without the threat of displacement.
Panelists and speakers will present equitable development frameworks, share best practices and lessons learned, and promote an ongoing conversation within the context of the Summit's theme: Strengthening Communities Through Equitable Development. The goals of the 2019 Park Equity Summit are to 1) educate participants about the resources available for equitable development projects and opportunities for intersectional advocacy, 2) build and expand a cross-sector network of equity advocates, and 3) provide attendees with tools to transform communities through community-driven project design.
The Summit will include several breakout sessions that will provide attendees with an opportunity to further explore, debate, and grapple with presented topics, while providing feedback and additional lessons learned on the ideas and topics presented during the keynote panels.
Schedule:
8:30 a.m.-9:00 a.m. Registration and Breakfast
9:00 a.m.-9:20a.m. Welcome Remarks
9:20 a.m.-10:20a.m. Panel 1: Parks and Equitable Development
10:20 a.m.-11:05 a.m. Panel 2: From Funding to Proactive Planning: Tools for Achievable Projects
11:05 a.m.-11:15 a.m. Break
11:15 a.m.-11:55a.m. Lightning Round Breakout Sessions
11:55 a.m.-12:50 p.m. Lunch Keynote
12:50 p.m.-1:00 p.m. Break
1:00 p.m.-1:55 p.m. Panel 3: Creative Ideas for Sustaining Equitable Development Work
1:55 p.m.-2:00 p.m. Closing Remarks
Details:
Full agenda and list of speakers to be announced
Light breakfast and lunch to be provided
Thank you to our sponsors:
City of LA Dept. of Recreation & Parks
First 5 LA
LA County Regional Parks and Open Space District
NRDC
Southern California Association of Governments (SCAG)
Supervisor Hilda Solis
The Wilderness Society
National Health Foundation
Salt LA
Community Nature Connection
TPL
AARP
LA Parks Foundation
The California Endowment
The Law Offices of Larry Kent
California Conservation Corps
Please contact parkequitysummit2019@gmail.com with questions and for more information on sponsorship opportunities.