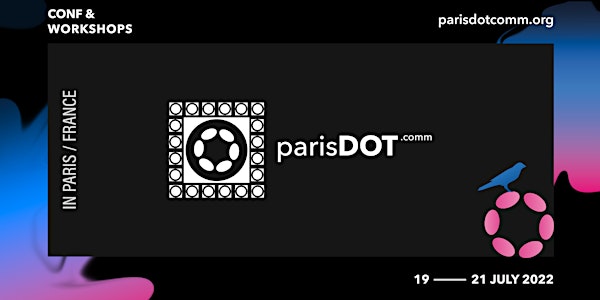 ParisDOT.comm
3 day Conference and Workshops with focus on DotSama Ecosystem and Prachains.
When and where
Location
Institut du Monde Arabe 1 Rue des Fossés Saint-Bernard 75005 Paris France
About this event
Serving as a continuation of the sucessful AmsterDOT ParisDot Conference will take place throughout 3 days (19-21th July 2022) in the Arab World Institute in Paris. The main goal of the Event is to gather the Dotsama Ecosystem during the ETH CC, learn about the progress of Parachains, birth new cooperation between the Parachains and the blockchain world and to grow the French Polkadot Community: Polkadot Francophonie.
The main goal is to find common points of interest, with a focus on the openness to the entire blockchain world, further educate ourselves and others about the projects of the ecosystem and begin building a stronger, more connected community.
ETH CC is a great opportunity to talk about interoperability and to build bridges inside and outside Polkadot. Beyond the technology, these bridges can also be built across communities.
Our event will offer an inclusive space allowing everyone to meet, greet, talk and exchange thoughts, and kick off interesting collaborations. The event is set up in a way to accommodate it, with three adjacent areas hosting the two parallel streams (Conference and Workshop).
Sponsors: Parity, Astar, Moonbeam, Logion Network, Unique, Phala, Manta, Zeitgeist, DOT Validator Alliance, HydraDX, Ternoa, Authrail, KR1
Supported by Blockchain HEC + Narative
Media Sponsor: COINTELEGRAPH
If you're a student, media, crypto influencer or you just can't afford the ticket price, please contact us, we'll try to find a way for you to attend.