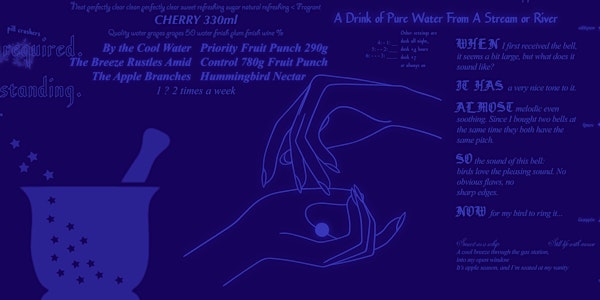 Parallax: Poetic Visions
When and where
Location
Hauser & Wirth Publishers 548 West 22nd Street New York, NY 10011
Description
What does a future poetics look and feel like? The reading series 'Parallax: Poetic Visions,' presented by Hauser & Wirth Publishers in association with Zoe Brezsny, addresses this question by featuring poets who take risks through a wide variety of aesthetic approaches and performance styles. Their work bends genres at the crossroads of poetry, sound, and technology, operating as a tool of transformation.
Some of the poets in the series are emerging creative forces, while others have had long careers yet continue to reinvent themselves. These pairings seek to juxtapose practices so that each reader might reveal something unexpected in the other's work.
The sixth installment of the series will feature multimedia poets Jackie Wang, Gabby Bess, and Audrey Wollen.
Jackie Wang is a black studies scholar, prison abolitionist, student of the dream state, poet, filmmaker, performer, trauma monster, and PhD candidate at Harvard University in African and African American Studies. In addition to her book Carceral Capitalism (Semiotexte / MIT Press), she is the author of a number of punk zines, including On Being Hard Femme and a collection of dream poems titled Tiny Spelunker of the Oneiro-Womb (Capricious). In her most recent work she has been researching the bail bonds industry and the history of risk assessment in the criminal legal system.
Gabby Bess was the long-time curator of Illuminati Girl Gang, a publication dedicated to showcasing female-identified artists working within the context of internet culture. She has also published Alone with Other People, a collection of her poetry and short stories.
Audrey Wollen is a feminist theorist and visual artist based in New York.
Wang, Bess, and Wollen offer inspiration to a new generation of young poets seeking to fuse activism with their writing. They shift with lyrical fluidity from interior to exterior landscapes.
In Wang's words, she is wading through the ongoing crisis: "6 waves of mass extinctions and the world growing dimmer / human consciousness wiped out. / We saw, we woke up. And then the wind. What edge did we find, an emotional cliff."
In her poem "Fake to be Real," Bess writes, "I used to want to be nothing / I laid down / I made a big fuss / but dying halfheartedly / is a long life of pain."
They imagine a world where the song "I Lost Something in the Hills" plays out in desert expanses and where "maybe beyond the fog, unbound pleasure can exist."
Wollen writes, "Instagram outage straight in the middle of a miraculous butterfly migration in LA..."
Image: Alix Jean Vollum
-------
The event is free and open to the public. Space is limited, RSVP is required.
The entrance to Hauser & Wirth Publishers Bookshop is at the ground floor and accessible by wheelchair. The bathroom is all-gender. This event is low light, meaning there is ample lighting but fluorescent overhead lighting is not in use. A variety of seating options are available including: folding plastic chairs and wooden chairs, some with cushions.
Water, tea, coffee, beer, wine, and snacks will be available for purchase.
Parking in the vicinity is free after 6 PM. The closest MTA subway station is 23rd and 8th Ave off the C and E. This station is not wheelchair accessible. The closest wheelchair accessible stations are 1/2/3/A/C/E 34th Street-Penn Station and the 14 St A/C/E station with an elevator at northwest corner of 14th Street and Eighth Avenue.