POPSCENE LOCALS ONLY PANIC IS PERFECT Becoming Yourself EP Release Party! + THE Y AXES, GREAT HIGHWAY and Popscene DJs
About this event
Panic is Perfect is the creation of singer/multi-Instrumentalist/producer, Mike Hoffman. His music combines anthemic melodies, Afro-Pop rhythms, and electronic elements into his own unique brand of introspective dance rock.
After a chance encounter in a SF recording studio with the owner of Strangeloop Records they were offered a record deal on the spot. Following the success of their debut EP (Behind Your Eyelids), they toured the US extensively, sharing the stage with artists such as Death Cab For Cutie, Passion Pit, Matt and Kim, Metric, and K.Flay.
In 2018 and 2019, Mike recorded and released 3 singles for Panic is Perfect: "Radio Song", "Our Dreams are Made of Numbers" and "I Close My Eyes". Panic is Perfect is currently recording a new EP set to be released in Dec. of 2021
Current members include drummer Ty Parker, guitarist Jorge Gonzalez Mendez, bassist Bob Byers and keyboardist Sean Tannehill.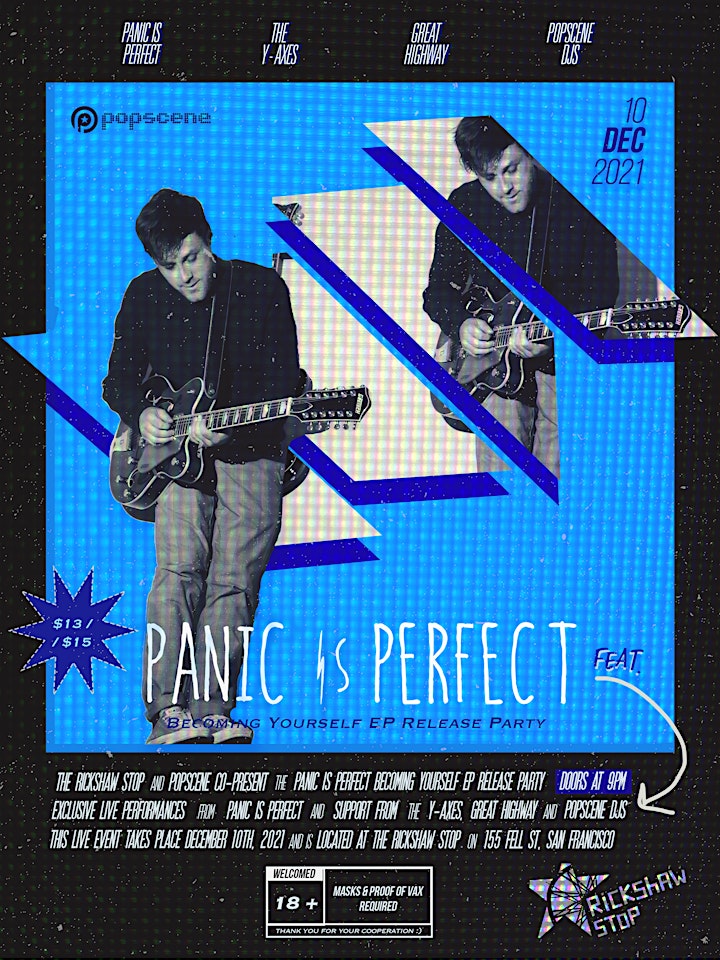 Organizer of PANIC IS PERFECT
San Francisco's long-running weekly indie party Popscene showcases new and emerging artists each week and our resident DJs Aaron Axelsen and Omar spin the very best of indie, britpop, post-punk, electronic, synthpop and more. Popscene is every Friday at Rickshaw Stop, though we'll occasionally throw parties at other fine Bay Area venues, too. So yeah, come out and dance and check out some amazing new bands and DJs @ Popscene